Tech of the week: two new gravel bikes, two new Bromptons and seven dodgy jerseys
Also a disc brake Specialized Allez Sprint, Condor Cycles's 70th anniversary collection and an automated bike fit system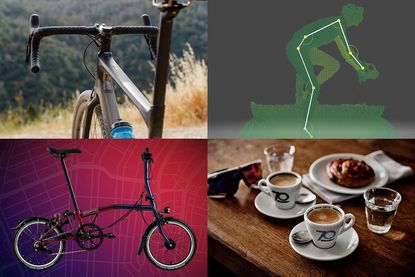 Gravel bikes from Giant and Kona
Giant has launched its new carbon framed Revolt Advanced gravel bike this week. It incorporates the brand's D-Fuse bar and seatpost, seen too on the new Giant Defy Advanced range, and designed to smooth out the ride.
Also this week, Kona has the new Libre out, which like the Giant takes 650b wheels and has had a baptism of fire at the 200 mile Dirty Kanza gravel race. And you can get the full deets on gravel bikes and our picks in our buyer's guide.
Another new bike this week is the disc brake version of the Specialized Allez Sprint crit racer, which gets new colour schemes for 2019 in the rim and disc brake versions.
In Brompton news, we've had the new Nine Streets Edition released this week, while Cycling Weekly editor Simon Richardson has been out for a spin on the new Brompton Electric.
Get faster, get fitted, get a bargain
We've had a look at 13 ways to cycle faster this week, while if a bike fit would help, we've had a look at a new high tech option. The idmatch system uses a camera to assess your fit and its bike has motors to automatically reposition the saddle and bars, all while you continue to sit on and pedal away.
We've also asked this week whether you should cycle with earphones in. And we've investigated whether Strava is driving you to exercise addiction.
This week, we've had news of Condor Cycles's 70th anniversary collection, including coffee cups and pins as well as a special edition cycling jersey. And we've sartorial advice on seven jerseys that you might just want to avoid, even at a knock-down price.
And talking of bargains, we've had deals on Mavic wheels and Specialized bikes to tempt you this week, alongside the usual Sunday Trading.
Thank you for reading 20 articles this month* Join now for unlimited access
Enjoy your first month for just £1 / $1 / €1
*Read 5 free articles per month without a subscription
Join now for unlimited access
Try first month for just £1 / $1 / €1