Trek launches new Émonda lightweight bike range
Range-topping Trek Émonda SLR 10 weighs 4.6kg and will cost £11,000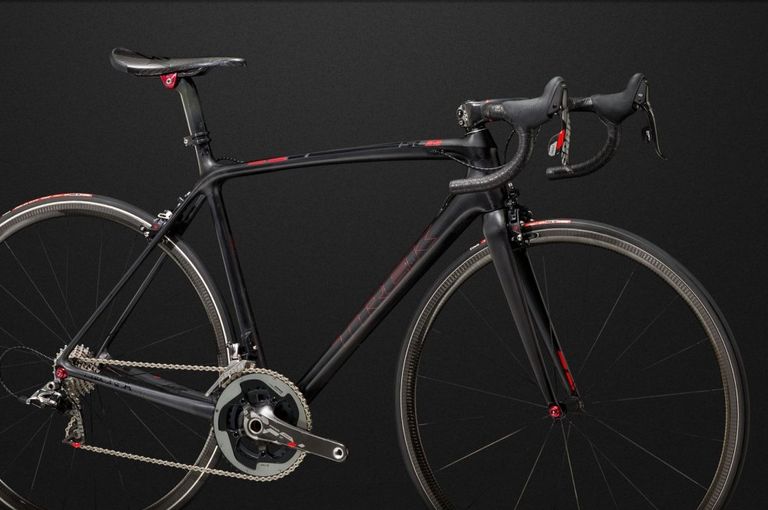 (Image credit: Trek)
Trek Bikes has announced a new range of lightweight, carbon-fibre race bikes - the lightest of which weighs a claimed 10.25lbs (4.6kg).
The company has taken the French verb 'to prune' or 'trim' and turned it into a line of new bikes called Émonda. Why? Because they want you to know that they've trimmed everything out of the frame that's possible, plus it's yet another play on the six letters that make up its range of top end bikes (Madone, Domane).
From the launch, three levels of frame will be available with a good spread of prices and equipment levels to suit most keen riders.
Working from the bottom, the first frame offered in Émonda is the 'S', with four models - one of which is a WSD (women's specific) version.
Starting with a swing tag of £1200, the 'S4' is made of Ultralight 300 Series OCLV, with a BB 86.5 bottom bracket and Shimano Tiagra groupset. All four models of 'S' have the same frame and top out with the 'S6' at £1800.
Next in the line is the 'SL', which starts with the 'SL5' for £1900 and rises to £3,100 for the 'SL8'. Seven models make up this group of bikes plus there will be a frameset option. Again, all use the same Ultralight 500 series carbon, which has been ride-tuned for each size, as all carbon Treks are, this time it's BB90 that your cranks will go through and you'll be able to choose across a spectrum of groupsets ranging from Shimano 105 up to Dura-Ace mechanical, there's also a SRAM option.
When it comes to reaching for the sky, Trek seem to have ample options with 10 off-the-peg choices plus the whole Project One thing if you so desire.
SLR is top dog in Émonda, with the halo bike running you a cool £11,000 (would sir like finance with that?). For that you get the SLR frame, that for a 56cm comes in at 690g, and has far too many bells and whistles to mention here but is circa 4.5kg complete. Yes, really.
OCLV 700 series carbon, internal routing and BB90 plus the direct-mount brakes that Trek were key in developing with Shimano. If you prefer, you can get on the SLR wagon from £4,300 and perhaps upgrade as you go.
Riders of the Trek Factory Racing team will use Émonda models during this year's Tour de France.
More information: www.trekbikes.com