A look at the secret life of the cycle race commissaire
We head to Kent to meet the unsung heroes of bike racing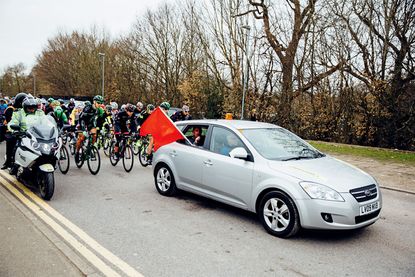 It's 9am on a Sunday in Kent. The only people out are dog walkers or those going to get the weekend papers.
At a secondary school in Tenterden, however, a group is already at work. This is the start location of the Wally Gimber Trophy, and although there are hours to go until the road race gets under way, the commissaires' day has already begun, as they begin testing radios, briefing marshals, organising the convoy and meeting with team managers and riders.
The job of a commissaire is to be the eyes of the race, to ensure the rules of the sport are adhered to, the correct result is awarded and that the riders stay safe. All work as volunteers — most have
full-time jobs — and do it because they are passionate about cycling. Without them, there would be no racing at all.
According to British Cycling figures, there is 1,400 commissaires in the UK, from the most senior judges who officiate at international events, through to those at the local track league.
Yet watch other sports like football, rugby, tennis or cricket and the referees and umpires are easily seen, running around the pitch among the players or sat in a high chair at the side of the net — importantly, they get air time and sometimes they can even make as many headlines as the teams or players.
In cycling, however, commissaires are less visible, as they are often sat in a car at the back of the race. The red commissaire's car may be a staple feature at the Tour de France, but when do you ever see who is sat inside it?
Richard Hemsley is acting as commissaire three at the Wally Gimber and started cycling in his teens. When he stopped racing he wanted a way to stay in the sport and took up working as a commissaire. He works full-time, but officiates all year round on weekends — when the road season ends he has a couple of weeks off before working in track and cyclo-cross over the winter.
So why does he do it? "So the sport can be run safely," he says.
Fully qualified
In order to become a commissaire in the UK, you have to be certified by British Cycling. The training is split into three qualifications - assistant, regional and national - with everyone starting at assistant, and officiating higher profile events as they move up the ranks. There are different disciplines to train in too — road, track, cyclo-cross, mtb, circuit — with many commissaires working across multiple areas.
>>> British Cycling partnership with Sky to end in 2016
After national level, those who wish to can complete an elite national course run by the Union Cycliste Internationale, before going for the highest commissaire level there is — UCI commissaire, which will allow you to officiate at international events, including those in the WorldTour, World Championships and Olympics.
Colin Clews is one of the UK's most practised commissaires. With over 30 years of experience, he is qualified at UCI level and has officiated at Paris-Roubaix, the Tour of Flanders, the Commonwealth Games, Tour of Britain and the Tour de France.
Clews began commissairing at a "low level" in the early 1980s and qualified at international level in 1991 in road, track and cyclo-cross, followed by mountain biking a year later. Now, aged 65, he still officiates at numerous races each year.
"I still believe that the role of the commissaire is a difficult one," Clews says. "Anyone can pass an examination test on regulations and stuff, as in any walk of life, if they simply study enough. But it's really the feeling for the job that is so important.
"There are some people for whom the regulations are black and white every time. There are so many things that happen in races and it is very, very grey, right down the centre and you have to make a judgement. That's when I think becoming a good commissaire comes out in people."
What, then, does Clews think is the most important aspect of a commissaire's job? "The commissaire is taking on a very responsible role because he's responsible for that race once it gets on the road. There may be up to 200 guys in front of you for whom you are responsible. If at any time you don't consider that their safety is at an acceptable level, you have to call a halt to it."
Extreme weather is commonly a reason races are abandoned or routes altered in international races on the grounds of diminished safety, but often the race organisers, rather than the commissaires, make these decisions.
>>> Ten times bad weather made bike races even more epic
In the UK the majority of commissaires are road commissaires who officiate at assistant or regional level, at races taking place on open roads. Although a convoy of cars drives ahead of the peloton to warn road users as the race approaches, and marshals slow and stop traffic, it's the commissaires who must ensure the riders do not put themselves, or others, in danger.
At the Wally Gimber this is clearly the officials' key priority. As it's a race held on open roads, briefings are held with team managers in which the commissaires stress that riders should not ride over the white line or on the right side of the road. Any riders doing so, they say, will be eliminated and the race could be halted or abandoned. In fact, early in the race that is exactly what happens as the chief commissaire stops everything to issue a final warning when someone is caught riding over the white line.
"You don't want to abandon the race on the actions of a few," Richard Helmsley says, "but you give a briefing at the start and have got to act on it."
Track versus road
Most commissaires in the UK work across multiple cycling disciplines — the most common being track and road. Though the two require the same skills, come race day they could not be more different.
The biggest distinction between road and track for commissaires comes down to how much of the race they can actually see. Inside a velodrome you have a complete view of a race and can see every rider on the track. Riders are racing much closer together, races take place at much higher speeds, and often come down to tenths of a second — requiring the officials to have a sharp
eye and make quick decisions.
>>> Mark Cavendish qualifies for Track World Cup on road to Rio 2016
Out on the road, however, commissaires are in a car and each is allocated a certain area of the race to follow e.g. one with the breakaway, one at the front of the peloton, one at the back. If — as is usually the case — the peloton has split, the officials can only see the one group they are following. Here, communication between the cars is key.
Julia Gilbert is a national level commissaire on the track, and is one of only three (and the only woman) to qualify as an elite national road commissaire. In the 11 years since she first got involved in cycling, she has spent her time officiating at both track and road events, from the Tour of Britain and the 2012 Olympics inside the London Velodrome, to her local track league.
>>> Tour of Britain 2015 route: stage by stage (video)
"With track you need quick decisions because the racing can change quickly and people can lap each other quickly," she says. "Road, you have a bit more time to make those decisions, but because you can see so much less of the race yourself then you have to be able to track it really well, be able to know what's going on in the other groups and feed a lot of information from other people."
One thing both disciplines have in common is the need to work well under pressure. This is even more the case at international-level races where every call a commissaire makes is under the watchful eye of a worldwide audience. And in those instances, everyone can think of a high-profile decision a commissaire has made that has affected the outcome of a race — whether it's Victoria Pendleton being relegated in the sprint final for coming off her line at the London Olympic; Mark Renshaw being ejected from the Tour de France in 2010 for head-butting; or even at the Giro this year when Richie Porte was punished for taking a wheel off Simon Clarke.
But according to Clews, making tough decisions is just another part of the job. "I never feel pressured in a race and I think that's the main thing," he says. "The more and more experience you gain, you just get on with the job, and you operate in a blinkered environment."
Gilbert agrees: "I was doing the lapboard and bell for Laura Trott when she won the omnium [at the 2012 Olympics]. She was on my side when she was doing the final time trial event, so I just had to block out what it was and what it could mean for her and just get on with the job," she says. "We do need to divorce ourselves from getting sucked in by the atmosphere of the event and concentrate on doing our role."
Ultimately, commissaires are fans of cycling; people who got into the role because they are passionate about the sport. But once you start officiating, is it possible to just enjoy watching cycling?
"When you are commissairing you are watching the race in a different way than if you were a spectator, because you are always looking for the head of the race or you're always, on a road race, looking for different things and trying to track time gaps and moving vehicles," says Gilbert. "Even when I'm watching racing on the telly now I tend to watch it as a commissaire rather than a spectator!"
A day in the life of a road commissaire
CW spent a day at the Wally Gimber Trophy in commissaire car three to see how commissaires spend their day.
9.30-10.30am - Ninety minutes to two hours before race starts: commissaires arrive.
Commissaires' meeting, conducted by chief commissaire Colin Docker. Topics discussed include areas that could be a problem on the course, location of intermediate sprints and how many starters are expected. "It's to go through all the event details and make sure everybody is working on the same wavelength," says Richard Helmsley. "It's a team effort, you have to work in a consultative manner with other commissaires."
Team meeting: commissaires brief managers about race rules — the main message is to inform riders not to go over the white line or into the right side of the road, where there will be traffic. Outline when riders can be fed from team car. A draw is made for the order the team cars will travel in the convoy. Radios are tested and race radio channels confirmed.
Route check: commissaire drives the course to check for any potential problems.
Marshal briefing: volunteers working at the course given instructions including how to stop traffic, where they will be stationed, how to use the radios, order the convoy will be in.
10.45am
Reiterate safety information to riders — warning that if rules are broken, race will be stopped. Riders who have not signed on or collected their numbers, called out.
11am-3.30pm - Race under way
Mark numbers of the riders who drop out the back of the bunch due to pace, mechanical or crash, and note whether they rejoin or abandon.
Mark numbers of riders who are in any breakaways.
Watch for any rule breaks e.g. one rider fined for dropping litter, another for holding on to the team car too long.
Monitor time gaps continuously between groups of riders on the road. This is done using a static marker on the road, e.g. a road sign. Chief commissaire driving behind front group starts the clock and car two driving with the peloton stops clock when they pass marker.
Deal with crashes — ensure riders get medical attention or mechanical help.
3.30pm-5pm
Post-race debrief: commissaires all compare race notes.
Hand out any fines to riders or teams, e.g. for littering.
Declare winner as well as other prizes, e.g. intermediate sprints, combativity.
Any serious discipline issues discussed, in case the chief commissaire needs a second opinion.
"It's going through anything that came up in the race, what went wrong, what went right, any learning curves for the next event," Helmsley says.
Most memorable race
Julia Gilbert: "I think it has to be the Olympics [London 2012] just because the atmosphere and what it was and just the honour for me to actually be chosen as a commissaire. I've watched the Olympics for so long and it's always been a dream to be there as a sportswoman, but it got to the point where I was never going to do that. To actually be chosen as a commissaire was really special because we were representing our country; we were there to officiate."
Colin Clews: "The lower-level events are where you get the greatest satisfaction. I've worked on the Tour of Flanders, Liège-Bastogne-Liège, and Paris-Roubaix once as well. There's a great high in being involved in those types of events but in a way they are so closely regulated by the organiser, ASO, that really it is not the job that a commissaire would normally do on other events that you undertake.
"To go away to a country like the Philippines, I've done the Tour of Rwanda twice, or the Tour of Eritrea, the buzz that you get out of going there and actually assisting the sport developing. You're giving them advice all the time, on how they can make the course better, the set-up better. A lot of greater satisfaction comes from those lower-level events and seeing them grow over the years."
Commissaire stats
British officials
According to British Cycling figures there are almost 1,400 commissiares working across a total of 4,000 events in the UK. Of those 1,149 or 87 per cent are male, while just 171, equal to 13 per cent are female.
Many commissaires are qualified across multiple disciplines. Road is the most popular discipline, with 763 commissiares qualified; 307 commissiares are qualified to cover track events; 311 for BMX events; and 254 commissaires for cyclo-cross.
UCI officials
UCI level commissaires officiate internationally at the highest level events. According to the UCI, they have 310 road commissaires, and in 2014 there was a total of 686 UCI road races around the world. There are also 310 UCI track commissaires, with track events in 45 countries in 2014. Just 75 commissaires cover UCI BMX events, with 144 events last year, while 277 commissaires work at cyclo-cross races, of which there was 153 events last year. 589 UCI commissaires (89 per cent) are male, and only 69 (11 per cent) are female.
How to become a commissaire
If you are interested in becoming a commissaire, the first step is to take the assistant commissaire course. This involves completing an online module before attending a day-long class. The courses are open to everyone. Once completed, you will then be able to take on certain roles at events, and be given a logbook to record practical experience.
For more information about becoming a commissaire and to find out about upcoming training days in your area, visit www.britishcycling.org.uk/raceeducation.
Thank you for reading 20 articles this month* Join now for unlimited access
Enjoy your first month for just £1 / $1 / €1
*Read 5 free articles per month without a subscription
Join now for unlimited access
Try first month for just £1 / $1 / €1