British Cycling unveil new GB team kit ahead of World Championships 2018
The new kit is a big change from recent GB team wear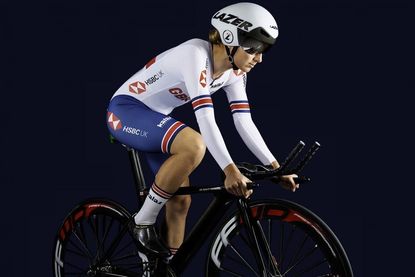 (Image credit: Allan Mckenzie/SWpix.com)
British Cycling have released the first pictures of the new GB cycling team kit ahead of the World Champsionships in Innsbruck.
The new minimalist design will be debuted at the Worlds later this month, worn by the likes of Simon Yates and Dani Rowe.
Designed by Czech custom cycle wear company Kalas, the jersey's hark back to the pared-down kit of 1959.
>>>UCI Road World Championships 2018: dates, route, where to watch and more
Great Britain Cycling Team performance director, Stephen Park, said: "High performance clothing is crucial to delivering results in today's world of competitive cycling, so having a clothing supplier with such in-depth knowledge and a high level of service is invaluable to the Great Britain Cycling Team.
"The riders are at the heart of everything we do, so it was important for us that they played a key role in designing a kit that was bespoke to the squad, that looks good and that they were proud to wear without compromising on performance or quality."
The kit includes a minimalist GBR lettermark logo, with a bold stripe forming the focus of the jersey.
A custom typeface was designed specifically for the new uniform, while the navy-blue bibs tie in with the usual red, white and blue colouring of the Great Britain Cycling Team kit.
CEO of Kalas Sportswear, Josef Filip, said: "We've been developing premium cycling kit for 27 years, and this project is one of our favourites to date.
"By working closely with British Cycling and the Great Britain Cycling Team on this new collection, I'm confident that we've produced a fresh spin on an iconic look that will be loved by fans and the team alike.
"Being able to wear a kit designed by cycling greats during the rides and races gives it a real edge."
Kalas worked closely with Great Britain Cycling Team riders and coaches in the design process to focus on key features.
Britain's cycling stars will be taking the jerseys out for the first spin at the World Championships in Austria from Sunday.
Track stars will also be donning the new kits for the first time at the track cycling World Cup at London's Lee Valley Velopark in December.
The kits will also be available to the public via the Kalas website.
Dani Rowe, who will be racing in the elite women's road race at the Worlds, said: "Having us all involved in the design process was a great idea.
"Our ideas were listened to and I'm really pleased with the outcome – it's a modern twist on a classic design and will keep us visible in the peloton when we race.
"I'm looking forward to putting our new kit through it's paces in Austria."
Thank you for reading 5 articles this month* Join now for unlimited access
Enjoy your first month for just £1 / $1 / €1
*Read 5 free articles per month without a subscription
Join now for unlimited access
Try first month for just £1 / $1 / €1