Giro d'Italia 2018 stage one time trial start times
Who is off and when for the opening stage of the 2018 Giro d'Italia in Jerusalem on Friday, May 4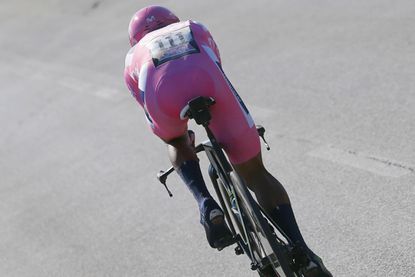 (Image credit: Yuzuru Sunada)
The opening Grand Tour of the 2018 season, the Giro d'Italia, kicks off with a 9.7-kilometre individual time trial through the undulating streets of Jerusalem on Friday, May 4.
It's perhaps too short for the pure time triallists to claim all of the glory, with puncheurs and sprinters also keen to put in a good time and have a chance of grabbing the coveted maglia rosa of race leader during the opening stages of the race.
Italian Fabio Sabatini (Quick-Step Floors) is the first rider to roll down the start ramp, kicking off the race at 1.50pm local time.
>>> Giro d'Italia 2018: Latest news, reports and race info
Last rider to start is defending Giro champion Tom Dumoulin (Team Sunweb). The Dutch time trial specialist ranks as one of the favourites to put in a strong ride, and starts his run at 4.45pm (minus two hours for UK time).
In total there are 176 riders taking part, all heading off at one-minute intervals. For more details of the stage route, see our 2018 Giro d'Italia route guide.
| | | |
| --- | --- | --- |
| Start order | Name | Start time |
| 1 | SABATINI Fabio | 13:50:00 |
| 2 | NOVAK Domen | 13:51:00 |
| 3 | GAVAZZI Francesco | 13:52:00 |
| 4 | BONNET William | 13:53:00 |
| 5 | BROWN Nathan | 13:54:00 |
| 6 | VAN DER SANDE Tosh | 13:55:00 |
| 7 | VENTER Jaco | 13:56:00 |
| 8 | BERTAZZO Liam | 13:57:00 |
| 9 | ATAPUMA Darwin | 13:58:00 |
| 10 | VAN POPPEL Danny | 13:59:00 |
| 11 | DIDIER Laurent | 14:00:00 |
| 12 | CARAPAZ Richard | 14:01:00 |
| 13 | SAGIV Guy | 14:02:00 |
| 14 | BEWLEY Sam | 14:03:00 |
| 15 | MONTAGUTI Matteo | 14:04:00 |
| 16 | KANGERT Tanel | 14:05:00 |
| 17 | SELIG Rdiger | 14:06:00 |
| 18 | KNEES Christian | 14:07:00 |
| 19 | GUARDINI Andrea | 14:08:00 |
| 20 | ROELANDTS Jurgen | 14:09:00 |
| 21 | LAMMERTINK Maurits | 14:10:00 |
| 22 | CURVERS Roy | 14:11:00 |
| 23 | CAVAGNA Rémi | 14:12:00 |
| 24 | NIBALI Antonio | 14:13:00 |
| 25 | VENDRAME Andrea | 14:14:00 |
| 26 | LADAGNOUS Matthieu | 14:15:00 |
| 27 | CARTHY Hugh John | 14:16:00 |
| 28 | FRISON Frederik | 14:17:00 |
| 29 | JANSE VAN RENSBURG Jacques | 14:18:00 |
| 30 | MOSCA Jacopo | 14:19:00 |
| 31 | MORI Manuele | 14:20:00 |
| 32 | LINDEMAN Bert-Jan | 14:21:00 |
| 33 | VAN POPPEL Boy | 14:22:00 |
| 34 | PEDRERO Antonio | 14:23:00 |
| 35 | SBARAGLI Kristian | 14:24:00 |
| 36 | HAIG Jack | 14:25:00 |
| 37 | DUPONT Hubert | 14:26:00 |
| 38 | HIRT Jan | 14:27:00 |
| 39 | BENNETT Sam | 14:28:00 |
| 40 | PUCCIO Salvatore | 14:29:00 |
| 41 | ANDREETTA Simone | 14:30:00 |
| 42 | DENNIS Rohan | 14:31:00 |
| 43 | PLANCKAERT Baptiste | 14:32:00 |
| 44 | HOFSTEDE Lennard | 14:33:00 |
| 45 | CAPECCHI Eros | 14:34:00 |
| 46 | BONIFAZIO Niccolò | 14:35:00 |
| 47 | TORRES AGUDELO Rodolfo | 14:36:00 |
| 48 | MORABITO Steve | 14:37:00 |
| 49 | DOCKER Mitchell | 14:38:00 |
| 50 | ARMEE Sander | 14:39:00 |
| 51 | BERHANE Natnael | 14:40:00 |
| 52 | ZHUPA Eugert | 14:41:00 |
| 53 | MARCATO Marco | 14:42:00 |
| 54 | BATTAGLIN Enrico | 14:43:00 |
| 55 | IRIZAR ARAMBURU Markel | 14:44:00 |
| 56 | QUINTANA Dayer | 14:45:00 |
| 57 | BOIVIN Guillaume | 14:46:00 |
| 58 | JUUL JENSEN Christopher | 14:47:00 |
| 59 | VENTURINI Clement | 14:48:00 |
| 60 | ZEITS Andrey | 14:49:00 |
| 61 | SCHILLINGER Andreas | 14:50:00 |
| 62 | KIRYIENKA Vasil | 14:51:00 |
| 63 | BARBIN Enrico | 14:52:00 |
| 64 | DE MARCHI Alessandro | 14:53:00 |
| 65 | KUZNETSOV Viacheslav | 14:54:00 |
| 66 | TEN DAM Laurens | 14:55:00 |
| 67 | SENECHAL Florian | 14:56:00 |
| 68 | BOARO Manuele | 14:57:00 |
| 69 | BELLETTI Manuel | 14:58:00 |
| 70 | REICHENBACH Sébastien | 14:59:00 |
| 71 | DOMBROWSKI Joseph | 15:00:00 |
| 72 | DEBUSSCHERE Jens | 15:01:00 |
| 73 | ANTON HERNANDEZ Igor | 15:02:00 |
| 74 | ZARDINI Edoardo | 15:03:00 |
| 75 | LAENGEN Vegard Stake | 15:04:00 |
| 76 | VAN HOECKE Gijs | 15:05:00 |
| 77 | EG Niklas | 15:06:00 |
| 78 | SEPULVEDA Eduardo | 15:07:00 |
| 79 | DEMPSTER Zakkari | 15:08:00 |
| 80 | KREUZIGER Roman | 15:09:00 |
| 81 | JAUREGUI Quentin | 15:10:00 |
| 82 | SANCHEZ Luis Leon | 15:11:00 |
| 83 | PFINGSTEN Christoph | 15:12:00 |
| 84 | HENAO MONTOYA Sergio | 15:13:00 |
| 85 | MAESTRI Mirco | 15:14:00 |
| 86 | VLIEGEN Loïc | 15:15:00 |
| 87 | BELKOV Maxim | 15:16:00 |
| 88 | HAMILTON Christopher | 15:17:00 |
| 89 | STYBAR Zdenek | 15:18:00 |
| 90 | SIUTSOU Kanstantsin | 15:19:00 |
| 91 | FRAPPORTI Marco | 15:20:00 |
| 92 | ROY Jérémy | 15:21:00 |
| 93 | VAN ASBROECK Tom | 15:22:00 |
| 94 | BAK YTTING Lars | 15:23:00 |
| 95 | O'CONNOR Ben | 15:24:00 |
| 96 | COLEDAN Marco | 15:25:00 |
| 97 | CONTI Valerio | 15:26:00 |
| 98 | GESINK Robert | 15:27:00 |
| 99 | PANTANO GOMEZ Jarlinson | 15:28:00 |
| 100 | FERNANDEZ Ruben | 15:29:00 |
| 101 | NEILANDS Krists | 15:30:00 |
| 102 | NIEVE ITURRALDE Mike | 15:31:00 |
| 103 | CHEREL Mikael | 15:32:00 |
| 104 | BILBAO Pello | 15:33:00 |
| 105 | BENEDETTI Cesare | 15:34:00 |
| 106 | ELISSONDE Kenny | 15:35:00 |
| 107 | SENNI Manuel | 15:36:00 |
| 108 | FRANKINY Kilian | 15:37:00 |
| 109 | GONÇALVES José | 15:38:00 |
| 110 | VERVAEKE Louis | 15:39:00 |
| 111 | MØRKØV Michael | 15:40:00 |
| 112 | VISCONTI Giovanni | 15:41:00 |
| 113 | MASNADA Fausto | 15:42:00 |
| 114 | ROUX Anthony | 15:43:00 |
| 115 | SCULLY Tom | 15:44:00 |
| 116 | HANSEN Adam | 15:45:00 |
| 117 | GIBBONS Ryan | 15:46:00 |
| 118 | FONZI Giuseppe | 15:47:00 |
| 119 | POLANC Jan | 15:48:00 |
| 120 | BOUWMAN Koen | 15:49:00 |
| 121 | MULLEN Ryan | 15:50:00 |
| 122 | VALLS FERRI Rafael | 15:51:00 |
| 123 | NIV Guy | 15:52:00 |
| 124 | TUFT Svein | 15:53:00 |
| 125 | DENZ Nico | 15:54:00 |
| 126 | VILLELLA Davide | 15:55:00 |
| 127 | GROSSSCHARTNER Felix | 15:56:00 |
| 128 | DE LA CRUZ David | 15:57:00 |
| 129 | SIMION Paolo | 15:58:00 |
| 130 | VENTOSO ALBERDI Fran | 15:59:00 |
| 131 | SCHMIDT Mads Würtz | 16:00:00 |
| 132 | HAGA Chad | 16:01:00 |
| 133 | VIVIANI Elia | 16:02:00 |
| 134 | MOHORIC Matej | 16:03:00 |
| 135 | BALLERINI Davide | 16:04:00 |
| 136 | PINOT Thibaut | 16:05:00 |
| 137 | MODOLO Sacha | 16:06:00 |
| 138 | WELLENS Tim | 16:07:00 |
| 139 | KING Benjamin | 16:08:00 |
| 140 | TURRIN Alex | 16:09:00 |
| 141 | ULISSI Diego | 16:10:00 |
| 142 | BENNETT George | 16:11:00 |
| 143 | PEDERSEN Mads | 16:12:00 |
| 144 | DE LA PARTE Victor | 16:13:00 |
| 145 | PLAZA Ruben | 16:14:00 |
| 146 | YATES Simon Philip | 16:15:00 |
| 147 | BIDARD François | 16:16:00 |
| 148 | LUTSENKO Alexey | 16:17:00 |
| 149 | KONRAD Patrick | 16:18:00 |
| 150 | POELS Wout | 16:19:00 |
| 151 | TONELLI Alessandro | 16:20:00 |
| 152 | DRUCKER Jean-Pierre | 16:21:00 |
| 153 | DOWSETT Alex | 16:22:00 |
| 154 | OOMEN Sam | 16:23:00 |
| 155 | SCHACHMANN Maximilian | 16:24:00 |
| 156 | POZZOVIVO Domenico | 16:25:00 |
| 157 | CATTANEO Mattia | 16:26:00 |
| 158 | PREIDLER Georg | 16:27:00 |
| 159 | WOODS Michael | 16:28:00 |
| 160 | CAMPENAERTS Victor | 16:29:00 |
| 161 | MEINTJES Louis | 16:30:00 |
| 162 | MARECZKO Jakub | 16:31:00 |
| 163 | ARU Fabio | 16:32:00 |
| 164 | VAN EMDEN Jos | 16:33:00 |
| 165 | BRAMBILLA Gianluca | 16:34:00 |
| 166 | BETANCUR Carlos | 16:35:00 |
| 167 | HERMANS Ben | 16:36:00 |
| 168 | CHAVES RUBIO Esteban | 16:37:00 |
| 169 | GENIEZ Alexandre | 16:38:00 |
| 170 | LOPEZ MORENO Miguel | 16:39:00 |
| 171 | FORMOLO Davide | 16:40:00 |
| 172 | FROOME Chris | 16:41:00 |
| 173 | CICCONE Giulio | 16:42:00 |
| 174 | ROCHE Nicolas | 16:43:00 |
| 175 | MARTIN Tony | 16:44:00 |
| 176 | DUMOULIN Tom | 16:45:00 |
Thank you for reading 5 articles this month* Join now for unlimited access
Enjoy your first month for just £1 / $1 / €1
*Read 5 free articles per month without a subscription
Join now for unlimited access
Try first month for just £1 / $1 / €1