Italian manager takes the blame after Gianni Moscon DQ'd from Worlds for taking tow from team car
Davide Cassani looks to direct criticism away from Moscon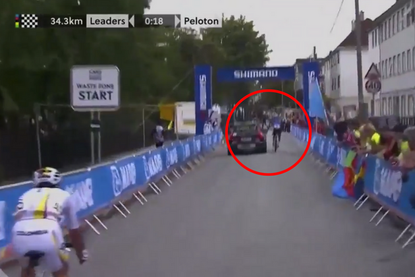 Italian national team manager Davide Cassani has taken responsibility for the extended sticky bottle that saw Gianni Moscon disqualified from the road race at the World Championships in Bergen.
Moscon, who was in a late breakaway and eventually crossed the line in 29th place, was disqualified after video footage emerged of him taking a tow from the Italian team car as he chased to regain contact with the peloton after crashing on the penultimate lap.
Cassani was in the passenger seat of the car handing the bottle to Moscon, and, in an interview with La Gazzetta dello Sport, took responsibility for the incident.
>>> Riders to face bans for holding on to team cars and going through level crossings from 2018
"What happened is all my fault. I gave him the bottle and told him to hold it," the 56-year-old, managing the Italian team in a World Championships for the final time, admitted.
"I know I shouldn't have done it and I apologise to everyone because it has made all of Italy look bad. However, what happened shouldn't affect Gianni's image. He doesn't deserve to be tarred by this, he's a good, honest guy."
The incident comes at the end of a up-and-down second professional season for Moscon, who proved to be a valuable domestique for Chris Froome at the Vuelta a España, but was also suspended for six weeks by Team Sky after being filmed appearing to make racist comments to FDJ's Kevin Reza after a stage of the Tour de Romandie.
The Italian is expected to finish his 2017 season on home soil with the Giro dell'Emilia and Il Lombardia.
Thank you for reading 20 articles this month* Join now for unlimited access
Enjoy your first month for just £1 / $1 / €1
*Read 5 free articles per month without a subscription
Join now for unlimited access
Try first month for just £1 / $1 / €1