Chris Froome on the Tour, training and just why he stares at his stem
Ahead of the 2015 season, Cycling Weekly sat down with Chris Froome to discuss the tumultuous last year, his meteoric rise in the pro peloton and how he's preparing for his next assault on the Tour de France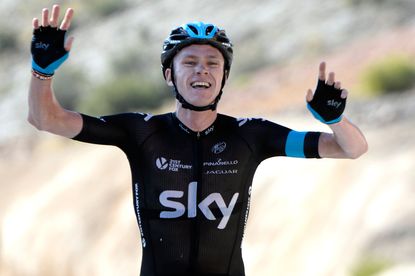 (Image credit: Graham Watson)
Happy newlywed Chris Froome is notably early for our interview. "Sophie?" he says tentatively in an unmistakable Saffa accent before approaching with a two-kiss greeting at a non-descript hotel foyer in Launceston, Tasmania where he is staying.
The 2013 Tour de France champion has embarked on an 11-hour journey from South Africa to Australia for a self-appointed training camp with Sky team-mate and Launceston native Richie Porte. It effectively marks the beginning of his pre-season after an eventful break that included marrying long-time girlfriend, Michelle Cound in Cape Town.
"We're based in Johannesburg [in the off-season] but I think Michelle and I first got to know each other years ago down in Cape Town, so it was a nice way to do it," Froome says smiling.
"We kept it very, very low key and didn't have any media covering it, which was great for the two of us and meant we could switch off. It's an amazing feeling being a married man!"
We chat formally and informally for about an hour as the grey heavens open outside, much to his disappointment as Porte had promised fine weather during the two-week trip that serves several purposes. Froome is scouting future off-season training base options. Launceston's undulating terrain is ideal for getting into shape, and he can move around relatively unnoticed — although the team issue Jaguar F-Type parked in the street begs to differ.
It also functions as a nod to his chief lieutenant, Porte, who enticed the naturalised Brit to compete in two hometown feature criteriums the weekend we speak. Froome's brief participation — he took no risks in wet and worsening conditions, riding off the back and later abandoning the marquee Stan Siejka Classic — was nonetheless front-page news.
"Richie is a close mate, he's been a massive part of my successes over the last few years and I think it's a small way of me also saying thanks to him for that," Froome explains.
"Our friendship has just grown over the years and it really does translate through onto the bike. It does help so much when you're in a situation on the road, under pressure. Richie and I will know exactly what we're thinking and half the time we don't need to say almost as much as we probably [otherwise] would need to."
Tour favourite
The 29-year-old is unequivocally focused on winning the 2015 Tour de France and, with the exception of February's Ruta del Sol, where he is set to begin the season, doesn't mention any other race or objective throughout the course of our conversation.
"I'm not necessarily looking to go out there in February winning anything but if I'm going well enough, and I'm able to pick up one or two results along the way, then great," he says. "But obviously keeping in mind that the main goal is going really well at the end of June."
Froome has already been touted as the favourite for the 102nd edition of the Tour, despite having to abandon the 2014 race due to injury, and Porte goes one step further in referring to his friend as "the rider of this generation".
"I've won the Tour de France once so I don't know if that's enough to say that I'm the Tour rider of this generation. I've still got a way to go," Froome respectfully rebuts.
"I wouldn't say I doubt myself but I think athletes in general have very low esteem. People talk to me now and say, 'how does it feel to be the favourite for the Tour de France?' and I'm like, 'are you kidding?' OK, I've won one Tour but I didn't win last year, I got beaten in the Vuelta and yet people are still saying I'm the favourite for next year. How does that work?
"I still feel that any success on the bike is something that I have to work extremely hard for. It's not just going to come easily that's for sure."
Instead of fully accepting praise, Froome offers it to his rival Alberto Contador (Tinkoff-Saxo), who beat him at the Vuelta after also abandoning the 2014 Tour because of crash-related injury.
"Alberto is definitely the point of reference as far as Grand Tour riding goes," he says affirmatively. "You just have to look back. The guy won the Tour de France in 2007 when he was riding with Discovery so he knows what he is doing. He's been winning the biggest races for a long time now."
Contador has outlined dual objectives in 2015 in the Giro d'Italia and Tour ahead of next season, but it is a Grand Tour challenge Froome is not ready to rise to.
"He knows how to get ready for them and if anyone can back up the Giro/Tour then I would say he's the guy to do it," Froome says. "I don't have that kind of confidence that I can do something like the Giro/Tour. I did the Tour/Vuelta back in 2012 and managed to come second and fourth, so it's something that could potentially be on the cards, but I'm going to have to get through the Tour first and see how that goes."
British connection
'Kenyan-born' is a constant prefix to Froome's name. He represents Great Britain at World Championships and is proud of his British heritage. However, on face value, his tea order and overt politeness are the only indicators of his ties to the United Kingdom.
"I probably don't drink enough black tea but I definitely have a lot of tea. Everywhere I go I've got my thermos of it," he says.
"I love coffee but it really picks me up and drops me afterwards, so I save that for the racing and the days where I know I need an extra bit of motivation.
"I've grown up in Africa but I've always had a very British upbringing given that my family is British."
Froome used his autobiography, The Climb, released in 2014, to help explain his roots and provide a personal insight into his rapid career ascension, which jarred with his publicly conservative nature. It notably included what was a turbulent 2012 Tour, during which the Team Sky leadership controversy with Sir Bradley Wiggins began to snowball into a media-hyped feud.
"A lot of people out there couldn't really relate to me given that I've come from Africa and I'm racing for Britain," he says. "If the story is there they can read about it and understand where I've come from and what I've had to go through to get to where I am. It's amazing to have that kind of support from the British public."
Froome's position as Sky's outright Tour team leader seems now, for the first time, indisputable, with 2012 winner Wiggins seemingly relegated to other pursuits, which in 2015 is set to include Paris-Roubaix and an Hour record attempt.
Froome and Sky team principal Sir David Brailsford have had their disagreements in the past, as his book dictates, but are now "on the same page", the rider says. Froome has relative free rein to plan his race programme, with input from Sky's head of athlete performance Tim Kerrison, in the lead-up to another major assault on the maillot jaune.
"I think the team are really supportive in the sense they are not going to try and just dictate what I should be doing or what perhaps sponsors want me to do," Froome says.
"They basically said to me, 'Listen, if you're going to be motivated to go to a race that's going to work so much better for us. Tell us what you want to do and we'll make it work, or we'll work the programme around that.' It's been really good working with a team like that.
"I think the principles they have, the standards they set, it is very British in that regard and I really enjoy that," he continues. "We're not conforming to another nationality's mould. This is our team, this is what we make it and I'd like to think I've got a long career ahead with Team Sky."
Press scrutiny
Froome has in the past been offended by a media that has itself been bruised by pro cycling's dirty past.
When we spoke, another doping controversy was making headlines: Astana, home to the reigning Tour champion Vincenzo Nibali, was at risk of losing its WorldTour licence after five riders, from its pro and feeder teams, tested positive for banned substances in a matter of months. One of those riders, Maxim Iglinskiy, supported the Italian winner in France, and in many races leading up to the Tour.
"What's happened with Astana is simply not acceptable in this day and age of cycling," Froome says with no hint of rehearsed speech. "For Nibali to actually have one of the guys who helped him win the Tour de France test positive, that too has got to weigh heavy on his shoulders."
Froome is widely regarded as an amicable personality and those in his inner professional circle can't recall a time when he lost his temper but, by self-admission, he came close en route to winning his career first yellow jersey.
"It happens," Froome says, before referring to the by now infamous press conference after his 2013 Mont Ventoux Tour stage victory in which he was faced with a series of doping-related questions.
"If you saw me in that press conference after Ventoux I was pretty close there to getting angry. It was not cool," he says. "I just think it's crazy given that the only thing people had against me at the time was that I was winning the race. That's all. There were no dodgy doctors, no product or anything like that."
Man versus athlete
Froome observes a slight demarcation between himself as a person and as an athlete.
"I'd say off the bike I'm a lot more relaxed as a person. I'd like to think I'm approachable," he observes.
"As an athlete I take my work very seriously. I want to be as professional as possible about what I do. I always try and stick to my training and get all the work done. That's a must for me, to do everything possible to be in the right shape.
"I'm quite finicky about the small details and getting everything absolutely right in preparation for a race. I'm stubborn that way, as an athlete. If I set my mind to something I'll do it. I'll make sure I do it no matter what it takes. Once I've done all that work and I get to the races it means I probably do come across as quite aggressive on the bike."
Even coming off the back of holidays, Froome, with the maillot jaune on his mind, looks lithe and lean. However, he's not close to what he has determined as his magic 67kg Grand Tour race weight yet. At 1.86m tall, Froome readily admits it's not necessarily a healthy measure and makes him more susceptible to illness in extreme conditions. There's no denying it is a number that works for him though.
"I find there's a huge advantage to being light when it comes to the mountains. It might not be for everyone, but for me it plays a big part in what I'm able to do on a bike," he says. "When I did well in the 2011 Vuelta [second to Juan José Cobo], which was the first Grand Tour that I really emerged as a contender, I raced at 67kg, so probably a good two kilos lighter than I'd ever been before. The results showed what a difference it made.
"I'm quite strict on myself with my eating once I go down towards that kind of weight. It's amazing how much your body can do on so little," he says.
"I'm at about 71kg now so I've got to get myself back to 67kg. I'm not worried at all — that's perfectly normal after a month off the bike."
Grand ambitions
In Porte, Froome has a loyal colleague all but sure to be at his side come the Utrecht Grand Départ in July. Froome also mentions Geraint Thomas, Vasil Kiryienka, Mikel Nieve and new signings Leopold König and Nicolas Roche, who has previously supported Contador at Tinkoff-Saxo, as proven weapons to aid his assault on the Tour.
Froome is set to join his team-mates at an official January Sky training camp in Spain, albeit with a slightly different agenda. "I think it's important with a lot of new guys in the team just to get to know some of them better before we start working together," he says.
Froome has come a long way, in terms of headline-grabbing results and his stature within the pro peloton, in a comparatively short period of time. And it's blatantly obvious that one Tour de France victory will not be enough to satisfy his competitive appetite.
"I came into cycling relatively late compared to guys like Contador, who, I mean, I think he came out of school at the age of 16 to focus on his cycling whereas I was still at university at the age of 22," Froome says. "I've definitely got some improvements to make but I'm optimistic about the future. I really feel as if I have more to give.
"I wanted to become a professional cyclist and even though I was studying at the time, and not 100 per cent sure I'd be able to get into the pro circuit, that was still the dream I always had.
"It feels amazing to be able to actually pull it off and not only get onto the European scene but actually win the biggest race there is.
"The next Tour especially is shaping up to be a great battle between myself, Contador and, I mean, I wouldn't rule out guys like Nairo Quintana and Nibali."
Stem staring
If people aren't talking about Chris Froome's performances, they're talking about his look when he's riding the bike.
You know that position he holds, one elbow jutting out at a weird angle, his head bowed and eyes apparently firmly fixed on his power meter display during the most gruelling efforts.
Sky has a renowned foundation in sports science so it would be fitting if Froome was looking at the numbers tick over, as a means of clinically gauging his performance in critical moments during races.
However, Froome admits that's not the case. "I'm not looking at anything, I just find my neck gets [sore] if I look up," he reveals.
"For some reason I feel when I look down I'm able to breathe a lot easier. I don't know, maybe it's just me, but I feel it's a much more comfortable position to do really hard efforts.
"Obviously when I look down I can see at least a good five metres in front of me," he adds quickly with a laugh. "I do need to keep looking up to check!"
Grand Tour triple
Chris Froome will not rise to the triple Grand Tour challenge rival team boss Oleg Tinkov has put forth, despite the notable cash bait.
Tinkov, the eccentric Russian businessman and owner of Tinkoff-Saxo, offered Froome, Alberto Contador, Nairo Quintana and Vincenzo Nibali a collective €1 million to compete in all three Grand Tours in 2015.
"If Quintana, Froome, Nibali and Contador all agree to ride all three Grand Tours, I'll get Tinkoff Bank to put up €1 million. They can have €250,000 each as an extra incentive. I think it's a good idea," Tinkov said in October.
"It's good that Alberto is going for the Giro/Tour double but I think the biggest and best riders should race against each other and ride all three Grand Tours."
There are WorldTour riders that race the triple in a single season — think Australian super domestique Adam Hansen (Lotto-Belisol) — though not for the title victory.
"It's possible, but to actually be up there fighting for the win I believe would be very difficult," Froome says. "You'd almost have to do no other races in between and just focus on training. It probably would take away from the smaller races and mean that a lot of the big names don't do any of them.
"It has got merit given that the biggest guys would be competing in the biggest events — all of them, all the time, so it's always that big battle between the GC contenders.
"I just think at this point, where I am, I personally don't feel I'm up for, or able to do, all three like that."
Froome's Tour de France-ending injury
It was hard to watch the defending Tour de France champion limp into a team car during the treacherous and rain-soaked fifth stage of the race last year.
Froome crashed twice before the peloton hit the cobbles of Paris-Roubaix, but wasn't in good shape to begin. He started the stage obviously injured after a stack the previous day where he hurt his left wrist and later went for X-rays.
He says he didn't enter the stage from Ypres to Arenberg with the intention of abandoning the race, despite his Sky team-mates visibly protecting Richie Porte (their plan B in the race) as opposed to their leader when he fell back.
Further scans after his exit revealed the full extent of injuries: a fractured left wrist and right hand.
"The X-rays we went for after stage four didn't reveal anything. I only had the one wrist scanned then. My right hand hurt me but it wasn't affecting me at all on the bike so we didn't get that X-rayed initially, but it turned out there was a small break there," Froome says with hindsight.
"That wasn't the issue, the issue was the left wrist which swelled quickly. It was painful but I hoped it was just swelling from impact and I could get through that cobbled stage, and by the mountains hopefully it would go down and I'd carry on.
"But it really did just swell up like a balloon and I wasn't able to use that left hand properly. I think that resulted in two more crashes that day [stage five] — one I just couldn't hop my bike over a crack in the road and the second one, one of my team-mates crashed in front of me and I just went straight over the top," he continues.
"A lot of people looked at stage five of the Tour and said, 'oh, he can't handle his bike', and, 'it's not normal for him to crash twice in one stage in the wet'. Try riding with a fractured wrist and a broken hand and see how well you can control the bike then!
"Even a good bike handler like Nibali, he crashed twice in the World Champs so you can't say it's due to bike handling or anything like that. Crashes happen — that's cycling for you."
Photographs by Graham Watson
Thank you for reading 5 articles this month* Join now for unlimited access
Enjoy your first month for just £1 / $1 / €1
*Read 5 free articles per month without a subscription
Join now for unlimited access
Try first month for just £1 / $1 / €1