Giant sponsor supports inclusion of first Chinese national in Tour team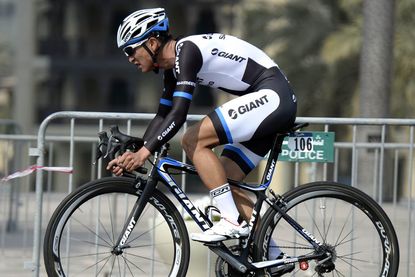 (Image credit: Graham Watson)
Giant-Shimano has been the subject of wanting sponsorship speculation this season but the foremost bike manufacturer has reiterated its commitment to the WorldTour team and backed the inclusion of Chinese rider Cheng Ji in its Tour de France squad.
Ji was a surprise addition to the Tour team announced on Wednesday and stands to generate added exposure as the first Chinese national to start the Grand Tour, no less alongside reigning sprint supreme Marcel Kittel as well as co-leader John Degenkolb.
Taiwanese-based company Giant has strong ties to the Asia market, as does Shimano, and so the inclusion of a Chinese rider capable of meeting the demands of the Tour is big business to the title and technical partner. The 26-year-old Ji has raced considerably less than some of his Tour team-mates this season – 28 days at the time of print - but his selection all parties maintain was based on sporting merit and not sponsor favour.
"It is a big deal," Giant global sports marketing manager Tom Davies told Cycling Weekly. "We know how much interest there will be with a Chinese rider.
"It certainly wasn't sponsor pressure because Giant also appreciates the sporting element and we leave that alone. Obviously if there was a chance that he would go in then they would work harder to get him in, but not at the expense of another rider that compromises say the sprint train.
"The French kid [Warren Barguil] not going to the Tour, if it was up to me, I'd put him in. The French press would go crazy with Warren in the team. That kind of proves, on a European basis, if you had to choose between a Chinese and an exciting French rider Warren would command just as much media, maybe more. But the team's international set-up influenced us being a partner and from that, yeah, you hope certain riders go to the Tour because that will increase media in those countries. However, we don't influence the sporting side. We don't get involved there. Ji's already done the Vuelta and he's already done the Giro so the natural next step was the Tour."
Argos-Shimano, an incarnation of the current group, was the most successful sprint team of the 2013 Tour with Kittel claiming four stage victories and the first yellow, green and white jersey of the race. That and the desire to re-stamp authority on flat stages this season makes team selection perhaps even more paramount. The 2014 line-up almost mirrors that of 2013 but with race debutant Ji as well as pavé specialist Dries Devenyns, who will come into play especially on the cobbles that feature in the first week, replacing German engines Simon Geschke and Johannes Fröhlinger.
Ji has been with the team since 2007 and this year was part of the sprint train that helped deliver Kittel to a record third consecutive victory at the April semi-classic Scheldeprijs. He rode at the Dubai Tour in February, where Kittel won three stages, and with the German at this month's Ster ZLM, which is a Tour warm-up of sorts. Ji will enter the Yorkshire Grand Depart on the back of Halle-Ingooigem.
"Due to the exploits last year - and certainly this year already - Giant-Shimano is a hot team. There'll be a lot of talk about Cavendish and Kittel, especially with the early days of the race. Next week it's going to reach fever pitch," Davies said. "Then you throw in, from our end, the Chinese element, for Asia it's going to be inspiring."
Davies deems a successful Tour as a mix of victory and prime media exposure with the first opportunity for the squad being line honours in Harrogate.
"Being the first Chinese guy and falling off your bike after the first 100m of the first day means you don't really get too much coverage. It's a bit like the England football team in the World Cup – it only goes so far," Davies said.
"For us it's an exciting thing. I would be disappointed if we didn't win a stage. I can hope for six stages but one is already hard enough. I think if we can win a stage that's great and if Cheng can have a decent breakaway day or two and is seen on TV fighting a bit that would be successful."
Giant was named a team technical sponsor for the 2014 season in August and then stepped-in - 12 months earlier than planned - also as a co-title sponsor when a publicly unnamed title benefactor fell through late last year. Davies quashed speculation that its backing had an imminent expiry date.
"We have [future] aspirations, yes, because as a bike brand we're not going anywhere. Others come and go and can tell fancy stories about how much they're into cycling, but we are cycling," Davies said. "We want to be in for the long run and we actually have a long-term commitment. We don't have something that we intend to leave but we still need an extra sponsor to help continue to grow the team as we all want it to."
Davies said Giant's partnership would not hinge on the signatures of one or two big names within the team, like Kittel, for example, who last year extended his contract after a breakthrough Tour campaign.
"Last year Giant had an opportunity to either stay at Belkin or move on and then you look at several things because riders do come and go," Davies said. "If you look at the history of Giant we've been with many of the best riders of the time and then they leave or something happens. We looked at the team's philosophy and make-up and how it's grown as the main attraction. When I really started being really serious about this team it was before last year's Tour de France."
Thank you for reading 20 articles this month* Join now for unlimited access
Enjoy your first month for just £1 / $1 / €1
*Read 5 free articles per month without a subscription
Join now for unlimited access
Try first month for just £1 / $1 / €1