Tour de Romandie 2018 prologue start times
Full list of riders and when they head off for the prologue time trial of the 2018 Tour de Romandie in Switzerland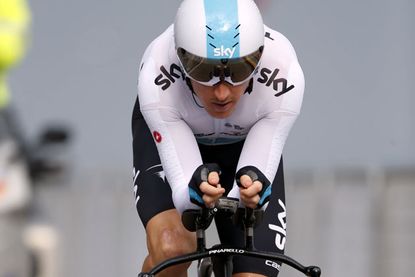 (Image credit: Yuzuru Sunada)
The 2018 Tour of Romandie kicks off with a short and sharp prologue time trial on Tuesday, April 24, in Switzerland.
Marco Minnaard (Wanty-Groupe Gobert) is the first of just 133 riders off in the 4.02-kilometre test against the clock in Fribourg at 3.13pm local time (2.13pm UK time).
Despite its short length, it's far from straightforward test, with cobbled surfaces, sharp bends and several hills.
Among the starters are several notable time triallists, including the runner-up in last year's Romandie prologue, British rider Alex Dowsett (Katusha-Alpecin).
>>> Tour de Romandie 2018 start list
Dowsett ranks as one of the favourites to post a good time, along with the likes of Geraint Thomas (Team Sky), Victor Campanaerts (Lotto-Soudal), Primoz Roglic (LottoNL-Jumbo), Jonathan Castroviejo (Team Sky), Rohan Dennis (BMC Racing), British time trial champion Steve Cummings (Dimension Data) and defending Romandie champion Richie Porte (BMC Racing).
Porte is last rider off at 5.25pm local time (4.25pm UK time).
>>> Tour de Romandie 2018 live TV guide
NB: Start times are local time, subtract one hour for UK time.
Swipe to scroll horizontally
| | | | |
| --- | --- | --- | --- |
| Start order | Start time | Race no. | Name |
| 1 | 15:13:00 | 187 | MINNAARD Marco |
| 2 | 15:14:00 | 171 | ŠPILAK Simon |
| 3 | 15:15:00 | 167 | VENTER Jaco |
| 4 | 15:16:00 | 153 | VINCENT Leo |
| 5 | 15:17:00 | 141 | MARTIN Daniel |
| 6 | 15:18:00 | 134 | STAMSNIJDER Tom |
| 7 | 15:19:00 | 126 | de TIER Floris |
| 8 | 15:20:00 | 114 | CLARKE William |
| 9 | 15:21:00 | 102 | BEPPU Fumiyuki |
| 10 | 15:22:00 | 94 | LOPEZ GARCIA David |
| 11 | 15:23:00 | 82 | DENZ Nico |
| 12 | 15:24:00 | 74 | GRIVKO Andrey |
| 13 | 15:25:00 | 62 | KEUKELEIRE Jens |
| 14 | 15:26:00 | 57 | PERNSTEINER Hermann |
| 15 | 15:27:00 | 44 | QUINTANA Dayer |
| 16 | 15:28:00 | 36 | SCHILLINGER Andreas |
| 17 | 15:29:00 | 25 | TUFT Svein |
| 18 | 15:30:00 | 17 | SABATINI Fabio |
| 19 | 15:31:00 | 5 | BOHLI Tom |
| 20 | 15:32:00 | 183 | DOUBEY Fabien |
| 21 | 15:33:00 | 175 | GONCALVES Jose |
| 22 | 15:34:00 | 165 | KUDUS Merhawi |
| 23 | 15:35:00 | 154 | CIMOLAI Davide |
| 24 | 15:36:00 | 146 | FARIA da COSTA Rui Alberto |
| 25 | 15:37:00 | 135 | STORER Michael |
| 26 | 15:38:00 | 125 | TANKINK Bram |
| 27 | 15:39:00 | 113 | CANTY Brendan |
| 28 | 15:40:00 | 106 | DANIEL Gregory |
| 29 | 15:41:00 | 97 | ROWE Luke |
| 30 | 15:42:00 | 85 | DUMOULIN Samuel |
| 31 | 15:43:00 | 76 | HOULE Hugo |
| 32 | 15:44:00 | 65 | WOUTERS Enzo |
| 33 | 15:45:00 | 56 | NAVARDAUSKAS Ramunas |
| 34 | 15:46:00 | 47 | SEPULVEDA Eduardo |
| 35 | 15:47:00 | 31 | BUCHMANN Emanuel |
| 36 | 15:48:00 | 24 | POWER Rob |
| 37 | 15:49:00 | 14 | KNOX James |
| 38 | 15:50:00 | 6 | DENNIS Rohan |
| 39 | 15:51:00 | 184 | DUPONT Timothy |
| 40 | 15:52:00 | 177 | PLANCKAERT Baptiste |
| 41 | 15:53:00 | 166 | van ZYL Johann |
| 42 | 15:54:00 | 155 | DUCHESNE Antoine |
| 43 | 15:55:00 | 144 | ATAPUMA HURTADO Jhon Darwin |
| 44 | 15:56:00 | 133 | HAMILTON Christopher |
| 45 | 15:57:00 | 122 | BOOM Lars |
| 46 | 15:58:00 | 116 | MARTINEZ POVEDA Daniel Felipe |
| 47 | 15:59:00 | 103 | BERNARD Julien |
| 48 | 16:00:00 | 96 | ROSA Diego |
| 49 | 16:01:00 | 86 | GOUGEARD Alexis |
| 50 | 16:02:00 | 73 | FRAILE MATARRANZ Omar |
| 51 | 16:03:00 | 66 | CAMPENAERTS Victor |
| 52 | 16:04:00 | 52 | COLBRELLI Sonny |
| 53 | 16:05:00 | 45 | ROJAS Jose |
| 54 | 16:06:00 | 34 | KENNAUGH Peter |
| 55 | 16:07:00 | 27 | NIEVE ITURRALDE Mikel |
| 56 | 16:08:00 | 15 | MARTINELLI Davide |
| 57 | 16:09:00 | 3 | WYSS Danilo |
| 58 | 16:10:00 | 182 | DEGAND Thomas |
| 59 | 16:11:00 | 176 | KOCHETKOV Pavel |
| 60 | 16:12:00 | 163 | DOUGALL Nicolas |
| 61 | 16:13:00 | 152 | THOMAS Benjamin |
| 62 | 16:14:00 | 145 | ĐURASEK Kristijan |
| 63 | 16:15:00 | 136 | TEN DAM Laurens |
| 64 | 16:16:00 | 127 | WAGNER Robert Thomas |
| 65 | 16:17:00 | 112 | BROWN Nathan |
| 66 | 16:18:00 | 107 | van POPPEL Boy |
| 67 | 16:19:00 | 95 | SIVAKOV Pavel |
| 68 | 16:20:00 | 84 | DOMONT Axel |
| 69 | 16:21:00 | 72 | CATALDO Dario |
| 70 | 16:22:00 | 61 | de GENDT Thomas |
| 71 | 16:23:00 | 54 | IZAGUIRRE INSAUSTI Gorka |
| 72 | 16:24:00 | 42 | ANACONA Winner Andrew |
| 73 | 16:25:00 | 35 | POLJANSKI Pawel |
| 74 | 16:26:00 | 22 | HAMILTON Lucas |
| 75 | 16:27:00 | 16 | MORKOV Michael |
| 76 | 16:28:00 | 4 | FRANKINY Kilian |
| 77 | 16:29:00 | 186 | MEURISSE Xandro |
| 78 | 16:30:00 | 174 | FABBRO Matteo |
| 79 | 16:31:00 | 162 | DLAMINI Nicholas |
| 80 | 16:32:00 | 151 | MOLARD Rudy |
| 81 | 16:33:00 | 147 | FERRARI Roberto |
| 82 | 16:34:00 | 137 | VERVAEKE Louis |
| 83 | 16:35:00 | 124 | KRUIJSWIJK Steven |
| 84 | 16:36:00 | 115 | DOMBROWSKI Joseph Lloyd |
| 85 | 16:37:00 | 105 | CONCI Nicola |
| 86 | 16:38:00 | 93 | CASTROVIEJO Jonathan |
| 87 | 16:39:00 | 87 | LATOUR Pierre Roger |
| 88 | 16:40:00 | 77 | KANGERT Tanel |
| 89 | 16:41:00 | 67 | MERTZ Remy |
| 90 | 16:42:00 | 55 | KOREN Kristijan |
| 91 | 16:43:00 | 43 | BETANCUR Carlos |
| 92 | 16:44:00 | 32 | ACKERMANN Pascal |
| 93 | 16:45:00 | 21 | ALBASINI Michael |
| 94 | 16:46:00 | 13 | GAVIRIA RENDON Fernando |
| 95 | 16:47:00 | 2 | ROSSKOPF Joseph |
| 96 | 16:48:00 | 185 | EIKING Odd Christian |
| 97 | 16:49:00 | 172 | BELKOV Maxim |
| 98 | 16:50:00 | 164 | GHEBREIGZABHIER WERKILUL Amanuel |
| 99 | 16:51:00 | 156 | GAUDU David |
| 100 | 16:52:00 | 143 | BONO Matteo |
| 101 | 16:53:00 | 132 | GESCHKE Simon |
| 102 | 16:54:00 | 123 | CLEMENT Stef |
| 103 | 16:55:00 | 117 | ROLLAND Pierre |
| 104 | 16:56:00 | 101 | GRMAY Tsgabu Gebremaryam |
| 105 | 16:57:00 | 92 | BERNAL GOMEZ Egan Arley |
| 106 | 16:58:00 | 83 | DILLIER Silvan |
| 107 | 16:59:00 | 75 | HANSEN Jesper |
| 108 | 17:00:00 | 63 | SHAW James |
| 109 | 17:01:00 | 53 | GASPAROTTO Enrico |
| 110 | 17:02:00 | 46 | ROSON GARCIA Jaime |
| 111 | 17:03:00 | 33 | BASKA Erik |
| 112 | 17:04:00 | 26 | VERONA Carlos |
| 113 | 17:05:00 | 12 | CAPECCHI Eros |
| 114 | 17:06:00 | 7 | van GARDEREN Tejay |
| 115 | 17:07:00 | 181 | MARTIN Guillaume |
| 116 | 17:08:00 | 173 | DOWSETT Alex |
| 117 | 17:09:00 | 161 | CUMMINGS Stephen |
| 118 | 17:10:00 | 157 | LUDVIGSSON Tobias |
| 119 | 17:11:00 | 142 | AIT EL ABDIA Anass |
| 120 | 17:12:00 | 131 | MATTHEWS Michael |
| 121 | 17:13:00 | 121 | ROGLIČ Primož |
| 122 | 17:14:00 | 111 | CARTHY Hugh John |
| 123 | 17:15:00 | 104 | BRANDLE Matthias |
| 124 | 17:16:00 | 91 | THOMAS Geraint |
| 125 | 17:17:00 | 81 | FRANK Mathias |
| 126 | 17:18:00 | 71 | FUGLSANG Jakob |
| 127 | 17:19:00 | 64 | ARMEE Sander |
| 128 | 17:20:00 | 51 | IZAGUIRRE INSAUSTI Jon |
| 129 | 17:21:00 | 41 | AMADOR Andrey |
| 130 | 17:22:00 | 37 | SELIG Rudiger |
| 131 | 17:23:00 | 23 | HOWSON Damien |
| 132 | 17:24:00 | 11 | VIVIANI Elia |
| 133 | 17:25:00 | 1 | PORTE Richie |
Thank you for reading 5 articles this month* Join now for unlimited access
Enjoy your first month for just £1 / $1 / €1
*Read 5 free articles per month without a subscription
Join now for unlimited access
Try first month for just £1 / $1 / €1