RGT Cycling launches customisable Racing Parameters function
Riders will be able to create and customise their own race formats using the virtual cycling platform's expanded capability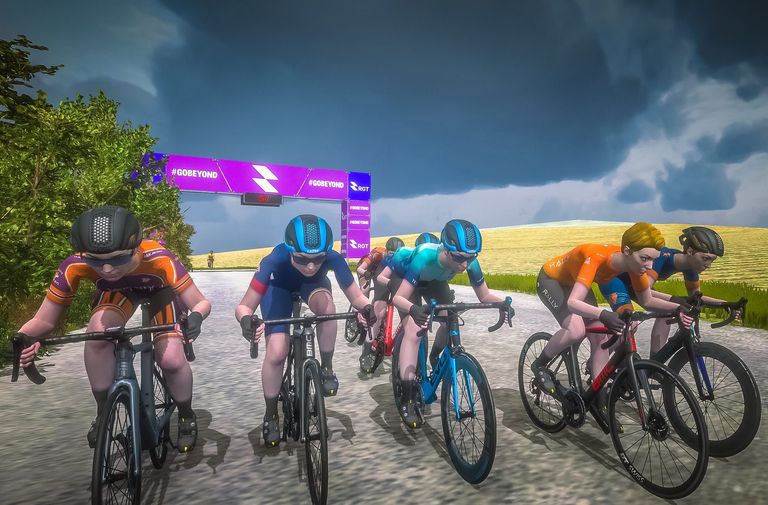 RGT Cycling has launched Racing Parameters, a new function which enables riders to create their own race formats, expanding from mass-start to time trial and elimination events. And it says that's just the beginning.
>>> Road Grand Tours (RGT): everything you need to know (opens in new tab)
RGT explained: "Recognising that one of the most engaging aspects of competitive cycling is its diversity and that there is a suitable discipline for every type of rider, RGT Cycling sought to develop a system which welcomes riders from all disciplines and allows them to compete and train in the virtual (opens in new tab), in the same way they race out on the road."
Time trials
RGT says you can organise and enter time trial events on existing RGT Cycling routes or by creating your own route modelled on your favourite real-world courses using Magic Roads (for which users upload a GPX file). Riders can determine the field size, the intervals at which riders are released from the start gate, toggle drafting on or off and race against the clock in what RGT says is "the most immersive and accessible virtual time trial competition format available."
Elimination
Borrowing the elimination race or 'devil take the hindmost' from track racing, as its rival Zwift has done, this could be a lot of fun on RGT. The last rider over the line is eliminated each lap, with the final few riders battling for the win. RGT says its new elimination Racing Parameter lets you design or enter an event, decide on entry numbers and elimination format, choosing the number of riders eliminated per lap as well as the number of laps between an elimination lap.
Breakaway update
RGT has also rolled out a new update, Breakaway, which it says will improve rider experience. Updating the app will include new features including:
Updated screen and companion app to improve user experience
Improved navigation to make finding your next ride, race, group or training ride easier
Ride Magic Roads with a single click
Training equipment is now connected both from the app home screen and when in a ride
Easier access to Support
Improved avatar customisation process
Simplified locating of other riders to ride with
Creating and sharing events is more intuitive
It's all on RGT's website at www.rgtcycling.com (opens in new tab)
RGT Cycling's head of brand and marketing, James Vickers, said: "Creating the world's most realistic virtual reality cycling experience is what RGT Cycling is all about, whether that's visiting some of the world's most iconic Real Roads such as the Paterberg or Passo dello Stelvio or recreating your favourite ride locations with a GPX upload to generate Magic Roads. Racing Parameters is the beginning of the 'next gen' of virtual cycling, opening up the platform for use in whichever way the rider wishes to use it.
"This is that next step towards providing an ever more captivating and immersive experience where, like cycling in the real world, the only limitation on how challenging and fun a ride is depends on how imaginative a rider or event organiser is willing to be. We've only just started with race parameters and have big plans for the future"
RGT gained a lot more users in March when it went completely free in response to the lockdown. Now it has a choice of free or premium subscriptions, with premium priced at £6.99 per month, undercutting rival Zwift, which is subscription only and £12.99 per month.
Thank you for reading 5 articles this month* Join now for unlimited access
Enjoy your first month for just £1 / $1 / €1
*Read 5 free articles per month without a subscription
Join now for unlimited access
Try first month for just £1 / $1 / €1
Simon Smythe is Cycling Weekly's senior tech writer and has been in various roles at CW since 2003. His first job was as a sub editor following an MA in online journalism.
In his cycling career Simon has mostly focused on time trialling with a national medal, a few open wins and his club's 30-mile record in his palmares. These days he spends a bit more time testing road bikes, or on a tandem doing the school run with his younger son.
What's in the stable? There's a Colnago Master Olympic, a Hotta TT700, an ex-Castorama lo-pro that was ridden in the 1993 Tour de France, a Pinarello Montello, an Independent Fabrication Club Racer, a Mercian Classic fixed winter bike and a renovated Roberts with a modern Campag groupset.
And the vital statistics:
Age: 53
Height: 178cm
Weight: 69kg