Tech Question: Should a commuter bike be a joy to ride or a workhorse?
Performance or practical? We asked what what the dream commuting bike looks like and why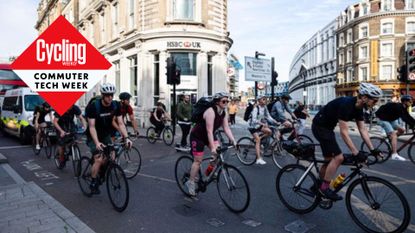 (Image credit: Getty Images)
According to the last Department of Transport survey (2021), the distance travelled by Brits on a bike was an staggering 4.2 billion miles. Across the water, it's been calculated, by the United States Census Bureau, that an impressive 616,153 people commute by bike every day.
That's a lot of people going about their daily business on a bike.
Which begs the question, what is best commuter bike to do all this commuting on?
Performance or Practical?
For some riders, a commute is a chance to grab some free training miles, using the opportunity to keep up their Strava stats, and attack a KOM leader board every day.
For others, commuting by bike is just about getting the job done, choosing something practical, sturdy and hardwearing.
But, is one better than the other?
Surely puncture resistant tyres, fenders and panniers for laptops and lunch would be the best? Who wouldn't want a sturdy beast, that runs like clockwork with minimal maintenance?
But then again, doesn't it makes sense to ride a bike that has a similar feel and position as your favourite bike? In fact why not ride your favourite bike to the office? Pull on the Lycra and strap on the backpack, you'd be there in half the time.
It's a dilemma for sure, so we spoke to four regular cycling commuters to find out what they ride and what they think the best commuter bike is.
What we ride
Nadine Puddoo, 38, Senior Accounts Team Leader
My commute is about 6 miles long from Stockport into Manchester, it takes me around 30 mins each way. I have a Carrera Crossfire 2 hybrid bike. I added mudguards and a pannier rack and lights for winter as I commute year round, unless it's snowing, icy or stormy on varied terrain.
My bike isn't the perfect commuter bike because it's quite heavy, even heavier with my bags on, but I've grown stronger with it and can cycle at a good pace.
The best bike would be a lighter hybrid, ideally my next investment, but having said that, my Carrera is a sturdy bike, one I'm super comfortable on - and it's still 100% fun to ride.
James Tresman, 46, Primary School Teaching Assistant
I think something versatile is best and exactly what I ride. I've got a fairly short commute, between 4 and 4.5 miles depending on route, either entirely by road or via the canal (which I can access at the end of my street) and it's flat either way.
A mountain bike would be too much for the off-road bits and no good on tarmac, but a pure road bike doesn't give the option of different routes, which is why my entry-level Cube Nuroad gravel bike is perfect.
It's rugged enough to handle whatever I throw at it and it handles riding in the depths of winter. I've not felt like having "only" 8spd or mechanical discs has ever been a problem!
I can potter or blast and either is fun. It's not a hugely different set up - position wise - to my cyclocross race bike, so I'll often extend my ride on the home-leg for additional training. I can turn off the canal into a local nature reserve with a few miles of lovely singletrack and gravel, or just as easily choose a tough hilly road route. Having a versatile gravel bike means I can go almost anywhere! Even a 75 mile off road ride in the Peak District with 5500ft of climbing. It's brilliant!
Jane Bedford, 44, Solicitor
An aluminium cross bike is ideal for commuting, despite mine being heavy and battered.
On mine, a 10-year-old Merlin, I swapped the original wheels for touring ones, (Mavic open pro 32 hole) and use 28c Schwalbe Marathon Plus commuting tyres to cope with the bad road surfaces and loaded panniers. I also added mudguards, a rack and a dynamo hub for lights, which means I don't have to worry about charging lights in-between commutes.
Swopping from a rim brake bike to disc brakes pays off; I was wearing out the rim brake pads so regularly with the stop / start nature of commuting, and now it requires less maintenance .
The only other bike I would consider is a folding one, so I could bring it inside, or take on public transport. I won't currently commute on my bike if I have to leave my bike outside anywhere as I would be devastated if it was stolen.
Sometimes I do think that my bike is over spec'd for a commute, but I think I might not love my commute so much if I was on a less comfortable and reliable bike and that might lead to me being less inclined to commute on my bike.
Caroline Harding, 47, Freelance Graphic Designer
I genuinely don't see why you can't use any bike, they'll all be a joy to ride if they are well maintained. I rotate between a few bikes depending on the commute and where the bike has to get left while I'm not on it.
If I have to lock my bike outside, I'll use an old Dolan track racing bike with a front brake installed. This has the least amount of stuff to steal off it, so I'm happier leaving it outside although getting up the hills is hard work.
If I have somewhere safe inside, my go to is a Shorter aluminium frame with SRAM Apex, Mavic Askium wheels, mudguards and flaps. It's fairly bottom of the range but nice to ride.
When I was racing a lot this was my everyday training bike. It's like Trigger's Broom now: it's had several replacement wheels, chainsets, and even handlebars and STIs when someone stole them off the bike once when I left it locked outside.
If I am racing that evening, I'll ride my time trial bike into work, which is a Cervelo P2, but I'll ride it with training wheels and normal cycling clothes and helmet, not a skinsuit, and not beat myself up too much about the time I did.
Best commuter bike conclusion
It really does seem that any bike, as long as it's looked after, can become the best commuting bike for you.
The key to a happy and joyful commute appears to be added versatility, be it a bike that does it all, such as Tresman's Cube NuRoad, or, if you have more than one steed in the stable, choose a bike that meets your needs for the day, like Harding, and don't feel ridged to move away from a traditional commuting bike.
Making your own adaptions is a great way to get your perfect commuting bike. Nearly all our riders have made changes to the original off-the-shelf steeds, from swapping wheels and tires to suit your terrain, adding a rack and panniers, or even adding a dynamo hub to not have to worry about charging lights.
The idea of riding your race bike is an ideal way to get used to riding in that position, especially if it's a time trial bike. It also saves having to head home early, stress about getting back out to the race in traffic and worrying about a warm up.
One thing that is clear is that security is a big influence on commuters, some even deciding to leave the bike at home if they can't guarantee it's going to be safe. Whatever you decide to commute on, knowing how to lock a bike securely will help make sure it's still then when it's time to ride home.
Thank you for reading 20 articles this month* Join now for unlimited access
Enjoy your first month for just £1 / $1 / €1
*Read 5 free articles per month without a subscription
Join now for unlimited access
Try first month for just £1 / $1 / €1