Two epic Zwift records were set in three days
Records for most consecutive team time trails and a sub-three hour 150km ride were set in January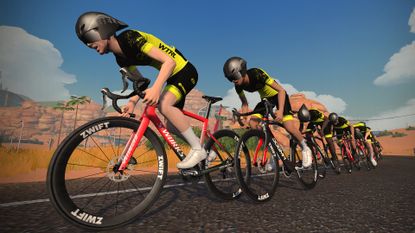 (Image credit: WTRL)
In the span of three days in early January 2023, cyclists competing on the virtual cycling platform, Zwift, set two epic records riding the slipstream of the platform's community, convenience and competition.
On January 12, 2023, a core group of three Zwifters set out to break the record for most consecutive virtual Team Time Trials (TTTs) performed in a single day, previously set at 11 on June 23, 2022. Then, two days later, a group of strongmen and women gathered in the virtual pen with sights set on a sub-three hour 150km record.
The World Tactical Racing League (WTRL) team time trial competition is one of the most popular weekly events on the Zwift platform. Men and Women compete in nine categories spread across various time zones every Thursday, and the racing community shows up in droves.
Twenty Team Time Trials in a Day
Thursday, January 12, 2023, was the 195th edition of the WTRL TTT. An astonishing 669 teams of four to eight riders lined up on the London course to compete across men's, women's and co-ed categories.
Among them were Stephen Katuska, Christopher "Serkit" Taylor-Kerr and David Squirrell from the DIRT (Dads Insider Riding Trainers) team.
Katuska's race on TTT Thursday began in the middle of the night, at 12:18 a.m. to be exact, from the convenience of his Connecticut, USA home. But preparation and planning for this event started long before. The 10,000-plus members of the trio's DIRT team came together to handle the logistics of coordinating an epic undertaking: to race 22 consecutive team time trials. An endeavor to not only set a new record, but also to support The DIRT Dad Fund, a charity created to provide financial assistance to its community members.
The team performed admirably throughout the day, banging out back-to-back forty-ish minute TTT efforts with only a brief between-race respite to avoid missing the start of the next. When the monumental day ended without a drop of energy left to push the pedals, Squirrel and Taylor-Kerr had completed 19 events covering 461km (286.4 miles) in 12 hours and 50 minutes of riding time. Katuska wrung one additional zone from his fatigue-soaked legs setting the record at 20 Zwift TTTs ridden in a single day — just short of the team's goal of 22.
"Massive thanks to club DIRT and all the various TTT teams of the DIRTiverse," acknowledged Taylor-Kerr. "While Stephen, Squirrell, and I may have earned acclaim for our performances, the kudos belong to the 53 teammates that helped pull the three of us through London over and over and over again. It was truly a team performance above all else!"
Katuska's accumulated ride data is astounding. He rode 497 km (309 miles), with a total time in the saddle (including warm-up and cool-down) of 14 hours and 55 minutes. He burned over 12,000 calories, had a 650 Training Stress Score, with an average power of just over 230 watts (just under 250 watts normalized).
Katuska spent around three hours climbing the virtual version of Box Hill alone, with the fastest time of 7:19 and the last lap a grueling 11:51.
"Each effort up Box Hill was excruciating," Katuska admits. "During each descent, off the back side, I ended up closing my eyes on the downhill and just slumped on the handlebars."
His average speed was 23.1 mph for 13 hours and 23 minutes of racing time. It was way into the night when Stephen's trainer coasted to a stop. The day that began at 12:18 a.m. came to a satisfying end for Stephen at 10:45 p.m. EST.
WTRL co-founder Martin Carew took the opportunity to celebrate the incredible achievement praising, "13 hours of Zwift cycling on a stationary trainer is no mean feat and made all the more spectacular by the fact that all of the races were Team Time Trials—arguably the most grueling race-type you can do on a bike! Completing 19 or 20 of them is a monstrous effort, and for a great cause, too, in the DIRT Dad Fund."
A Sub-Three Hour 150 km
Two days later, a large group of anxious hopefuls set off for another monstrous effort: maintaining a 50 km/h average speed for three hours to break the 150km record.
Led by Romaric Eloud, Markus Meir, Glenn Utteridge, Andreas Dietrich and David Cresswell of Zwift Team Innovation, the cohesive group exited the pen trading ambitious 5.5w/kg turns at the front.
The group sacrificed themselves like soldiers going to war, with 60 combatants remaining after an hour, and down to 40 after two hours. The collective effort built up a two-minute buffer after 50km but gave back a minute by 100km. With teeth-gritted and hero pulls till the end, 29 strong men and women crossed the line in under three hours, with less than 60 seconds to spare.
For one of the riders who fell on his sword, "it was like going to war for Team Innovation, and it was one of the hardest and most rewarding things I've ever done. I'm sure that goes for everyone involved!"
Record setter Mathias Petry concurred and shared his stats to hail the team effort. The 72kg powerhouse pushed 300Wavg (4.2w/kg) for an average speed of 50.5km/h while producing 3,225kj of work.
Incredible but how does virtual performance compare to traditional cycling?
While incredible, there are many virtual cycling skeptics who claim that virtual cycling does not compare to real-world cycling.
To that end, Swedish exercise psychology and social scientists Jonas and Marlene Bjarehed published a paper in the Journal of Electronic Gaming and Esports to answer a few questions that prevent traditional cyclists from adopting esports as a new but valid discipline within cycling.
Jonas and Marlene Bjarehed also happen to be also elite virtual cyclists themselves and compete in esports' upper echelon, the Zwift Premier Division and the Zwift Grand Prix.
According to Jonas, the rare combination is significant: "We are in a unique position because Marlene and I do research in social science and psychology. Together we can transfer the research questions and methods to the context of ecycling, and we have insights about the phenomena as riders and users, making us better able to identify relevant questions and collect and interpret relevant data."
However, the Bjareheds aren't trying to disprove the notion of a cheating culture in esports. Instead, the couple is approaching the topic from a different angle. Jonas notes, "So, our study is less about cheating and more about showing that the performances in virtual cycling are relevant and comparable to traditional cycling."
Their hypothesis was: Virtual racing primarily demands physiological performances comparable to traditional cycling.
"Within the community, this is, of course, self-evident," affirms Jonas, "but for the broader traditional cycling public, there is no clear recognition or understanding of the specific demands of this type of cycling and how they compare to real-life competition."
Using a naturalistic approach, the researchers collected data from three Zwift Racing League Premier Division races from January 2022. The authors statistically studied the information totaling 117 observations from 76 individual riders. They compared power output for each racer's best 5- and 15-second duration and 1-, 5-, and 20-minute durations from the three races.
The results showed that virtual racers' taxing physiological demands and performance correlate highly with real-life elite racers over shorter critical segments of races. The authors compared virtual cycling to time trials, track cycling and other shorter-duration events like criteriums and circuit races.
The researchers reported average power of 1,100W for 15 seconds for the finishing sprint of the three virtual races, 450W for 1 min, and 370W for 5 min for the lead-in. The power outputs are comparable to successful sprints documented for international pro riders. In addition, the 20-minute maximal power output placed the virtual racers in the exceptional rider category of Coggan's chart [Allen et al., 2019], reserved for Cat 1 and domestic pro-level racers.
Convinced?
You don't have to convince Zwift's newest group of satisfied and accomplished record holders. Applause to them and Zwift for its tight-knit community and convenient, competitive outlet. Long live these two Zwift records and those who challenge them.
Thank you for reading 20 articles this month* Join now for unlimited access
Enjoy your first month for just £1 / $1 / €1
*Read 5 free articles per month without a subscription
Join now for unlimited access
Try first month for just £1 / $1 / €1