Garmin Fenix 7S Solar and Epix 2 hit 'lowest ever' prices in Amazon's Black Friday deals - we tested both and loved them
Two of Garmin's premium smartwatches are significantly more accessible right now - check out our full reviews for all the details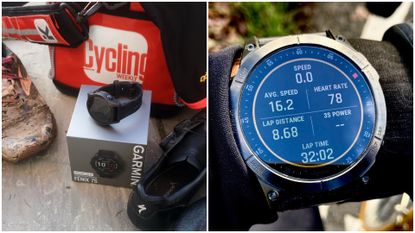 (Image credit: Future)
Amazon has jumped the Black Friday gun and is shooting off discounts in earnest - but just how good are those deals, really?
The good news is that we've been tracking Amazon prices between the past 12 months to 24 months. With that data to hand, we've identified two particular mega deals on Garmin smartwatches, with these models hitting the *lowest prices ever* on Amazon - as well as undercutting (or at least matching) all other retailers we've seen.
From our extensive bank of reviews, we've previously tested both of these Garmin models. So, I've pulled out the major takeaways from each review down below, as well as providing links to our original Garmin Fenix 7S Solar and Garmin Epix 2 write ups. But now, without further ado, let's get struck straight into these 'best-ever' deals!
Garmin smartwatch 'best ever' Amazon deals
Garmin Fenix 7S Solar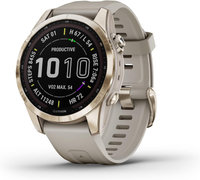 Garmin Fenix 7S Solar: was $799.99, now $599.99 at Amazon
There have been a few good discounts here over the past 12 months - but none of those matched this $200 saving (25% reduction) on the Garmin Fenix 7S Solar. This its lowest ever price on Amazon.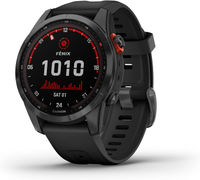 Garmin Fenix 7S Solar: was £689.99, now £547.60 at Amazon
A heads up for the UK - this isn't the best price Amazon has ever sold this watch. Back in August it was retailing a little cheaper at around £523.00. Still, this current reduction is the lowest its been since those heady summer day - so not a bad deal, if not the 'best ever'.
The Fenix is one of Garmin's premium smartwatches. I like to think of it as more sophisticated than the out-and-out sporty Forerunner and the ruggedized Epix. It's got full functionality with TOPO maps, Garmin Pay, health metric tracking and, of course, solar recharging.
Our Digital Editor, Michelle Arthurs-Brennan reviewed the Garmin Fenix 7S Solar in the Summer of '22 and was "seriously impressed" with the battery life. The claimed stats are five weeks in smartwatch mode and five days in GPS mode: "[I used] the GPS tracking most days, I always got more than a week."
Garmin's made some big improvements lately in its GPS tracking, and the Fenix 7S Solar benefits from that multi-band GPS tracking. "I could see that the Fēnix 7 files would demonstrate exactly where I had been, for example, being able to display which side of the road I'd been on and where exactly I'd crossed."
Of the downsides, like all of Garmin's top tier watches, it is quite a large watch. "If I could ask one thing from Garmin, I'd request a smaller, lighter package, as I still find sleeping in the Fēnix a struggle." And the full retail price does make it an expensive outlay, so it's "worth checking you'll actually use them before shelling out" - even with a reduction as large as this.
Garmin Epix 2
Garmin Epix 2: was $799.99, now $449.00 at Amazon
Amazon confirms that this 44% reduction is the lowest price price in the last 30 days - it's actually the cheapest it's been in 670 days, price matching Walmart and undercutting all other sites we've seen, from REI to BestBuy.
Garmin Epix 2: was £580.00, now £484.99 at Amazon
For context: the Epix 2 briefly dropped to £400.00 in May 2022 - a truly mega deal that has never yet been repeated. But aside from that - the current price is the cheapest that Garmin Epix 2 has ever been on Amazon.
The Epix stands out with its tougher and more rugged case combined with a very bright and easy to read AMOLED screen. And, of course, it has all the TOPO maps, health tracking and Garmin Pay features of all Garmin's top smartwatches.
Simon Smythe who has written for Cycling Weekly for over 20 years, reviewed the Garmin Epix 2 earlier this year and gave it a full five stars.
"This is a high-end sportswatch/smartwatch that's like a second brain. Once it's given you the stats from your ride or run it keeps track of your training status, gives you a number for your acute load, load focus, VO2max, recovery time and training readiness.
"There's also HRV, sleep score, body battery, step counting plus all the usual wearable data... and much more. The GPS navigation is incredibly detailed and you'll never get lost.
"Having access to all the data from my physical life is more motivating than I'd imagined - but not only that, the Epix's AMOLED screen is beautiful to look at and makes it worth the extra that it costs compared to the Fenix 7 and Forerunner 955. I'd be lost without it."
Check out our main Black Friday bike deals hub page for all the latest discounts and deals as we find them.
Get The Leadout Newsletter
The latest race content, interviews, features, reviews and expert buying guides, direct to your inbox!