Tech Question: Where do things now stand on press-fit bottom brackets? Good or bad?
Few innovations have garnered as much animosity as press-fit bottom brackets - but the tech now has some strong proponents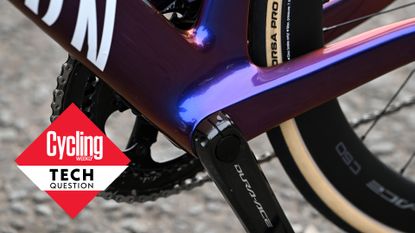 (Image credit: Future)
Get The Leadout Newsletter
The latest race content, interviews, features, reviews and expert buying guides, direct to your inbox!
Thank you for signing up to The Pick. You will receive a verification email shortly.
There was a problem. Please refresh the page and try again.
Just why does the bottom bracket (BB) hold such a level of fascination within the cycling psyche?
Perhaps it's because that's where a bike's biggest bearings are to be found, and any sort of superlative holds a certain draw. Or perhaps it's because of the cognitive challenge they pose - with so many styles and standards, they're a veritable Everest to be surmounted, promising the warm glow of BB enlightenment once you know your square-taper from your cotter-pin…
Perhaps it's their (admittedly, somewhat justified) reputation for creaks and clunks, making the bottom bracket into a lightning rod of blame whenever any mechanical mis-functions might arise.
But whatever the reason for the outsized interest, we're no more immune to the allure of the BB than anyone else. Today, we'll be separating out the cases when Press-Fit outperforms threaded, and the situations where threads are still king. We'll also be considering the point at which BB upgrades enter the realm of marginal gains, what difference axle diameter really makes and more besides.
On hand, we've got Dave Farmer of Surrey Hills Cycleworks, sharing his years of experience in dealing, upgrading and servicing the plethora of BB products and standards out there.
Dave Farmer took over the long respected Cycleworks bike shop in late 2016, located eponymously in the beautiful Surrey Hills, south of London. He's ridden and raced a wide variety of bikes over the last twenty-something years, and he continues to ride to work daily and fits road and MTB riding in around a busy work and family life.
When are press-fit bottom brackets best?
In the cycling consciousness, the press-fit bottom bracket (and their accompanying 'bogey-man' connotations) is generally associated with the period of the 2010s - when there were particularly widespread issues with manufacturing tolerances, leading to a plague of problems with creaking.
The press-fit 'standard' for bottom brackets was actually developed by Cannondale in the year 2000, although at that point it was a proprietary system used only on their own bikes. Still, press-fit bearings are actually the norm in most areas of your bike, from your wheels to your pedals. Even 'threaded' BBs are technically press-fit - how do you think that the bearings ended up in those BB cups, after all?
But because of the fiasco of all those creaking framesets which were produced, many bike brands have stepped away from press-fit bottom brackets and have moved (back) over to using threaded bottom brackets - which is the 'traditional' way of fitting bottom bracket bearings to a bike.
But whilst on metal frames these threads are cut directly into the metal, on carbon frames a metal insert has to be pressed into place and then the threads are cut into this insert - which brings its own downsides, as Dave Farmer explains:
"I really don't see the point in [the] T47 [thread bottom bracket standard] on carbon frames, it's just a massive fraud. It's also really heavy. Think about it this way, if you take a BB30 frame, such as a Specialized S-works from five, six years ago, you've got two cartridge bearings, that's it.
"With a T47 system, you've got those two exact same cartridge bearings - 6806 bearings: they are the same bearing. You've then got an aluminium cup threaded into an aluminium thread inside your carbon frame. That's a lot of extra metal that's just not necessary.
"It's still a bonded aluminium insert inside a carbon frame - there's just as much potential for it to go wrong [if the tolerances are out] as a press fit bottom bracket. I'm very lucky with the brands that I deal with don't have those problems anymore, they're all made to a good standard.
"Still, I think there's going to be some cheaper frame brands out there that will struggle with quality control - but I don't think that's going to change whether it's threaded or press fit in carbon frames."
Essentially, with a carbon frameset, you are relying on the manufacturer's quality control no matter whether the frame is designed for press-fit bottom brackets or threaded bottom brackets. The difference is essentially the total weight of the system and the tools you need to replace the bearings - which brings us neatly onto the next topic…
Is it worth investing in BB tools or is this something to just ask the bike shop?
In stark contrast to pedals - one of the few havens in bike tech where the standards are near universal - there is a truly massive variety of bottom bracket tools out there. Not only are there the fundamental differences between differing types of bottom bracket (press-fit vs threaded etc.), oftentimes brands will require a specific tool for their own BBs, further broadening the minefield.
"It's challenging for the home mechanic," Farmer agreed, "there's an almost infinite number of tools you need for taking bottom brackets out. Every day we have: 'oh that's a Rotor one, that's a C-Bear one, which is different to Shimano, which is different to Praxis…'" But although there's a lot of different tools for threaded BBs, at least they're relatively cheap - a good bearing press for a press fit BB is easily into the triple figures.
"I'm always going to say come to a bike shop because I own a bike shop, at least then you know the job is done properly. But my Grandad said to me, you can't put a price on tools because then you can do the job again - and that's true."
When it comes to threaded bottom brackets, an investment in the right tool will pay itself back pretty quickly - it could even be the cheaper option right from the off, and you can't argue with the convenience.
When it comes to a bearing press for a press fit BB, these are much more expensive pieces of kit. There are cheaper options, but to emulate what would actually be done in a workshop, you're looking at a triple figure price tag. If you have a few press-fit bikes, it wouldn't take too long to recoup the investment of buying one.
If you have just the one press-fit bike, then the calculus is more balanced. It will end up paying off down the line, but it'll take quite a while to get to that point. The most pertinent question is really what experience you'd prefer - do you want the job done by an expert or is it a skill you'd like to learn?
How much should you spend on a bottom bracket?
As mentioned, the biggest issue pertaining to bottom brackets today isn't creaky press-fit shells any longer. In Dave Farmer's experience, it's low quality bearings which don't go the distance.
"If you're looking at a SRAM BB that retails for about £50, there's a retailer buying for that about £28, the importer's probably buying it for about £16. It's got a cardboard box, it's got plastic cups, it's got metal cups, it's got two bearings, it's got seals, it's got instructions. The actual amount those bearings must cost is a very, very, very small amount."
"So when we recommend to customers that we can replace like with like and it'll cost £50 - or here's an aftermarket one using really high grade bearings with really good quality grease, that's costs £120, people tend to think 'oh my God that's really expensive.' But that's what a bottom bracket should cost."
"We recommend them because they've usually got a stainless steel bearing and stainless races. They've got double-lip seals, which keeps the water out, and they don't rust very quickly if the water does get in.
It seems that you get what you pay for when it comes to bearings and especially bottom bracket bearings in particular. Perhaps it's necessary to recalibrate what we'd expect a replacement BB to cost - at least if you'd rather be replacing them less often. But Dave Farmer does have one notable exception to this rule…
"The Shimano ones are pretty reliable, I think that's mainly because they get their bearings custom made and control the whole process. The economy of scale works for them, given the sheer quantity they're manufacturing." So, that's good news for Shimano users, the decision can be quite easy: you've got less chance of making an expensive mistake if you simply go with what they recommend.
Another part of the reasoning Shimano gives for the performance of its threaded bottom brackets in particular, is that, by using a 24mm diameter crank axle, there is more space in the BB shell, so larger ball bearings can be used. With a 30mm crank axle diameter, the ball bearings have to be made proportionally smaller because the BB shell remains the same size - and small bearings are typically less robust.
But that hasn't fully born out in Dave Farmer's experience: "True, it is the case that if you're putting a 24 millimeter axle into a bearing which is in a cup that's 45 millimeters in diameter, then you can have more space of seals and bearings - at least compared to a 30mm spindle. However, I've personally had 30mm axles through my bikes which I've done 10,000 miles on without a BB change. The quality of the bearings is what matters."
When are threads still king?
We've covered the issues of press-fit (sloppy tolerances) and its rehabilitation as a technology (being a lighter solution than bonding metal inserts into carbon frames - each approach requires tight tolerances) - but does that mean it's time to welcome the tech back with open arms?
Not necessarily. For instance, although the metal insert inside the frame and the metal cups of an external bottom bracket do add to the weight of a fully built bike, it's not that much extra weight.
For instance, the new Trek Madone aero bike has a threaded bottom bracket in a carbon frame, but even so, it's still quite a bit lighter than the latest Cervelo S5, which uses a press fit bottom bracket. So even if weight is foremost in your considerations, it's worth not overlooking bikes with threaded BBs.
On the flipside, it would likely be true that if the Trek Madone had a press-fit bottom bracket rather than a T47, it would be lighter still. But that's not the only consideration. As mentioned, bearing presses are much more expensive than the glorified wrenches (which are essentially what external BB tools amount to). So, for a home mechanic, a threaded BB in a carbon frame could still be preferable, even with the weight increase. Arguably, that's not really relevant for a World Tour frameset, but that's another story.
With all that aside, there are cases where threaded bottom brackets still unambiguously rule the roost - and that's on metal frames. "Cutting thread into the frame after it's been welded is the right way to prep the frame," Dave Farmer attests, "if you have a press-fit in a titanium frame, once you've welded [the BB tube in place] it it kind of distorts the tube a bit, and it's challenging to get it perfectly circular."
For metal frames, then, it is very much still worth avoiding press-fit fabrications - although these are getting continually rarer, as the pendulum has very much swung against press-fit now.
Thank you for reading 20 articles this month* Join now for unlimited access
Enjoy your first month for just £1 / $1 / €1
*Read 5 free articles per month without a subscription
Join now for unlimited access
Try first month for just £1 / $1 / €1
Get The Leadout Newsletter
The latest race content, interviews, features, reviews and expert buying guides, direct to your inbox!