Tom Pidcock joins Geraint Thomas and gets his own signature sunglasses
SunGod has worked with Tom Pidcock to create signature Velans sunglasses ahead of the Tour de France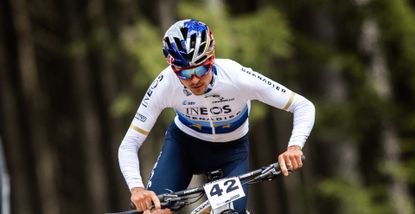 (Image credit: SunGod)
SunGod has released a signature range of its Velans sunglasses in collaboration with Tom Pidcock in advance of the Tour de France.
The British sunglass brand has worked with the Ineos Grenadier rider to create a design that is said to represent Pidcock's distinctive racing style. The new shades, which retail at $180/£150, feature a crystal red frame and an engraved hand of cards on the lens, along with card suits on the inner left arm.
You are probably wondering, why the card theme? Well as a multi-disciplinary rider, Tom Pidcock competes in a number of different outfits, or 'suits' if you will. The card deck theme, SunGod says, is a "nod to his calculated approach to maximizing his chances in every race".
In the box too, is a soft bag cover, where you'll find more nods to Pidcock's heritage. The bag is themed like a playing card once again and features the rider's name printed in the form of the ace of clubs, and on the back of the 'card', the white rose of his home county Yorkshire can be found in the design.
The sunglasses themselves feature the same technology that can be found in the normal Velans model. They feature the brand's trademarked 8KO spherical lens, which is made from a 2mm nylon construction - SunGod says this material is "optically superior and lighter than industry standard polycarbonate".
SunGod came on board with the Ineos Grenadiers at the start of 2023, which ended a sponsorship deal with sunglass giant Oakley, who are often hailed as the benchmark for the best cycling sunglasses. Since the start of the year, SunGod has released various team edition eyewear such as the Ineos Grenadier edition Vulcans, and Arias sunglasses.
Pidcock's new shades are the second custom rider sunnies in the SunGod range, with Geraint Thomas releasing his custom shades earlier this year in the Giro d'Italia.
For more information on the new sunglasses, visit SunGod's website.
Thank you for reading 20 articles this month* Join now for unlimited access
Enjoy your first month for just £1 / $1 / €1
*Read 5 free articles per month without a subscription
Join now for unlimited access
Try first month for just £1 / $1 / €1