Dylan Groenewegen, Michael Matthews, Neilson Powless and Quinn Simmons headline Maryland Cycling Classic startlist
Don't miss America's newest UCI race on September 4, livestream available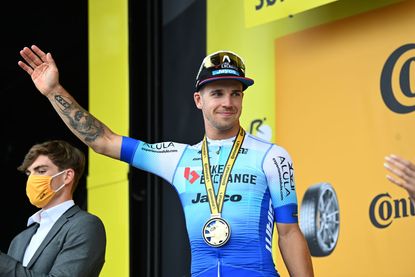 (Image credit: Getty Images)
A truly international field of riders is traveling across the Atlantic to contest the inaugural Maryland Cycling Classic this Sunday, September 4.
With a UCI Class 1 ProSeries status, the Maryland Cycling Classic is both America's newest and highest ranked one-day professional cycling race, and one of just four UCI race held on U.S. soil.
As such, the194-kilometer (120-mile) men's only race is a rare opportunity for domestic elite riders to compete against the world's best and perhaps even earn some coveted UCI points.
The competition is slated to be fierce with several WorldTour teams making the long trek across the Atlantic Ocean to contest the inaugural event.
Team BikeExchange-Jayco plans on bringing double sprint power in the form of Australian Michael Matthews and Dutchman Dylan Groenewegen while Israel-Premier Tech will be lining up with Italian Giacomo Nizzolo and Belgian Sep Vanmarcke.
EF Education-EasyPost is bringing a varied team, including Tour de France stage winner and promising American talent Neilson Powless and young Dutch sprinter Marijn Van Den Berg.
Trek-Segafredo will also have an American young talent in their midst with Quinn Simmons who'll be supported by multi-time Tour of California stage winner Tom Skuijns, who always seems to race well in the U.S.
America's top ProTour team, Human Powered Health, will have the U.S. national champion Kyle Murphy in their line-up alongside Robin Carpenter and sprinter Arvid de Kleijn.
A total of 111 riders from 27 countries are slated to roll from the Baltimore start line at 1:30 p.m. on Sunday, September 4, making it a truly international race.
"I am excited to be racing again in America, it has been a while since I have raced there," said Matthews. "My last race in the United States was at the [2015] World Championship, and I am looking forward to meeting our American fans again. We have a strong team going there, and looking at the course, it seems to be set up for different type of racing. We'll have to see how the race will evolve."
The Maryland Cycling Classic will also be Neilson Powless first domestic race. The American opted out of the U.S. National Championships as it conflicted with his Tour de France prep.
"I'm really excited to race in America for my first time in 2022. I'm happy that it's in a new place [for me]. I'm looking forward to the inaugural edition of the Maryland Cycling Classic and I think we have a really strong team. Hopefully we can put on a good show for the fans in America," Powless said.
The course is a diverse route that takes riders from the rolling pastoral countryside of Baltimore County to the urban landscape and waterfront of central Baltimore where they'll complete four circuits and finish in the Inner Harbor area.
The Startlist
TREK-SEGAFREDO
Quinn Simmons USA
Tony Gallopin FRA
Amanuel Gehbreigzabhier ERI
Jacopo Mosca ITA
Jakob Egholm DEN
Toms Skujins LAT
Otto Vergaerde BEL
TEAM BIKEEXCHANGE- JAYCO
Michael Matthews AUS
Dylan Groenewegen NED
Damien Howson AUS
Nicholas Schultz AUS
Jan Maas NED
Alexandre Balmer SUI
Kevin Colleoni ITA
ISRAEL-PREMIER TECH
Giacomo Nizzolo ITA
Sep Vanmarcke BEL
Guillaume Boivin CAN
Taj Jones AUS
Krists Neilands LAT
Jenthe Biermans BEL
Nadav Raisberg ISR
EF EDUCATION-EASYPOST
Neilson Powless USA
Simon Carr GBR
Hideto Nakane JPN
Daniel Arroyave Canas COL
Sean Quinn USA
Marijn Van Den Berg NED
Alex Howes USA
HUMAN POWERED HEALTH
Kyle Murphy USA
Robin Carpenter USA
Pier-Andre Cote CAN
Arvid De Kleijn NED
Adam De Vos CAN
Colin Joyce USA
Nickolas Zukowsky CAN
TEAM NOVO NORDISK
Andrea Peron ITA
Sam Brand GBR
Gerd De Keijzer NED
Joonas Henttala FIN
David Lozano Riba ESP
Logan Lakota Phippen USA
Filippo Ridolfo ITA
PROTOUCH
Kent Main RSA
Callum Ormiston RSA
Tiano Da Silva RSA
Mehari Tewelde ERI
Samuel Mugisha RWA
Dillon Geary RSA
Paul Daumont BUR
PANAMA ES CULTURA Y VALORES
Christofer Jurado Lopez PAN
Alex Strah Mendez PAN
Bolivar Espinosa Serrano PAN
Jorge Castel Blanco Morales PAN
Franklin Archibold Castillo PAN
Yelko Gomez PAN
Sandi Guerra PAN
TEAM MEDELLIN-EPM
Oscar Miguel Sevilla Rivera ESP
Fabio Andres Duarte Arevalo COL
Robigzon Leandro Oyola Oyola COL
Bryan Stiven Sanchez Vergarra COL
Walter Alejandro Vargas Alzate COL
Cristhian Montoya Giraldo COL
Weimar Alfonso Roldan Ortiz COL
TEAM CORRATEC
Dusan Rajovic SRB
Manuel Zobrist SUI
Giulio Masotto ITA
Simone Olivero ITA
Lorenzo Iacchi ITA
Luca Marziale ITA
Stefano Gandin ITA
HAGENS BERMAN AXEON
Kasper Andersen DEN
Diogo Barbosa POR
Jack Drage NZL
Michael Garrison USA
Matthew Riccitello USA
Darren Rafferty IRL
TORONTO HUSTLE
Michael Foley CAN
Matteo Dal-Cin CAN
Edward Walsh CAN
Daniel Kalichman CAN
Emile Hamm CAN
Ethan Sittlington CAN
David Dube CAN
L39ION OF LOS ANGELES
Tyler Williams USA
Freddy Ovett AUS
Cory Williams BLZ
Alec Cowan CAN
Samuel Boardman USA
Eder Frayre Moctezuma MEX
Ty Magner USA
EVOPRO RACING
Conn McDunphy IRL
Tom Moriarty IRL
Cian Keough IRL
Eamon Franck USA
Bryan Boussaer BEL
Liam Curley IRL
Cesar Macias Estrada MEX
TEAM SKYLINE
Trevor August USA
Jake Castor USA
Rene Corella Braun MEX
Nick Kleban CAN
Michael Pincus USA
Clayton Travis USA
Chaz Turmon USA
USA CYCLING
Scott McGill USA
Tyler Stites USA
Edward Anderson USA
Noah Granigan USA
Jared Scott USA
Liam Flanagan USA
Patrick Welch USA
Where to watch:
The inaugural Maryland Cycling Classic will be broadcasted internationally to more than 100 countries.
Globally, you can follow the action online at:
- Global Cycling Network+ from 1:30 p.m. to 6:15 p.m EST / 5:30 p.m. to 10:15 p.m. GMT.
- Tour Tracker: 1:30 p.m. to 6:15 p.m EST / 5:30 p.m. to 10:15 p.m. GMT.
- Video on Demand: Global Cycling Network (CGN and YouTube Channels), EuroSport+
Locally, the race will stream at:
- WNUV – CW (Baltimore, local/regional, Live Over the Air): 1:30 p.m. to 6:30 p.m. EST
- Maryland Public TV (Md., Washington DC, parts of Pa., Va., W.Va., and Del.): Sept. 5, 11 – 11:30 p.m. EST
Thank you for reading 20 articles this month* Join now for unlimited access
Enjoy your first month for just £1 / $1 / €1
*Read 5 free articles per month without a subscription
Join now for unlimited access
Try first month for just £1 / $1 / €1