Bike racing is all fun and games until you're being paid to do it
In our weekly editorial, CW's Michelle concludes that breaking bikes as a cycling journalist is preferable to breaking bikes as a pro rider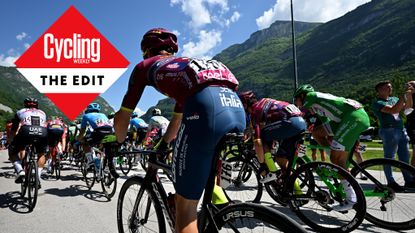 (Image credit: Getty Images)
On Sunday, we published the news that 25-year-old pro Charlie Quarterman was ending his career as a bike racer, citing the stress of contract uncertainty as a major contributing factor.
The announcement came as a shock: the 2019 National Under-23 time trial champion had captured our imaginations with multiple 'almost made it' breakaway sensations during this year's Giro d'Italia, with Cycling Weekly's race pundits believing that he might have done enough to get his way back into the sport's top flight.
However, it wasn't to be. Whilst Quaterman also cited health issues as a piece of the puzzle in his decision to retire, "the contract game" - he said - resulted in a turbulent playing field on which "the stress just doesn't stop."
Regular CW contributor, chartered sport psychologist and author of several books tailored towards athlete psychology, Dr Josie Perry, commented on the news - confirming something many of us know, but spend little time truly pondering: "The hard part of being a pro is not the training or racing. It is all the stuff around it."
Quarterman concludes his career racing for Conti Team Corratec - Selle Italia. Now, imagine the extent of this stress multiplied by a factor of infinity at WorldTour level, and all of a sudden, you've got an inkling into what's making riders like Soudal Quick-Step's Ilan Van Wilder come out with total PR disaster lines such as "we don't agree with all this s***" about the impending merger of his team.
Reports about a potential merger with Jumbo-Visma continue to circulate, with a matter of weeks to go before the UCI will release a list of confirmed WorldTour teams - the very real risk being one one less spot available at the highest level if the amalgimation does go ahead. That's not just one less jersey for us to rate next year, it's 45 riders vying for 30 spots, as well as mechanics, soigneurs, drivers, chefs, social media admins, press officers - everyone - picturing themselves in the interview chair competing for a job next year.
The life of a professional cyclist looks like the dream from afar: as many bikes as you can break, more lycra than you could ever wear, and the daily task of riding your bike for as many hours as the training plan dictates.
However, there's always a threat of the whole enterpirse collapsing around your ears. From a ill timed crash to the fragile business you work for folding at a moments notice. Some stress can be good to sharpen the mind and provoke focus but the kind you can barely, if at all, control usually isn't. Being a professional rider is stressful for all the wrong reasons.
On balance - not that I've ever had or ever will have the talent or opportunity to choose - I think I'll stick with the 'cycling journalist' option - which still means occasionally breaking bikes, just looking a lot less fast in the process.
This week you've been reading
Brian Holm, the former Soudal Quick-Step sports director, believes that Primož Roglič and Rod Ellingworth would be a potential match made in heaven at Ineos Grenadiers next year.
With 15% of men saying they have no close friends, mental health charities are concerned that loneliness is becoming an ever bigger threat to male life expectancy. But could cycling groups, clubs and connections prove to be the salvation for a nation of lonely males?
The 349-mile (561km) 'Side to Side' record fell on Tuesday (3 October) after Lee Williams set a blistering new provisional best time of 14hr 00min 40sec for the Pembroke to Great Yarmouth ride.
The Bristol-based company's founder, Matt Mears, said in an Instagram post on Wednesday afternoon that the sale was due to having a "variety of beautiful bicycles boxed up in our workshop without homes to go to", and he would "much rather people were out enjoying them".
"It didn't go exactly according to plan," Brian Hygate told Cycling Weekly. "I was aiming to do the whole hill in one go, but I paused in the middle because I just ran out of oomph."
Thank you for reading 20 articles this month* Join now for unlimited access
Enjoy your first month for just £1 / $1 / €1
*Read 5 free articles per month without a subscription
Join now for unlimited access
Try first month for just £1 / $1 / €1