Adam and Simon Yates to ride Giro d'Italia, but will miss Tour de France
Orica-Scott outlines their aims for 2017 Grand Tours, with Colombian Esteban Chaves taking aim at the Tour de France as British Yates brothers will ride Giro and Vuelta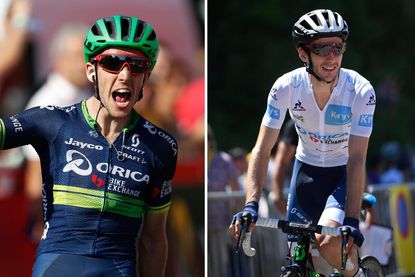 Adam and Simon Yates will lead Orica-Scott at the Giro d'Italia in May, but will not ride in the 2017 Tour de France.
The Australian WorldTour team said on Wednesday that Colombian Esteban Chaves would lead the team at the Tour, with the British Yates brothers focussing on the Giro d'Italia and Vuelta a España. Chaves will join Adam and Simon Yates at the Vuelta.
All three riders have elevated themselves to be Grand Tour contenders in the past two seasons, and represent a change in tactics for Orica-Scott, who are aiming for high overall places in all three Grand Tours for the first time since the team was formed in 2012.
Chaves put in a hugely impressive season last year, placing second in the Giro and third in the Vuelta. Adam Yates placed fourth overall at the Tour, and took the white jersey of best young rider. Simon Yates was sixth in the Vuelta, and took his first Grand Tour stage win on stage six.
However, the team is still aware that at 24 years of age, there's still room for the Yates brothers to develop. Chaves is also being given room to develop at 27, as he heads into the Tour for the first time.
"They have each pleasantly surprised us with their results over the last year, but we have a long term plan and we are not getting ahead of ourselves," said Orica-Scott sport director Matt White. "Our priority is still to continue their development at a speed that suits them individually."
>>> 'Esteban Chaves will beat Chris Froome' in 2017
The team says that Chaves has 'earned his right' to take up leadership at the Tour.
"Esteban has proved that he is ready, and he deserves this opportunity," said White. "I think it's pretty unrealistic to expect anyone to win their first Tour de France but physically, Esteban has shown he can ride general classification at Grand Tours and he can handle the stress involved."
Adam Yates says that the switch in focus from riding the Tour to tackling both the Giro and Vuelta in the same season will be a 'challenge'.
"Two Grand Tours is something I have never done and it's a new challenge," said Adam Yates. "I have ridden the Tour (de France) now for the past couple of years and even my first year as a professional, I rode the Tour program without doing the Tour, so I think a change is good and a new challenge is good."
"Whether we can get the same result and do the same performance across two Grand Tours in a year, that's what we will find out but we are looking forward to that challenge."
Simon Yates also sees 2017 as a year to progress, and says that the team is not putting undue pressure on him to come up with results.
"It's a big load to do two Grand Tours, and ever since I have been a professional I have only done one Grand Tour per year," said Simon Yates. "I really think it will help massively for the future as I progress as a rider."
>>> Simon and Adam Yates to kick off season alongside Nairo Quintana in Spain
"The team really understand us as riders. They understand that we are young, that it takes time to develop into GC riders and build up that endurance to last for three-weeks. Because of that, the results have been good, but there's still not a lot of pressure to get results."
Chaves says that he recognises the pressure of the Tour de France is unlike any other race, but he believes this year's course will suit his abilities.
"Everyone says the Tour de France is a really different race, that it's a lot of pressure and it's super big, but I want to believe it is just one bicycle race and try to enjoy how much more is possible for me to achieve," said Chaves.
"I think we chose this year the Tour de France because the time trials aren't really long. It's true, there's not a lot of big mountain days but there is enough. The final climbs are hard and steep like the Vuelta a España so if I can find the performance from that race, it's not bad for me."
Thank you for reading 20 articles this month* Join now for unlimited access
Enjoy your first month for just £1 / $1 / €1
*Read 5 free articles per month without a subscription
Join now for unlimited access
Try first month for just £1 / $1 / €1