The best road bike upgrades
There's a saying in cycling: don't buy upgrades, ride up grades. It's generally good advice — if you want to be faster on the bike, don't spend lots of money on fancy new parts, ride more hills instead. However, every rider deserves a treat every now and again and you can buy speed! Here we look at the best road bike upgrades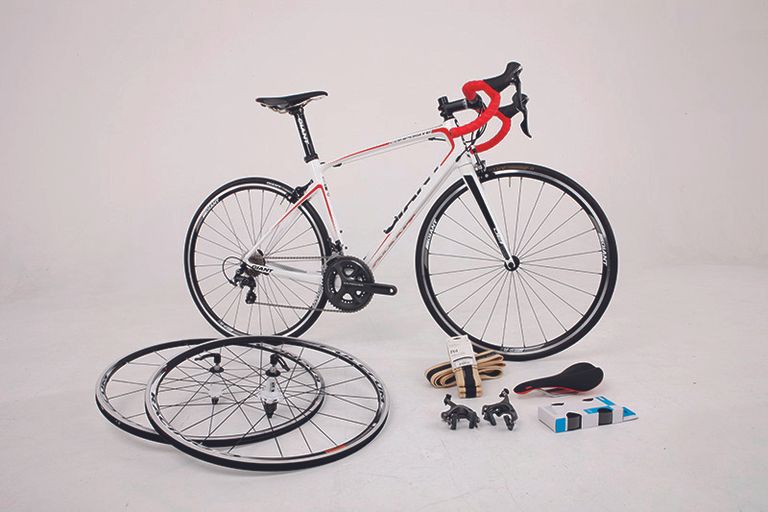 (Image credit: mike prior)
Riding more consistently and with more focus will, nine times out of 10, net you far greater performance gains than the latest pair of aero wheels. And by the same token, expunging a kilo or three of junk from your trunk by eating less will be a damn sight cheaper than attempting to shed the equivalent weight from your bike by buying new, lighter parts. Possibly thousands of pounds cheaper.
But training harder and going on diets takes time, involves hardship and is sorely lacking in instant gratification. After all, cycling's not an easy sport — whether you ride for fun with mates or race at the highest level. Gravity, wind resistance and the challenge of the elements all collude in making riding a bike 'satisfyingly hard'. So it's only fair that every bike rider, and every bike, deserves a treat every now and then.
Looking for a cheap drop bar bike? Here's our complete guide to the best cheap and great value road bikes
Trick or treat
Of course, upgrading your bike is often more than a simple pat on the back for enjoying your hobby so enthusiastically. If you took a tentative first step into the cycling world a few years previously, buying as is wisely advised a solid frame with 'upgrade potential', you'll probably find that some of the components are now well used enough to merit replacement.
Possibly, you've packed in the miles and you feel that your new, higher level of fitness and unbreakable affiliation with the sport are deserving of a higher grade of componentry. Or perhaps, just perhaps, you simply fancy spending some money on flash new kit for your machine. All of the above are good enough reasons for buying some new kit for your bike — perhaps not in the eyes of your spouse, but certainly in those of Cycling Weekly.
What to expect for under £500
The joy involved in perusing the shiny stuff on bike shop shelves, the heart-pounding moment you hand over the readies, and the thrill of introducing your new purchases to the open road, are all intrinsic parts of being a cyclist. With that in mind, we've put together a guide to what, where and why you should be looking to upgrade your bicycle.
If you've got the money, you can 'upgrade' just about any component on the average bike and save weight and/or make it look flashier. But spending £100 on a new seatpost just to save a few grams is poor economy and will make no perceptible difference to your riding; what we've looked at here are the areas to target if you want real-world gains from your new purchases. So what are the best road bike upgrades?
Wheels
If you've got a few hundred quid burning a hole in your pocket and you just want to make your bike ride better then hear this: buy some new wheels. Because they carry most of the rotating weight on your bike, shedding just a few hundred grams can make an appreciable difference.
Different types of road bike wheels
Buy the right set and they will also be stiffer, more aerodynamic and roll better, so not only will you climb faster, you'll get up to speed quicker thanks to a more efficient power transfer and once you're there, it'll be a higher speed than usual, even on the flat. What's more, you'll now have a pair of wheels for training/bad weather, and one for best.
An abundance of nice looking but basic factory-built wheelsets these days means manufacturers often use this as a tool to meet a price point. If, for example, you can boast a carbon frame hung with tasty Shimano 105, a pair of bog-standard in-house hoops slide into the mix more or less under the radar. So unless your bike cost more than £1,500 or even £2,000 your wheels should be ripe for an upgrade and this is the place to start.
At Cycling Weekly, we're great fans of Fulcrum's Racing 5s. Not only are they light at 1,600g a pair, they're beautifully made and are great value for a potential Sunday best pair of hoops at around £240. Do a bit of hunting around and you'll see that you often have to spend around £2,000 on a bike to get a wheelset of this standard on the spec sheet.
One of the best upgrade wheelsets around is the Mavic Kysrium Elite. They are light, stiff and attractive. If your bike costs below £2000 they are likely to represent a great improvement. For maximum bling, deep section wheels are always going to be the way to go. Increasingly we are seeing companies offering good quality carbon clinchers at competitive prices.
Cero with their RC50s and Walker Brothers Fleet 40mm are great examples. However, for maximum bling, if money is no object, then a pair of Lightweight Meilensteins are just the ticket. With a retail price of £2999 a pair, they won't just make your bike considerably lighter, but your wallet too!
Tyres
There's little point in spending hundreds of pounds on flash new wheels only to shoe them with cheap rubber. Good tyres, such as (but not limited to!) Continental's GP4000, Vredestein's Fortezza Tricomp or Michelin's Pro4 Service Course offer lower weight, faster rolling resistance and better grip than the cheapies found on the average £1,000 bike.
This sort of performance doesn't come for peanuts — you're looking at around £70-£80 per pair, but it's unlikely you'll need to replace them more often than once a year, if that. Look upon them as part of your performance wheel package, and even if you're not upgrading your wheels, some decent rubber can really pep up your ride.
>>> Buyer's guide to road bike tyres
Remember that these ought to be your 'summer' tyres — don't go shredding your nice new rubber on winter's wet and flinty back roads. For those months, a cheaper, heavier item with some puncture protection is a better choice.
Only one way to find out…
Many bikes continue to come fitted with 23mm tyres. By upgrading to some 25mm, or even 28mm you can increase comfort substantially. Its not just comfort either, as 25mms have been proven to have less rolling resistance too. Put simply, there is a smaller contact patch, meaning less slightly friction than a narrower tyre, so for the same energy, they go faster. The only penalty is a slight increase in weight. Just check that your bike has sufficient clearance as not all do.
A tyre upgrade need not just be for function either, with plenty of colours and aesthetic options available. We are big fans of the resurgence of tan-sidewalls in the pro peloton, adding a cool retro look to many bikes. Tan sidewalls are often very grippy and supple too.
Brakes
Like wheels, brakes are often used as cost cutters when it comes to speccing bikes. Economic pressures mean a bike advertised as decked out with Shimano 105 may have that particular drivetrain and shifters, but cost-cutting calipers. Their inferiority may become apparent on a wet day in heavy traffic.
We're not suggesting that low-cost calipers and pads equals death trap, but if you try out the stuff at the high end of the market, you'll wonder how you ever got by.
Knowing you can stop faster has a surprisingly dramatic effect on the rest of your riding. In particular, you'll fly downhill like never before, step up a level in general technical scenarios and simply feel more at ease in the saddle. All of which has got to be worth the relatively modest outlay on new equipment.
>>> A buyers guide to road bike groupsets
Thanks to a combination of stiff materials, clever design and good pads, high-end calipers can offer an impressive amount of braking power and modulation, even in the wet.
But before you shell out on a set of new calipers, it is worth experimenting with new pads alone, as they can make a big difference. Perhaps try out a high-end item from the company who makes your groupset, or go to a specialist pad manufacturer like Kool-Stop or SwissStop, by whom many experienced riders swear.
>>> Disc brakes on road bikes debate
If you're used to £5 brake pads, buying high-end items can seem expensive because you may need to buy them as pad and pad-holder set. After this initial cost, though, you'll only need to buy pads.
Groupset
The jewellery that hangs on a bicycle frame to pull in the roving eye of any bike buyer. A top-level gruppo is worth instant kudos, so the idea of upgrading it is always a tempting one. And it makes sense enough if only because groupsets wear over time and need replacing. If it's not completely past saving, the old groupset often makes good fare for a winter bike.
Bling-tastic a flash new groupset may be, but as a way of transforming your riding it isn't the most cost-effective. Unless you're swapping a very cheap groupset for a very high-end one, any weight saving will be small. You'll get slightly smoother, or crisper, gear changes, but assuming you already keep your drivetrain well-maintained, things should run smoothly already.
>>> Complete buyer's guide to road bike groupsets
By all means replace and upgrade your gruppo, but it's perhaps wiser to do it as and when the old one starts to wear out, rather than as a wholesale swap in the hope of achieving better times on the road.
If your bike frame is electronic groupset compatible, your budget allows for it and existing groupset is worn out, then an upgrade to electronic shifting is well worth it. The sublime shifting performance and ease of maintenance are superb. If your frame is not Di2 compatible, then we wouldn't condone getting the Dremel out as this is likely to invalidate your frame warranty!
Saddle
Riding a road bike shouldn't be uncomfortable, yet many people continue to stick with their current saddle, despite consistent discomfort. Bike saddles come in a huge range of shapes and sizes and this is for good reason – everyone is different. It may take some trial and error but there is comfy saddle out there.
Our buyer's guide to road bike saddles features lots of information and several good examples including the Pro Falcon, pictured below. A light and comfortable saddle made by Shimano's proprietary brand.
One thing not to do is simply go for lots of padding — this may work on shorter rides in a very upright position, but tends to have the opposite effect to the one desired on longer journeys.
If you have a good local bike shop, they may allow you to test ride a few models so you can pick one you know suits you. One thing you definitely shouldn't do is buy a saddle just because your mates say it's comfy. Your backside isn't the same as theirs!
>>> The Essax Shark saddle review
The other reason to change your saddle is that it is one of the most cost effective ways to lower the weight of your bike. Saving 100g on a pair of wheels can be much more expensive, when compared to a saddle. With most stock saddles weighing over 300g, it is easily possible to save 150g. Consider that if you wanted to save 150g on a frame or wheelset, the price per gram would be considerably more.
Cables
Your poor old gear and brake cables. While you and your mates are positively fawning over your flash new wheels and even your expensive new brakes, cablesets toil on, month after month, year after year even, slowly getting stretchier, dirtier and less pleasant to use.
But do you ever give them a thought? Possibly not, at least until that tatty, frayed cable-end has actually drawn blood. But you'd be wise to. A tired, dirty set of cables can seriously compromise gear and brake performance and badly shifting gears could turn you into Basil Fawlty in a trice — change them and save yourself the stress.
A really nice set of cables (well fitted) will feel smooth as silk and give light and accurate gear changes. Cables will inevitably need replacing at some point, and when they do, don't scrimp and save. Look for Teflon/PTFE coated inner cables in pre-lubed and well-sealed outers. It'll probably cost around £50-£70 for a complete re-cable, but your bike (and your hands) will thank you for it.
Bar Tape
Probably the cheapest way to tidy up your tired steed, even professionals like it when the team mechanic treat them to a new wrap of bar tap. Comfort can be improved too, with some tape offering more padding. Bar tape is also an inexpensive way to add some personality to your bike. By coordinating the colour of your tape with other parts of the bike you can really make it stand out from the crowd.
>>> Seven of the best handlebar tapes
Save your cash: Keeping it real
Upgrading your bike is great fun and all part of our amazing pastime.
But don't get too hung up on exactly what shiny bits adorn your machine. Just ensure it fits well and stays clean and well-adjusted, and enjoy your riding. After all, it's not (all) about the bike, right?
Top tips
Keep it clean
Before you upgrade anything, achieve a lasting 'new bike feel' by putting in place a thorough cleaning and maintenance routine. Unless you do this, an expensive upgrade can soon look, and feel, like just another tatty, worn component.
Lose weight for free
If you're considering buying a new component just to save a few grams, remember that most of us could lose a whole pound or two in a week, and it'd cost nothing.
Befriend cable guy
If you upgrade your cables, it is worth having them fitted by someone who knows what they're doing. It can make all the difference to the final result.
Two-drop shop
There are two types of dual pivot road caliper — the standard 49mm drop, and a 57mm 'deep drop' (less common). This is the distance from the lowest brake shoe position to the line of the main frame bolt. You'll need to find out which you have.
Cost-conscious steps to better riding
Pump your tyres up to the required pressure.
Thoroughly clean your bike from top to toe, including degreasing and re-lubing the chain.
Buy a chain checking tool and replace it as soon as need be.
Retape your bars (look better, feel better, ride better!)
Replace worn-out shoe cleats.
Oliver Bridgewood - no, Doctor Oliver Bridgewood - is a PhD Chemist who discovered a love of cycling. He enjoys racing time trials, hill climbs, road races and criteriums. During his time at Cycling Weekly, he worked predominantly within the tech team, also utilising his science background to produce insightful fitness articles, before moving to an entirely video-focused role heading up the Cycling Weekly YouTube channel, where his feature-length documentary 'Project 49' was his crowning glory.