Emma O'Reilly interview: People are amazed I forgave Lance, but I think he had to forgive me too
CW sits down with Emma O'Reilly in London to discuss doping, lawsuits and just how she managed to forgive Lance Armstrong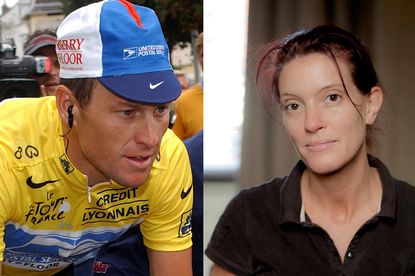 (Image credit: Watson/bodyclinichale)
>>> Lance Armstrong says cycling is still in a mess after drugs confession
Forgiveness plays a large role in Emma O'Reilly's story, but not just from Lance Armstrong's side.
For the disgraced cyclist's former soigneur it was just as important that Armstrong forgave her for breaking cycling's code of secrecy around doping, Omertà, as it was for her to forgive Armstrong's lies.
O'Reilly worked as a masseuse on Armstrong's US Postal team at the start of his dominant reign over the Tour de France, before leaving the team in 2000 after his second win.
Armstrong came out fighting after O'Reilly revealed all in a 2003 interview with Sunday Times journalist David Walsh, branding her an 'alcoholic' and a 'whore' in an attempt to discredit her statements.
But speaking to Cycling Weekly at Cadence Performance in Crystal Palace before a talk about her book, The Race to Truth, O'Reilly claims she never believed that Armstrong really thought so disparagingly of her.
"When I talked to David we knew that Lance would come out on the attack, but I didn't quite expect the severity of it," she said.
"What I didn't understand, though, is that he's calling me these names but he's not calling me a liar. Surely that's the first thing he's calling me, but it's not. And then I find out he's suing me for libel.
"I never believed that Lance actually thought that of me though. Believe me, I'm no angel – I was the only girl on the scene and I behaved myself.
"I thought there was something a bit pathetic about it at the time. I was thinking 'is that the best you can do?' So it's almost as if there wasn't anything to forgive him for. He was just making himself look stupid.
"People say they are amazed I forgave him, but from being on the inside I think he had to forgive me too because I did spit in the soup and break Omertà.
"I could understand where he was coming from so it took us both a while to trust each other again."
That trust was built up over several months after Armstrong's interview with Oprah Winfrey, but it was O'Reilly who made the first move.
Having exchanged texts and calls over a number of months, the pair agreed to meet in November 2013 in Florida – a reconciliation which led to Armstrong writing the foreword to O'Reilly's book.
"I thought asking Lance to pen the foreword to the book would be a nice way of completing the circle," she continued. "We were friends, we fell out and we became friends again.
"Lance had got in contact with me before the Oprah show. I thought 'over my dead body am I giving him a soundbite to use on Oprah'.
"After the interview was over I still didn't get in touch, but a couple of months later I sent him something saying that if he was genuine about making up then give me a shout.
"From January to October we were texting infrequently and it took both of us a while to get used to things. We still didn't trust each other, of course, in November when we actually met up."
She added: "I suggested getting the bit with the [Daily Mail] journalist out of the way and then we went for a meal. It was bizarre that by the time we got to the restaurant it was just comfortable again, I didn't say that to him, but he put it in his foreword too."
O'Reilly's interview with Walsh was one of the catalysts in the untangling of Armstrong's web of lies, but not before both the author and the interviewee were sued for libel by the rider.
The masseuse's story formed a central part of Walsh and Pierre Ballester's book LA Confidential, with O'Reilly claiming in her own book she was 'hung out to dry' by the former in order to get at Armstrong.
But O'Reilly doesn't regret speaking out about the drug culture in cycling with Walsh, wishing only that she had taken measures to protect those around her from the fallout.
"I say in the book that I've ripped David to shreds, and when I say that I mean I've done it down the phone and to his face because I felt like I got dropped in it [by his book]," she said.
"Poor old David got it from me because all of a sudden I'm getting sued and getting dragged through the courts. It wasn't his fault, because the interviewee doesn't normally get sued – he was as shocked as me.
"The only thing I would change about the interview with David is that I didn't protect those close to me better. I could have kept them out of it more. I wish I had asked David more questions about what was going to happen so I could have prepared for it.
"I could have quite easily have gone to my grave and not told anyone about it, but what was stressful was knowing that it was wrong not to talk about it."
USADA's 2012 report into US Postal's 'sophisticated' and 'professionalised' doping programme brought Armstrong's world crashing down.
The Texan was banned for life from any WADA or US Cycling accredited events, and was stripped of his seven Tour de France titles.
But O'Reilly says that the decision to leave the winners of the Tours between 1999 and 2005 blank proves even the UCI believes that Armstrong's closest competitiors were doping as well.
"I think, in a sense, that stripping him of the titles and not awarding them to anyone else, they [the UCI] are saying that everybody was doing it," she said.
"It opens up such a can of worms – if you strip him of the titles and nobody is awarded what you're saying is that everyone was dirty.
"Then you've got Bjarne Riis, who has admitted that he was dirty and still has his [Tour de France] title, likewise with the other previous winners who have been proven to have dabbled.
"I think what [USADA chief] Travis [Tygart] has done [to highlight the doping culture] is phenomenal. He will go down in the history of all sports because he's helped break down that Berlin Wall of doping and got everything in the open."
>>> Bernard Hinault claims Lance Armstrong has become stain on 'glorious cycling memories'
Thank you for reading 10 articles this month* Join now for unlimited access
Enjoy your first month for just £1 / $1 / €1
*Read 5 free articles per month without a subscription
Join now for unlimited access
Try first month for just £1 / $1 / €1
Stuart Clarke is a News Associates trained journalist who has worked for the likes of the British Olympic Associate, British Rowing and the England and Wales Cricket Board, and of course Cycling Weekly. His work at Cycling Weekly has focused upon professional racing, following the World Tour races and its characters.