European Parliament votes for lorries that are safer for cyclists
New European standard for lorries reduces blind spots and improves vision for the driver - both should improve cyclist safety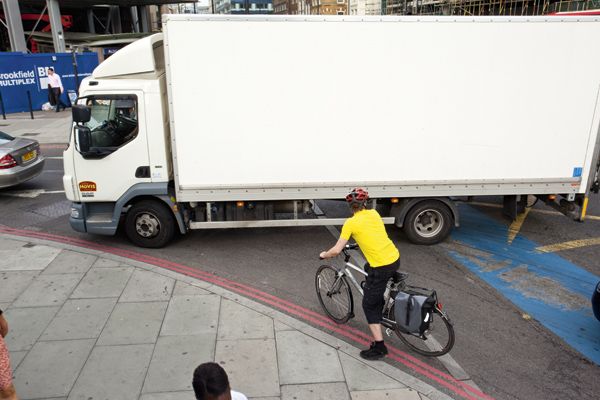 Campaigners say a new lorry standard voted by the European Union this week, to reduce blind spots and increase direct vision from the driver's cab, is a 'landmark' and 'crucial' step forward in safety for vulnerable road users, but warn new measures could still be watered down by the British government.
Changes voted by the European Parliament's Transport Committee, to the vehicle Weights and Dimensions Directive, won't become mandatory in new lorries until 2022, and campaigners warn we must guard against any moves to water down the plans in the meantime, after the British government opposed changes to lorry designs earlier this year.
Representatives from 130 European cities, including London Cycling Commissioner Andrew Gilligan, British Cycling's Chris Boardman and families of lorry fatality victims travelled to Brussels last month to lobby for the changes.
London Cycling Campaign's lorry campaigner, Charlie Lloyd said today: "This vote represents a great swing away from ever-increasing size and weight of lorries towards prioritising the safety of other road users."
However, he added: "We need to be on guard to see that these changes are supported by all MEPs and are not watered down by EU governments through the Council of Ministers."
The Mayor of London, Boris Johnson said in January he was 'deeply concerned' after the British Government told MEPs it would oppose mandatory requirements for changes to lorry cabs profiles.
The London Cycling Campaign said earlier drafts of the legislation were designed to improve the aerodynamic performance of lorries, with an EU commissioner making what it called 'bogus' claims about safety benefits. The LCC congratulated Transport for London on subsequent lobbying, which has led to real safety improvements.
Lloyd explains some of the important changes to design include:
New lorries can be up to 500 mm longer only if they are redesigned to "improve the road safety as well as the aerodynamic performance"
The front of the lorry cab must "improve direct vision so as to make vulnerable road users more visible" at the front and the side of the cab.
Crash damage must be minimised by fitting an energy-absorbing system
In a collision the lorry must be designed to push pedestrians and cyclists away to minimise the risk of being run over.
Johnson, said: "The European Parliament's vote [yesterday] is clear and far-seeing, just like the lorry cabs we want to bring in. We were not sure of success until the last moment, but it is great news for cyclists and pedestrians and I hope we can now work together with the DfT to bring these changes in as soon as possible."
Welcoming the result of the vote, British Cycling's Policy Adviser, Chris Boardman, said:
"This is another step towards creating an environment on the roads that accommodates the needs and safety of cyclists. Lorries are involved in almost one in five cycle fatalities in Britain and part of the problem is dangerous cab designs.
"I hope the Department for Transport moves quickly to ensure that we have more fit for purpose lorries on Britain's roads."
Cycling minister Robert Goodwill will close loopholes which currently allow potentially dangerous lorries to use city streets
Parliamentary Transport Committee hears opinions on whether a ban on HGVs during rush hour in London would improve cycle safety
Series of measures were announced today to crack down on lorry danger for cyclists and pedestrians in London and across