How to ride no-handed
Riding 'no-hands' isn't just for show-offs — it's a genuinely useful racing skill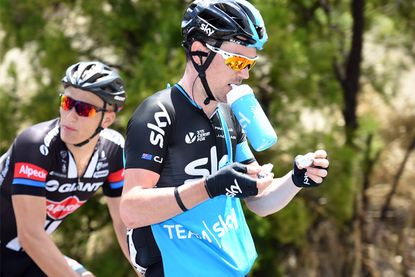 Whether it's to unwrap an energy bar or put on your jacket when it starts raining, being able to take your hands off the bars and sit up on the bike is a valuable skill. Done confidently, your balance and control should be as good as they are with hands on the bars.
Scott Bugden works as a coach educator for British Cycling and the UCI as well as running his own coaching practice, Fit in No Time. "You don't need to ride no-hands unless you are racing at a high level, where it is essential for taking on food or changing a rain cape. However, there are fringe benefits for everyone," he says.
>>> How to use your brakes properly
"It helps you to develop control of your bike and increase confidence. It provides a little bit of a core workout and teaches you how to engage your core instead of slumping your weight on the handlebars."
So where do we start? The first thing that worries people about learning this skill is how to control the bike. "Moving your body around directs where your bike goes — your hips contribute massively to steering," explains Bugden.
>>> How to perfect your posture without leaving your desk (video)
"Once you have let go with one hand, experiment with moving your body around, particularly your hips, to see how this controls the bike."
From one-handed, it is a small step to no-hands, but the key is sitting upright in the saddle, not leaning forward hovering over the bars.
What to do (and what not to do) after every bike ride
"Imagine you are sitting on a bar stool and all your weight is going down through the saddle," suggests Bugden. "Relax; the more relaxed you are, the easier it feels. You will naturally steer to wherever you are looking — so keep looking ahead."
>>> Find your perfect pace to optimise cycling performance
You need some speed to maintain your balance and momentum. "Ride no slower than jogging pace. Pedalling also helps to maintain a straight line."
Kids learn this skill fairly early on, mucking about on grass. "If you are nervous, try using flat pedals and trainers," suggests Bugden. "Ideally find somewhere with loads of space."
Though this is a good fun skill to learn, and will benefit your riding in lots of ways, Bugden cautions against using it at inappropriate times: "Never do this when in traffic, and make sure you are confident doing it in a safe setting before doing it anywhere else or around other riders."
Thank you for reading 5 articles this month* Join now for unlimited access
Enjoy your first month for just £1 / $1 / €1
*Read 5 free articles per month without a subscription
Join now for unlimited access
Try first month for just £1 / $1 / €1