HSBC to take over from Sky as British Cycling sponsor
Bank will support British Cycling from 2017, replacing Sky as sponsor of the British national team and bike ride events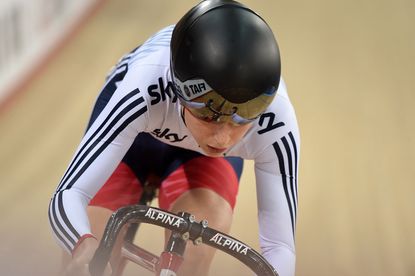 Banking and financial services giant HSBC will replace Sky as lead sponsor of British Cycling from 2017 in a multi-million pound deal.
British Cycling announced in July that Sky's eight-year partnership with the national sporting body will cease at the end of 2016.
According to a report in the Daily Mail published on Friday, HSBC has stepped in. An official announcement will reportedly be made this Sunday (September 18) at the HSBC UK Birmingham Bike Fest event.
Speaking about HSBC's association with the Birmingham Bike Fest event, Alex Base, HSBC Global Head of Operational Sustainability said: "Cycling is one of the ways that we can improve our own fitness as well as reduce the impact we all have on the environment. HSBC has a long track record of reducing its impact on the environment as well as supporting the communities that we operate in."
>>> British Cycling partnership with Sky to end in 2016
HSBC steps in as sponsor of British Cycling as GB cyclists celebrate their success at the Rio 2016 Olympic Games, where GB topped the medal table for the cycling events.
Britain came away from Brazil with 12 cycling medals in total: six gold, four silver and two bronze. Cycling success has continued in Rio at the 2016 Paralympic Games.
HSBC has previously sponsored international golf and rugby, but the Mail reports that it will not continue to back the British and Irish Lions in 2017.
The former Sky Ride events – family-friendly rides in city centres – will be rebranded HSBC UK Bike Fest events.
Sky continues its close involvement with cycling through the British-based WorldTour squad and the Sky Academy.
Thank you for reading 5 articles this month* Join now for unlimited access
Enjoy your first month for just £1 / $1 / €1
*Read 5 free articles per month without a subscription
Join now for unlimited access
Try first month for just £1 / $1 / €1