Riding round the world: a gap year with a difference
Teenager Tom Davies explains how he became the youngest person ever to go round the world by bike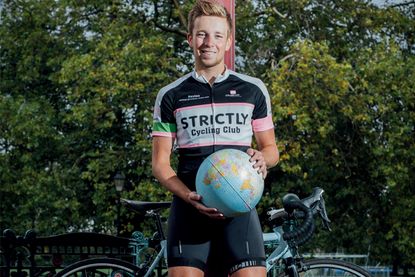 Tom Davies, like many of his peers, was enamoured with the idea of sightseeing and travelling. But the 19-year-old from Battersea, South London, unlike most teens and 20-somethings, opted against
inter-railing and day-long excursions.
It would be far more of an adventure, he thought, to cycle 18,046 miles around the world in 174 days on a steel-framed Condor Fratello.
>>> Icons of cycling: Condor Cycles
"I've been cycling since I was 15 and I wanted to travel in my gap year before I started Loughborough University — and this was my way of doing that," he says.
Upon completion, in August, he propelled himself into the Guinness World Record books as the youngest person ever to have circumnavigated Earth by bicycle.
How we reported Tom's ride at the time
His journey on the road took him east through Europe, south-east through Asia, across Australia, New Zealand and the USA before returning to the UK via a further brief stint in Europe. But his route is only one detail of the overall journey: a voyage through mood fluctuations, illness, scenery and cultural experiences.
>>> Detraining: The truth about losing fitness
Such a mammoth challenge brought with it days of despair and contemplation. "I never thought about quitting but there were times — especially at the beginning — when I thought, 'How will I do this?'" he recalls.
"Two weeks in, my friend texted me saying, 'Do you regret it now?' At that point, I didn't need that!
"You hear riders on the Tour de France saying that it's important to take it day-by-day, and that was the principle I had to live by. It was tough sometimes thinking how far was left.
"I had food poisoning in Italy, it was snowing, I had a bad knee problem. Everything that could go wrong was going wrong, though the bike held up."
>>> Watch – Training zones: what are they and why do they matter?
Before too long, though, Davies's globe-trotting experiences began to live up to his dreams. Indeed, the high points read like a 'where to go before you die' bucket list.
"Thailand was amazing, Australia's Great Ocean Road was superb, New Zealand, the US," he says, listing his memorable moments. "There was a great day in Croatia with belting sun. Malaysia was interesting, with spectacular climbing where the Tour of Langkawi is held."
Riding out winter
Departing in mid-January had meant Davies's training in the months prior to the ride was in autumn and the uninviting depths of winter.
He knew he had to devise a way to avoid the monotony of riding intervals three times a week on a Wattbike. "I didn't want to get bored of cycling before I'd even set off," he says, "so I varied it: running and doing cross-fit exercises with my best mate who is training to be in the Marines.
"We're competitive, so we were good for each other. He destroyed me on the weight-lifting but in the cardio [activities] I had the better of him. We pushed each other, which made it enjoyable."
>>> How to tell whether you are overtraining, and how to avoid it
Base fitness was banked, then, but the real assessment of the frequent sportive rider's capabilities would arrive en route. His maturity belies his inexperience in such challenges: "I knew that the real test would come if I ever got ill, which I did twice, and that's why I purposely kept my weight between 58 and 62kg.
"I maintained my 10-15 per cent body fat so that when I did get ill I could rely on that. In Europe, I was eating anything I could get my hands on. I had normal food all the way, pretty much, and was sustaining my sugar and carb levels by snacking on biscuits and crisps.
"The food in Asian cities was delicious, but less so in the towns and villages. But I couldn't moan — rice was plentiful."
>>> Tinkoff-Saxo chef Hannah Grant explains what it takes to fuel a pro rider
His speed averaged 24kph (15mph), an admirable figure considering the weight of his supplies — 20kg attached to his bike and inside his panniers. This heft ruled out keeping up the speeds that his cycling computer is more accustomed to.
The Tour de France's iconic climb
As any competitive cyclist can attest, merely completing a route is not enough: it has to be done in an impressive time and Strava-worthy speed.
For Davies, that 15mph average speed wasn't enough to satisfy him. "After a month of riding, all I wanted to do was get on a bike that didn't weigh half of me," he recalls. "I was putting the effort in going uphill and I wasn't going fast, which for me required a lot of patience because I'm used to riding road bikes."
Davies opted to stay in hostels rather than roughing it in a tent at the roadside.
"I stayed in the cheapest accommodation every night so I didn't have to carry a big tent," he explains.
Conquer any ascent
Just seven days after returning home, Davies jetted off to his family's French Alpine residency in Chamonix. Having a house in the shadow of Mont Blanc is quite handy for a keen cyclist.
His fitness had unsurprisingly benefited. "I was cycling up climbs I have done before much, much faster," he says. "I've never got round to racing previously but I'd love to now that I am at university in Loughborough."
Mark Beaumont: 'Finishing leaves a void'
Mark Beaumont, the adventurer who completed his around-the-world cycling trip aged 25 in 2008, explains: "Physically and mentally it's odd finishing. My lower back was in a lot of pain because I'd spent half of the year on my bike and not walking. He will be super-fit but specifically-fit.
"Mentally it's tough because after an obsession there's now a void, a feeling of 'what else now?'
"For racing, he'll have the miles in his legs and the mental resilience that very few his age will have but he'll lack speed and power.
"If he sets his mind to it, he can do well and overcome the probable initial speed deficiencies," Beaumont adds.
Thank you for reading 10 articles this month* Join now for unlimited access
Enjoy your first month for just £1 / $1 / €1
*Read 5 free articles per month without a subscription
Join now for unlimited access
Try first month for just £1 / $1 / €1
Jack Elton-Walters hails from the Isle of Wight, and would be quick to tell anyone that it's his favourite place to ride. He has covered a varied range of topics for Cycling Weekly, producing articles focusing on tech, professional racing and cycling culture. He moved on to work for Cyclist Magazine in 2017 where he stayed for four years until going freelance. He now returns to Cycling Weekly from time-to-time to cover racing, review cycling gear and write longer features for print and online. He is not responsible for misspelled titles on box outs, and he lost the argument about using UK spellings