Roman Kreuziger provisionally suspended and out of Tour of Poland
The UCI provisionally suspended Tinkoff-Saxo's Roman Kreuziger after the Czech rider still hasn't been able to give an explanation for his biological passport anomilies. Team calls UCI experts in to question.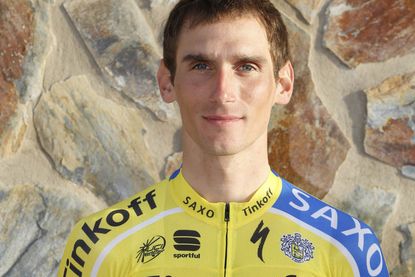 (Image credit: Watson)
Cycling's governing body, the UCI, pulled the brakes on Roman Kreuziger's return in the Tour of Poland over the weekend and provisionally suspended the Czech cyclist. Team Tinkoff-Saxo was ready to race him in stage one yesterday despite abnormal biological passport findings.
The UCI said, "The decision was taken following confirmation received on August 1st, 2014 that Roman Kreuziger intended to participate in the upcoming Tour of Poland and Vuelta a España."
Team Tinkoff had planned to race Kreuziger in the Tour de France in July since he finished fifth in 2013. However, on June 28, it made public an ongoing biological passport case against its rider, said it would exclude him in its roster and stop him from racing. Rafal Majka raced instead, winning two stages and the mountains title.
Kreuziger is not the first cyclist to be forced to sit out while his biological passport case runs its course. Jonathan Tiernan-Locke's case went public last September 2013 and came to an end in July – nearly nine months a later.
The biological passport tracks blood and urine values over time to ensure a rider is racing clean. If there are abnormalities that a cyclist cannot sufficiently answer to then it can result in a doping ban. Tiernan-Locke received two years.
Tinkoff-Saxo, however, disagrees with the case and called into question the UCI's medical experts. It said in a press release on Saturday, "Kreuziger receives his provisional suspension without solid evidence of any wrong doing but only based on the opinion of medical experts of the UCI Anti-doping Commission."
The team explained in June that the UCI's experts examined Kreuziger in the 2011 season and in 2012, through the Giro d'Italia in May. On June 28, 2013, Kreuziger received a letter saying there were problems and responded with an explanation to the UCI on October 3, 2013. The team added that he next heard from the UCI on May 30, 2014.
"I informed my team of this procedure and informed them that I had not taken any forbidden substances or used any forbidden methods and that I was determined to challenge any differing construction of the facts," Kreuziger said in June.
"I intend to defend myself in the appropriate quarters, even by the more expedite legal proceeding, in order to establish in the fastest possible way the truth in this matter."
Roman Kreuziger withdrawn from racing by Tinkoff-Saxo after biological passport irregularities
Thank you for reading 5 articles this month* Join now for unlimited access
Enjoy your first month for just £1 / $1 / €1
*Read 5 free articles per month without a subscription
Join now for unlimited access
Try first month for just £1 / $1 / €1