Shane Sutton not dismissing return to British Cycling if cleared
Former British Cycling technical director Shane Sutton says that he thinks he will be vindicated by an independent review into allegations of sexism and bullying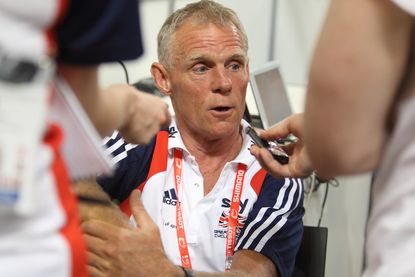 (Image credit: CJ Farquharson)
Shane Sutton has said that if he is cleared by an independent review into allegations against him of sexism and bullying, he would consider a return to British Cycling if that discussion arises.
Former BC technical director Sutton resigned from his post in April after he was suspended in the light of allegations that surfaced relating to his behaviour within the Great Britain team. Notably, former GB track sprinter Jess Varnish claimed that Sutton told her to 'go off and have a baby'. Sutton denies that he made the statement to Varnish.
>>> Jess Varnish alleges 'sexism' in Great Britain team: British Cycling and Shane Sutton issue statement
In an interview with Sky News, Sutton said: "I totally refute the claims, and I'm saddened by the allegations, but hopefully through the process that Team GB and UK Sport have set up then we'll get to the truth of the matter."
When asked directly whether he told Varnish to 'go and have a baby', Sutton said: "100 per cent, you know, I've never had that conversation with Jess."
The 58-year-old said that he regrets leaving British Cycling, and said: "I have days where I wish that maybe I'd ridden the storm, but I didn't think that was conducive to a good outcome. My thoughts weren't really about myself, it was more about the Laura Trotts, the Jason Kennys, the Sir Bradleys, the Cavs, I was thinking what I am doing here is distracting from what they are trying to do and win Olympic medals for this nation.
>>> 'Shane Sutton will be missed at Rio 2016'
"At this moment in time, they're not regrets, I just think 'I gave my life to this', it was the best job in the world. The athletes and staff might not see it, but to me they were all family, I loved them all."
Sutton went on to say that he would stay involved with cycling, and would not rule out the possibility of becoming involved with British Cycling again if the situation arises.
"100 per cent I am not walking away from cycling," he said. "If British Cycling were to turn around and say 'would you like to come back', then that's something that I'd sit down with the people close to me from a performance point of view, the likes of Sir Dave [Brailsford] and see if that was the right move. I'd have to sit down and wait to see what happened."
Sutton's departure was a shock to the GB team, given the proximity to the 2016 Olympic Games in Rio this August. The Australian was seen as a key part in the success of Britain's cyclists at the 2008 and 2012 Games.
Thank you for reading 10 articles this month* Join now for unlimited access
Enjoy your first month for just £1 / $1 / €1
*Read 5 free articles per month without a subscription
Join now for unlimited access
Try first month for just £1 / $1 / €1