It?s head on the block time? How is the Tour de France top ten going to turn out by Paris?
After seven years during which is was possible to predict on day one the outcome of the race, picking the winners these days is like trying to fit a particularly slippery and reluctant eel into a Christmas stocking.
All we can do is call it how we see it and hope for the best?
In the meantime, stick a few quid on Oscar Freire to win Saturday?s opening stage in Plumelec. The 1.7-kilometre climb at the end won?t worry him ? he?s been well up there in Flèche Wallonne before and the Plumelec hill is no Mur de Huy.
But how do we think the top ten is going to shape up? We?re not scared to list them in order ? and we?ll be checking on their progress, for better or worse, on the first rest day.



Australia / Silence-Lotto
Age 31
Tour experience

2007 ? 2nd at 23 seconds (awarded the Albi TT stage after Vinokourov?s disqualification for doping)

2006 ? 4th at 4-11 (after Floyd Landis? disqualification)

2005 ? 8th at 11-55
Wins this year 4 ? stage, Ruta del Sol; stage Paris-Nice; stage and overall Settimana Ciclista Coppi & Bartali
Form Has had a good spring with a few wins followed by second place at the Tour of the Basque Country, second at Flèche Wallonne and seventh at Liège-Bastogne-Liège. Then rode to second place in the Dauphiné Libéré, keeping an eye on Alejandro Valverde. Seemed unconcerned about finishing only third in the time trial because he said he was not at full strength.
Verdict The hot favourite by default. He?s stepped up every year since making his Tour debut in 2005. The recruitment of Yaroslav Popovych to help in the mountains is going to be a big help. Okay, so Cadel?s racing style does not set pulses a quiver but fair play to him, he tries to win despite his limitations. He?s not going to attack his way through the Pyrenees and Alps, instead he?ll hope it?s a war of attrition and that he?s the last man standing when they reach the time trial. Only concern is he may be susceptible to choking and he won?t like it if they reach the Alps and he still has two or three riders to mark. He?ll be vulnerable to being attacked repeatedly. We?re not being unkind when we say he can?t follow everyone.
Unibet.com odds to win 3.25 (favourite)



Spain / Caisse d?Epargne
Age 28
Tour experience

2007 ? 6th at 11-37

2006 ? DNF. Abandoned with broken collarbone after crash on stage three

2005 ? DNF. Won stage 10 at Courcheval. Abandoned on stage 13 after banging knee on handlebars in a crash
Wins this year 8 ? stage and overall, Tour of Murcia; Paris-Camembert; Liège-Bastogne-Liège; two stages and overall, Dauphiné Libéré; Spanish National Championship
Form Won Liège-Bastogne-Liège to announce a return to his pre-June 2006 best. The way he was strong in the sprints, the time trial and the mountains at the Dauphiné Libéré was ominous. Clearly hitting form at just the right time.
Verdict There is a nagging concern that if Valverde were to find himself in yellow, the sharper teeth among the press pack will be revealed and the questions about Operacion Puerto and Dr Fuentes will grow louder. For Valverde?s sake there had better be no skeletons. On paper, Valverde could be a real threat. He will cope with the Cholet time trial, he?ll love the Massif Central and if he?s on top of his climbing game, he?ll be difficult to drop. Along with Evans, he?s the most likely winner.
Unibet.com odds to win 5.00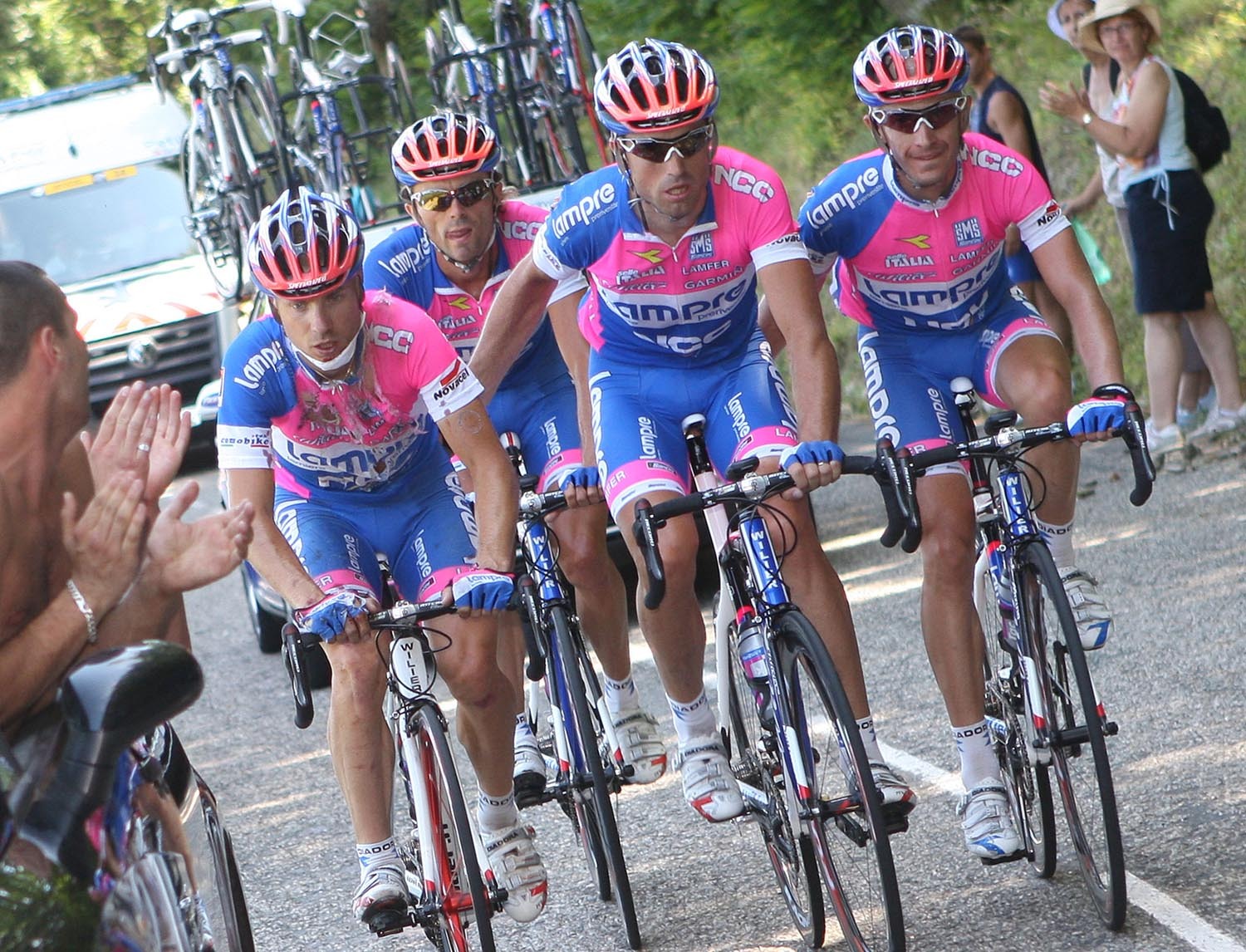 Italy / Lampre
Age 26
Tour experience

2006 ? 11th at 18-22. Won white jersey as best young rider
Wins this year 3 ? stage, Tour of the Basque Country; Klasika Primavera; Amstel Gold Race
Form Skipped the Giro d?Italia, to the annoyance of the tifosi in order to concentrate on the Tour. Was strong without being full on at the Tour of Switzerland. For the first time Cunego will be at the Tour in good enough shape to win it.
Verdict In 2006 ? Cunego?s only other crack at the Tour ? he arrived on the back of a disappointing Giro and, despite not being at his best, won the white jersey and was second to Schleck at Alpe d?Huez. This time he?s built his entire year around the Tour, perhaps encouraged by the reduction in time trialling. Critics say he can?t handle the Pyrenean and Alpine climbs because they are very different to the Giro?s mountains, but we?re not so sure. He?s light and if he?s in form he?ll be with the best of them in the mountains. Perhaps won?t have enough to actually win it, but definitely podium material. The other thing about Cunego is that he?s one of the very few who has the experience of winning a major tour locked away in the memory bank.
Unibet.com odds to win 12.00



Russia / Rabobank
Age 30
Tour experience

2007 ? Abandoned on stage 17

2006 ? 5th at 6-09. Won stage to Pla-de-Beret

2005 ? 85th at 2-35-00

2004 ? Abandoned on stage 13 with knee problems

2003 ? 11th at 19-44. Won white jersey as best young rider

2002 ? 93rd at 2-21-31
Wins this year 0
Form His build-up has been steady. Finished fifth in the Giro d?Italia and looked more than handy in the mountains. Has been training since then so it?s difficult to gauge how he?s going.
Verdict Menchov always goes better in his second grand tour of the year ? hence his success at the Vuelta a Espana. This time the Tour will be his second three-week stage race and it could bode well. He was an impressive fifth at the Giro, even attacking towards the end of one mountain stage. The only thing preventing us back from tipping him for the podium is his tendency to have one truly shocking day at the Tour. He?s not the most aggressive rider in the world and he?s not as good at time trialling as people seem to think. But the way he wore everyone down at the Vuelta last year ? almost putting them to sleep, it was so boring ? suggests that if he were to get into a winning position he?d be difficult to dislodge.
Unibet.com odds to win 8.50



Spain / CSC
Age 33
Tour experience

2007 ? 4th at 7-08

2006 ? 3rd at 2-16 (after disqualification of Landis)

2005 ? 21st at 34-24

2004 ? 8th at 19-51

2003 ? 9th at 18-49. Won stage to Plateau de Bonascre

2002 ? 10th at 19-05

2001 ? 20th at 50-20
Wins this year 0
Form Very average. Suffered badly at the Dauphiné Libéré and had to be nursed to the line at La Toussuire by some team-mates. Hardly auspicious stuff. But then Sastre never really comes alive until the Tour anyway, and CSC are not concerned.
Verdict Sastre?s season has been typically low key but the team continues to be built around him. With the Schlecks at his service he should make the top ten. Victory looks to have passed him by, though. Hopefully if he?s going to have a go, he won?t leave it until the last serious mountain stage to make his move. Having said that the very difficult spell in the Alps in the third week suits him more than most. May make a late run towards the podium.
Unibet.com odds to win 18.00



Spain / Euskaltel-Euskadi
Age 31
Tour experience

2007 ? 5th at 8-17

2006 ? 8th at 11-08

2005 ? 15th at 23-43

2004 ? Abandoned stage 13

2003 ? 5th at 6-51

2002 ? 39th at 1-15-39

2001 ? 73rd at 2-06-17
Wins this year 0
Form Zubeldia is following the ?paint-by-numbers? build-up for the Tour. Twelfth at the Tour of Romandie, Sixth at the Tour of Catalonia, fifth at the Dauphiné Libéré. Zubeldia is not a winner, though. He?s won just one road race in his professional career.
Verdict There?s a rumour going round that Haimar Zubeldia is only visible to Spanish cycling fans. The rest of the world doesn?t notice him ? and is it any wonder? When compiling this feature we realized we don?t have a single shot of him on file. This is probably because no one actually knows what he looks like. But perhaps we?d better start taking notice because his build-up to the Tour all points towards Zubeldia riding round France and taking a place in the top 10. Not that you?ll notice him without looking at the results sheet. With Samuel Sanchez saying he?s going for stages, Zubeldia can be relied upon to stay in the upper reaches of the general classification. He?s not exciting but he?ll be thereabouts, barring disaster. Go on, Haimar, prove us wrong, put in a massive attack on Hautacam so we can take a good look at you!
Unibet.com odds to win 20.00



Luxembourg / Team Columbia
Age 30
Tour experience

2007 ? 7th at 12-18 (Awarded stage 15 to Loudenvielle after Vinokourov?s disqualification)

2005 ? DNF. Abandoned stage 11

2004 ? 63rd at 1-55-52
Wins this year 5 ? two stages, Tour of the Basque Country; Flèche Wallonne; stage Tour of Switzerland, Luxembourg time trial championship
Form Had one poor day in the time trial at the Tour of Switzerland, which cost him his leader?s jersey. It?s been a good spring and early summer though, with everything peaking nicely for July.
Verdict With Michael Rogers and Linus Gerdemann absent, Team Columbia?s overall ambitions lay with Kim Kirchen. He rode steadily into the top ten last year, but then there were no expectations. This time he?s expected to lead and that?s a whole different bubble of pressure. Is among the favourites for Saturday?s opening stage, though, because of its Classic-style finish. He?s not going to win overall, but he could make the top five. We think seventh again is probably about as good as it?ll get. The big problem is he can?t time trial well enough ? not even up hill. Oddly enough he's Luxembourg time trial champion ? but then, neither of the Schlecks rode.
Unibet.com odds to win 25.00



Luxembourg / CSC
Age 28
Tour experience

2007 ? 17th at 31-48

2006 ? 10th at 16-49. Won stage 15 at Alpe d?Huez
Wins this year 1 ? Luxembourg national road race championship
Form Went flying in a spectacular crash on a descent in the Tour of Switzerland and was lucky he wasn?t seriously hurt. Had been well-placed overall but pulled out to avoid aggravating his injuries. It?s been a hot and cold season so far but he?s in good shape now and will look to ride himself into top condition by the time the mountains arrive.
Verdict If the Tour de France were to allow the Schleck brothers to ride as a pair ? a bit like tag-team wrestling or a foursomes match in Ryder Cup golf ? with the best one?s time each day counting overall, Frandy Schleck would win the Tour. But as it is they?re both likely to slip up somewhere, probably on different days. There?s a lot of excitement surrounding his brother Andy and while the dream scenario is that the 21-year-old has a sensational debut Tour, it?s more likely that he?ll find the going tough. This is not the Giro, it?s like no other race. Frank?s experience will see him into the top ten.
Unibet.com odds to win 40.00



Columbia / Barloworld
Age 25
Tour experience

2007 ? 11th at 16-51. Won stage to Briancon. Won king of the mountains competition
Wins this year 0
Form Largely unknown. Last seen in serious action in the Giro d?Italia, which he abandoned halfway through.
Verdict Won?t enjoy the wild card status he had last year. He?ll be more closely watched and may decide to focus on the polka-dot jersey, which will probably require him to lose some time in the first week so he?s allowed a free hand in the Pyrenees to go chasing points. Should rise up the general classification as the mountain stages go on and the top 10 is on the cards again.
Unibet.com odds to win 50.00



Spain / Caisse d'Epargne
Age 31
Tour experience

2007 ? 10th at 14-25

2006 ? 1st (after disqualification of Floyd Landis)

2005 ? 10th at 16-04. Won stage to Pau

2004 ? 10th at 22-54
Wins this year 0
Form Hasn?t done much to get anyone excited this year. Seems to have been going through the motions until he took third place in the Spanish championships at the weekend. Probably the thought of having to work for Valverde that?s holding him back.
Verdict We?re a cruel bunch? tipping Pereiro to finish 10th again ? but there?s no safer bet in cycling. The 2006 champion (we think we can definitely call him that now) will reluctantly accept he is not the team leader and will instead ride in support of Valverde. A top ten place isn?t out of the question though. Cycling?s a funny old game though ? one year you get worked over in the Pyrenees by George Hincapie, the next you sort-of win the Tour. This time it?s back into the ranks of the decent.
Unibet.com odds to win 40.00

The riders who could spring a surprise and make the top 10….
Stijn Devolder Quick Step

With Tom Boonen missing the race, Quick Step need a Plan B ? and fast. Until he suffered a bad one in the mountains of the Tour of Switzerland, Devolder looked like he?d be it. Top 20 material, perhaps, but will be found out in the Alps.
Andy Schleck CSC

Will be up there and could well be in the top ten at the end but he?s no surprise package after last year?s second place in the Giro. Oddly there?s more pressure on the debutant than there is on his brother, who has a better chance.
Samuel Sanchez Euskaltel-Euskadi

Sanchez is the ringer. He?s started the Tour twice (2002 and 2003) but never finished it. Last year he came alive in the second half of the Vuelta, but he?s avoided the Tour in the past few years. Says he?s only going for stage wins. Not sure whether to believe him or not.
Yaroslav Popovych Silence-Lotto

Made the top ten last year but there?s no talk of him being Armstrong?s successor anymore. Instead he?ll work for Cadel but could end up with a good overall position by default.
David Arroyo Caisse d?Epargne

All set to ride the Giro until he crashed in training the day before the start. Will be fired up for the Tour and could be Caisse d?Epargne?s surprise package.
Tadej Valjavec Ag2r-La Mondiale

Not the most exciting rider around. In fact, we keep getting him confused with that other bloke. You know, the other one who finishes somewhere between 12th and 25th.
Christophe Moreau Agritubel

Getting on a bit now and endured an absolutely awful couple of days midway through last year?s race when he crashed and broke his shoe, and rode the Albi time trial as if his back brake was jammed on. Agritubel were left out of the Dauphiné Libéré, which may well play in Moreau?s favour. One last chance for him to aim for the polka dot jersey. Go on, Christophe, you know it makes more sense than trying to finish 11th overall.
Maxime Montfort Cofidis

Probably a better bet for a good overall position than Sylvain Chavanel.
Bernhard Kohl Gerolsteiner

Gerolsteiner definitely need a decent result and it?s time for Kohl to step up and deliver something. Top 15 would be a good result?
Markus Fothen Gerolsteiner

Like Kohl, could make the top 15.
Vincenzo Nibali Liquigas

It?s tough asking the young Italian, who found himself slightly out of his depths in the Giro, to now ride the Tour.
Roman Kreuziger Liquigas

After winning the Tour of Switzerland there was a real buzz about Kreuziger. Could go head to head with Andy Schleck for the prize of best Tour debutant. Can certainly climb and time trial well enough to do extremely well. The only question is over his endurance.
Riccardo Ricco Saunier Duval

With Jose Angel Gomez Marchante missing the Tour again, with an upset tummy again, Saunier Duval will look to Juan Jose Cobo and Ricco, who was a sulky second in the Giro d?Italia. An outsider for the top 10. Can?t seeing him doing more than that. We'll need convincing that he's got his head on for this.

WHO'S GOING TO WIN…

THE GREEN JERSEY
THOR HUSHOVD




No Boonen, no Bennati, Zabel?s too old, so is McEwen, almost, Freire never makes it to Paris, Cavendish will probably pull out before the end? it all points to a Thor Hushovd win in the green jersey competition.

WHO'S GOING TO WIN…

THE POLKA-DOT JERSEY
JUAN MAURICIO SOLER

If the Colombian targets the polka-dot jersey he?ll get it. It?s difficult to see too many of the overall contenders bothering with it and of the rest, probably only Christophe Moreau can see the value in winning it.
RELATED LINK

We look at last year's top 10 and explain why you won't be seeing some of them this July.

Last year?s Tour top 10 ? Where are they now?

TOUR DE FRANCE 2008: GUIDE
Tour de France 2008 homepage>>

News and features>>

Route & stages>>

Teams and riders>>

About the Tour>>