Vinokourov makes return to racing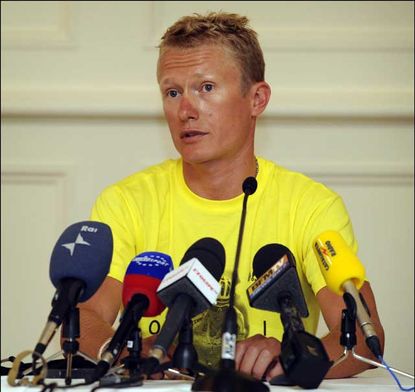 Alexandre Vinokourov made his return to professional cycling on Tuesday at the Castillon-la-Bataille race in France. It's the Kazakh rider's first race back since serving a two-year ban for blood doping.
Vinokourov turned up at the 28-mile criterium with a jersey featuring a photograph of himself in Astana kit, and with the legend 'Vino 4 Ever' emblazoned across it. The 35 year old made his message clear: I'm back, and I'm here to stay.
Vinkourov says he still intends to re-join Astana, the Kazakh-backed team that he helped create and the home of 2009 Tour de France winner Alberto Contador. However, current team manager Johan Bruyneel was quoted in April 2008 as saying that he would 'prefer to die before signing Alexandre Vinokourov'.
Things change. With Bruyneel and Lance Armstrong now signalling their intention to leave the team and create the RadioShack squad, the way may be clear for Vinkourov to once again race in Astana colours, in a role supporting team leader Contador.
"The aim is to build a team around him [Contador]," Vinokourov told French sports paper L'Equipe. "I am ready to work for him, but obviously the decision belongs to him [whether to stay with Astana]."
Vinkourov failed a test during the 2007 Tour de France for homologous banned blood transfusion. The Kazakhstan cycling federation imposed a one-year ban which was subsequently extended to two years after an appeal to the Court of Arbitration for Sport made by the Union Cycliste Internationale. The ban expired on July 24, 2009.
Vinokourov will next race in the Tour de l'Ain (August 9-12).
Thank you for reading 20 articles this month* Join now for unlimited access
Enjoy your first month for just £1 / $1 / €1
*Read 5 free articles per month without a subscription
Join now for unlimited access
Try first month for just £1 / $1 / €1