Are these the seven most innovative cycling products of 2017?
We round up what we think are the seven most innovative cycling products from 2017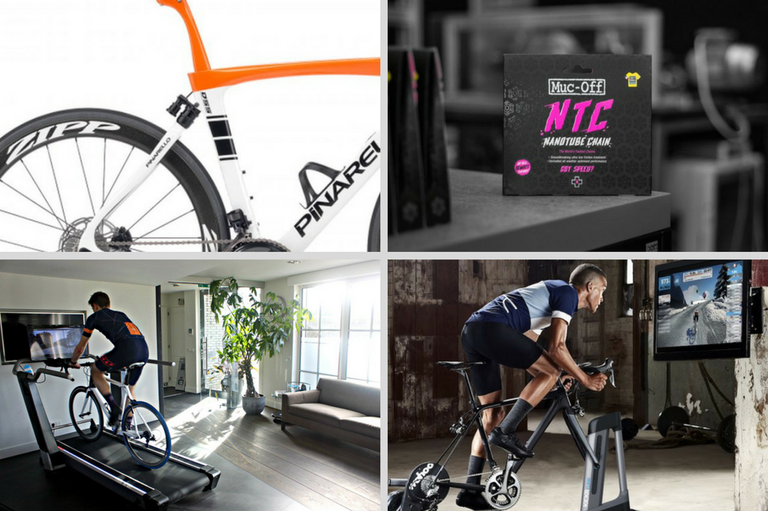 As ever, the train of innovation continues to trundle ever onwards. In its wake are left new standards, new materials and new ways of making products in an attempt to push the boundaries of cycling.
This year we've seen plenty of new top tech: whether that's new disc brakes from Campagnolo or more whale-inspired wheel tech from Zipp, we've truly been spoilt.
Of course, picking the truly revolutionary products from the over overzealous marketing spiel is always tough, but in our humble opinion these are the seven most innovative products of 2017.
Wahoo Kickr Climb
The Wahoo Kickr Climb is a smart trainer so smart that it can even simulate ascents and descents. So now when you're sweating it out on Zwift up Box Hill (or just about anywhere really) you can feel one step closer to actually being outside.
It's a completely new unit (unfortunate for those who have an old Kickr model) because the rear axle has to be able to rotate when the bike pitches up or down.
Happily, though, Wahoo has also improved the accuracy of the power measurements to +/- 3%, making it even more of a bona fide training machine.
You can read more on the Wahoo Kickr Climb here
Focus Project Y
Out of all the bikes we saw this year, the Focus Project Y really stuck with us because it's an e-bike that doesn't really look like an e-bike.
That's because the Fazua motor and the battery are all one unit and stuffed in the down tube of the bike, slimming the frame down considerably. It supposedly comes in at a 12.5kg with the 4.5kg battery and motor included.
The bike also marks the birth of another new standard: 'road boost', which is an expansion of both hub axles – they're now 110mm on the front and 148mm on the rear.
You can read more on the Focus Project Y here
Pinarello Electronic Suspension
This year saw Pinarello announce a space-age jump in its Dogma K10S Disc suspension technology, otherwise known by its catchy moniker: the eDSS 2.0.
Even if the name isn't exciting, the technology certainly is. Equipped with sensors, the Electronic Dogma Suspension System is capable of reading the road and transmitting that feedback back to the unit, which then adapts in real time. It opens and closes a hydraulic damping system depending on what the rider is riding over.
As if that wasn't enough, the suspension can be connected to your Garmin, where you can monitor exactly what it's doing.
You can read more on the Electronic Dogma Suspension System here
Tacx Magnum
As if one innovative home trainer wasn't enough, Tacx has also released the mother of all turbos – the Magnum.
OK, so home training might be a bit of a stretch because it won't fit in most homes because it's MASSIVE.
But despite its size, it's really cool and is capable of simulating ascents and descents. it's a lot like riding rollers and balance is key. It even ships with a TV screen so you can feel even more immersed.
You can read our first ride review of the Tacx Magnum here
The Tifosi Mons
At a claimed 4.6kg, the Tifosi Mons is probably the lightest bike in production in the whole entire world – even lighter that Marcus Storck's 5.3kg Storck Aernario.2 we saw at Eurobike.
The bike has a layup of three different types of carbon: T1000 for the light weight, T800 and 700 for the strength. The frame is even fully ISO tested, albeit not UCI approved.
The frame is available for £1,999 or you can buy a Shimano Ultegra R8000 equipped model for £3,100. Of course, neither will be as light as the model we have here with its Campagnolo Super-Record and Fibrelight components.
You can read more on the Tifosi Mons here
Ekoi heated gloves and overshoes
Get some central heating for your hands and feet thanks to Ekoi's heated accessory range.
For an eye-watering price of £124 you can grab a pair of heated gloves with a run time of between two and five hours, capable of heating your hands from anywhere between 25°C and 40°C. They're powered by a lithium polymer battery, which is activated by a simple press of the button on the back of the hands.
The overshoes use the same system, but the button is at the top behind the ankle.
Muc-Off Nanotube chain
You can read more on the Muc-Off Nanotube chain here
State-of-the-art graphene nanotube lubrication worthy of Team Sky and Chris Froome make this Muc-Off chain a supposed 10 watts faster.
Firstly, the Shimano Dura-Ace chain is sonically cleaned (we also didn't know that was a thing), then the proprietary lubricant is added. The chain then gets faster and faster as you ride, with its advantage reaching 10 watts after four hours of riding at 250 watts or more.