Bontrager helmet safety performance falls 'far below' its claims, says MIPS
MIPS says it is unable to replicate the claims of WaveCel, the technology featured in Bontrager's new helmet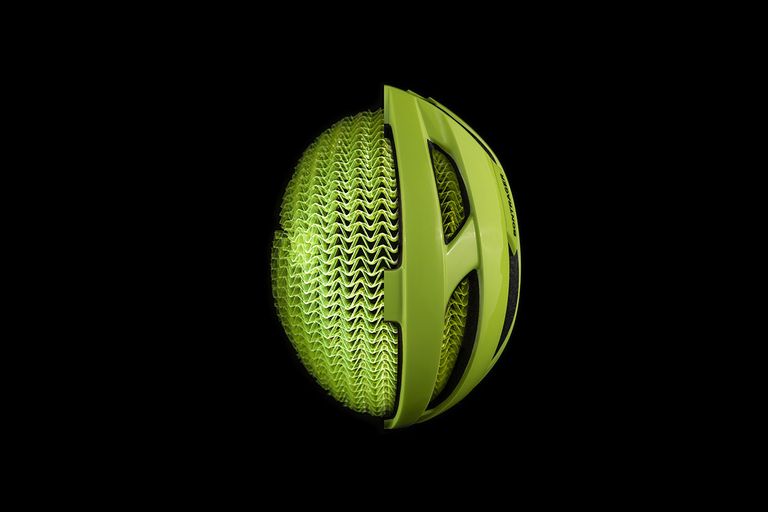 (Image credit: Jim Carman)
This article was updated on Tuesday, April 2 to include MIPS' data claims
MIPS - the company responsible for the Multi-Directional Impact Protection System featured in many cycling helmets - has disputed claims made by Bontrager about its new helmets saying safety performance results fall 'far below' the published stats.
In March, Trek's sister company Bontrager released a new range of cycling helmets, featuring technology from its licensee WaveCel.
WaveCel is a collapsible cellular material designed to absorb energy by 'flexing, crumpling and gliding', according to Trek.
Trek says that these three absorbing attributes mean the helmet can protect a cyclist's head during the twists and turns of a crash.
The brand claimed that the technology is up to 48 times more effective for preventing concussions when compared to a regular helmet.
It also said that 99 times out of a 100, WaveCel prevents concussions caused by common cycling accidents.
In a statement, the competitor said: "MIPS subjected the new WaveCel helmet technology to their battery of tests, with results far below WaveCel's substantial claims of injury prevention."
MIPS' internal layer, built in to helmets available from many major brands, serves a similar purpose with the aim of lessening rotational motion associated with potential brain injuries including concussion.
The product of Swedish brain surgeon Dr Hans von Holst and Dr Peter Halldin, MIPS has its own facility in Sweden where it has conducted over 22,000 tests.
When MIPS compared the WaveCel helmets with standard EPS foam, it found no reduction in the risk of injury at 4.8m/s and a very slight reduction at 6.2m/s - stating that this was "not consistent with the communicated claims."
MIPS said one explanation for this difference could be that WaveCel used a 'HIII dummy neck' in its test (Bliven, below). This is not used by Virginia Tech, MIPS nor FIM (Fédération Internationale de Motocyclisme), and was designed for automotive crash testing.
MIPS says: "The neck has been found to be too stiff in compression in several independent studies. For this reason, the test setup used in the Bliven study must be questioned and MIPS didn't use the HIII dummy neck in the comparative test to keep the test as close to an industry standard as possible."
MIPS' test results:
Johan Thiel, CEO of MIPS, said: "We are a company of scientists, so we're approaching this in the spirit of collaboration inherent to scientific research. If together, we can make cycling safer for riders, then we will have honored our mission to make the safest helmets possible."
MIPS also added that third party testing standards were not adequate, saying: "There is still a lack of an industry-wide standard from third party testing organizations to ensure accurate information for consumers."
A representative from Trek's US product team responded to the comments made by  MIPS, saying: "We believe that slip liners are a good technology that provide a real benefit to riders. Having partnered with MIPS for a number of years, we have brought many products featuring MIPS technology to market. We also believe that there is room for innovation in rider safety.
"Trek offers helmets with WaveCel, MIPS and standard technology. Consumers can decide for themselves which products fit their particular needs based on the data and information available to them."
Michelle Arthurs-Brennan is Cycling Weekly's Tech Editor, and is responsible for managing the tech news and reviews both on the website and in Cycling Weekly magazine.
A traditional journalist by trade, Arthurs-Brennan began her career working for a local newspaper, before spending a few years at Evans Cycles, then combining writing and her love of bicycles first at Total Women's Cycling and then Cycling Weekly. 
When not typing up reviews, news, and interviews Arthurs-Brennan is a road racer who also enjoys track riding and the occasional time trial, though dabbles in off-road riding too (either on a mountain bike, or a 'gravel bike'). She is passionate about supporting grassroots women's racing and founded the women's road race team 190rt.
She rides bikes of all kinds, but favourites include a custom carbon Werking road bike as well as the Specialized Tarmac SL6. 
Height: 166cm
Weight: 56kg
Michelle Arthurs-Brennan on Instagram
Michelle Arthurs-Brennan on Twitter