David Millar's Chpt3 launches everyday performance Girona range
Lower price point for the brand's new clothing collection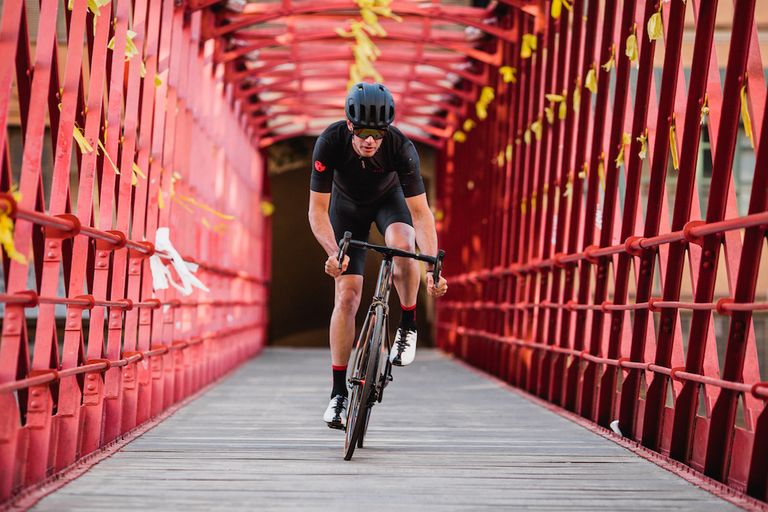 When he retired from pro racing, David Millar set up the Chpt3 clothing brand, alongside his other interests. The name reflects the phases of his cycling career and his life post-pro.
Chpt3 is based in Girona, home to over 100 pro cyclists. So it's chosen the Spanish city's name for its new collection which has just been released. It describes the Girona pieces as its everyday performance line, with lower prices than its previous, premium lines.
Chpt3 says that the famous bridge between Girona's old town and the new part of the city, designed by Gustave Eiffel, inspired the design for the Girona collection, with its lattice structure reflected in the pattern on the two different jerseys.
Chpt3's kit is made by Castelli, which also clothes Team Sky, as well as making the leaders' jerseys for the Giro d'Italia. Chpt3 says that the Girona jersey is made of the same lightweight, aerodynamic and high wicking fabric used for the Giro's Maglia Rosa. There's some nice detailing on CHpt3's kit, like the sewn-in logos.
The all-black Girona bibshorts use Castelli's Kiss Air pad, rather than the brand's top-of-the-line Progetto X2 Air. That's no bad thing as the Kiss Air is an excellent pad, with dense foam and a bit less bulk than the Progetto pad. It's chosen by some Team Sky riders in preference to the Progetto X2 Air.
Available from Chpt3's and Castelli's websites as well as from a number of premium retailers worldwide, the Girona collection consists of the jersey, in Ivy Green or Vulcan Black for £100, the bibshorts for £110 and matching Ivy Green or Vulcan Black socks priced at £18 a pair.
Millar stresses the importance of the Girona pieces to the brand, opening up a new price point and making its clothing accessible to a wider audience.