Tech of the week: crits, Zwift and women's bikes
As well as new kit from Rapha, a new e-bike from Focus, bike handling skills and the Cycle to Work scheme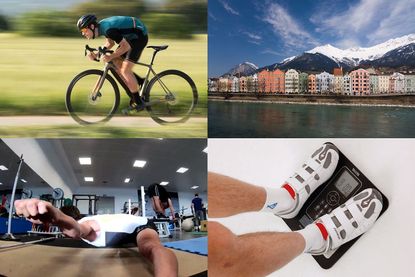 Follow the pros around Austria
This week, Zwift has teamed up with the UCI to launch its own copy of the UCI World Championships course in Innsbruck, Austria. It reckons that the pros will be using it to train for the rigours of what is dubbed the hardest course in a generation, although it doesn't look as if Zwift's version will include the turbo-busting 28% finishing climb from the men's race.
If you think you'll need some help to ride Zwift's latest hillfest, you might want to hook up the new Focus Paralane2 e-bike to your turbo. It weighs just 13kg and its motor helps you out with an extra 400 watts when you need it but adds no resistance or can be removed entirely when you don't. Or you could try smearing your legs with Lotto-Soudal's go-faster gel.
Out on the crit circuit, Rapha now has its own limited edition clothing range. Features include a number pocket and reflective logos so that the brand's kit stands out in night-time races. We've also had a look at custom cycle clothing options from five different makes including Assos and Shutt.
And Wiggle has just launched its new Boutique section, featuring premium brands in clothing and shiny kit, like a limited edition blue set of Ceramicspeed OSPW jockey wheels – a snip at £539.
Merida bikes and on- and off-bike skills on show
This week, we've had a run-through of the Merida road bike range; everything from the pro-level Reacto aero bike and Scultura climber's bike to its alloy models and gravel and cyclocross ranges.
We've also had an extensive look into women's bikes and asked whether there's a need for custom machines and geometry to fit the female form. Plus, we've told you about the Xplova X5 which combines a GPS with an action camera for a richer cycling experience.
If you're not sure why you need to increase your core fitness, take a look at Peter Sagan's off-bike routines to frighten you into action; he shows some prodigious strength. Meanwhile, bike handling skills have been on show from Tom Pidcock and Ed Clancy, both narrowly avoiding crashes at the Tour Series. We've also asked what the perfect BMI is for a cyclist.
This week we've had a look at the Cycle to Work scheme. Nearly 20 years old, we've told you how it works and its benefits to the commuter and leisure rider.
Also, as usual, we've had Sunday Trading to tempt you as well as top deals on helmets.
Thank you for reading 5 articles this month* Join now for unlimited access
Enjoy your first month for just £1 / $1 / €1
*Read 5 free articles per month without a subscription
Join now for unlimited access
Try first month for just £1 / $1 / €1