What is the black stick below the riders' saddles at the Giro d'Italia?
Small box used by Velon to transmit heart rate, speed, and power data for use on TV coverage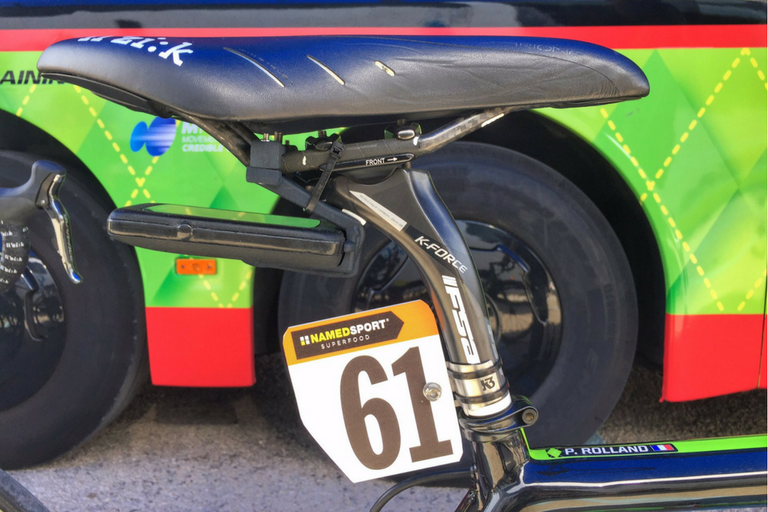 (Image credit: Twitter/Cannondale-Drapac)
If you've been paying attention at the Giro d'Italia, then you might have noticed the little black sticks underneath many riders' saddles, and probably wondered what on earth they are.
Similar to the black sticks that have been on riders' bikes at the Tour de France for a couple of years, the black sticks at the Giro d'Italia are about the size of a smartphone, weigh around 180g, and are used to transmit live rider data including speed, heart rate, cadence, and power.
>>> Incredible Strava stats give an insight into the echelons at the end of the Giro d'Italia stage three
These are then shown up on screen, with the live stats providing a fascinating insight into the sort of effort that the riders are having to put in at any point in the race.
Watch: Giro d'Italia 2017 essential guide
At the Tour de France this data is collected and transmitted by Dimension Data (the technology company that sponsors the team of the same name) while at the Giro d'Italia and other races run by RCS Sport such as Tirreno-Adriatico, Milan-San Remo, and Il Lombardia, it is done by Velon.
As well as broadcasting some of the stats live, the collection of this data also allows Velon to publish daily round-ups of the data from different parts of the race, looking at the performances of different riders.
This gives you a chance to see what sort of effort is required for a rider to make it into the breakaway then stay out in front all day, what sort of effort it takes to set tempo up a mountain pass, and what sort of effort is needed to win a sprint finish at the end of the Grand Tour stage.