Strava stats reveal just how fast Nairo Quintana attacked on the Blockhaus at the Giro d'Italia
Thibaut Pinot's Strava numbers show the acceleration required to follow Quintana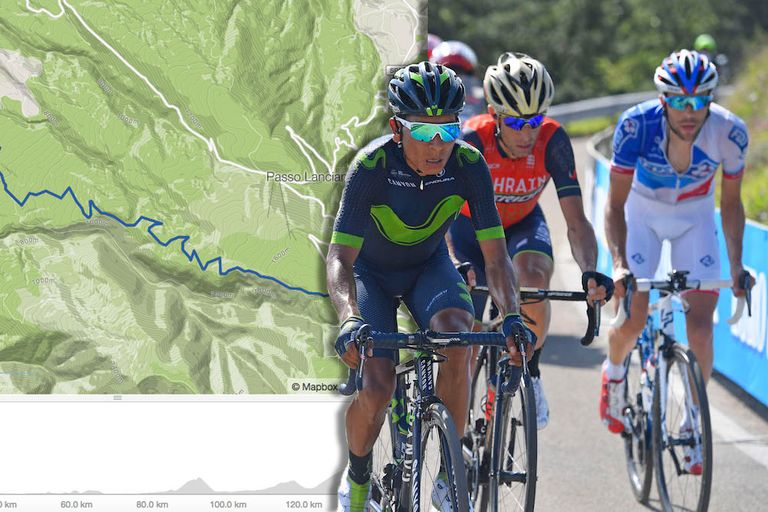 (Image credit: Sunada)
While disaster struck on the Blockhaus for Geraint Thomas and Adam Yates, FDJ's Thibaut Pinot produced an excellent ride to finish second on the stage, 24 seconds behind Nairo Quintana, a ride that he has now uploaded to Strava.
Pinot was one of only two riders, together with Vincenzo Nibali, able to follow Quintana's initial attack with 6.7km remaining, with Quintana attacking at 32kmh on the seven per cent gradients.
After closing the gap and spending a moment sitting in the wheels, Pinot then launched a counter-attack, hitting 30kmh before having to ease up as Quintana and Nibali came across the gap.
>>> Nairo Quintana wins on Blockhaus as Giro d'Italia stage nine marred by motorbike crash
For the next kilometre, the trio rode together, averaging around 17kmh on the 10 per cent gradients, taking it slightly easier ahead of the steepest part of the climb.
With 5.3km to go, Quintana attacked again, forcing Pinot to accelerate from 12kmh to an astonishing 36kmh as he closed the gap with Nibali.
Watch: Giro d'Italia stage nine highlights
Quintana's final decisive attack came with 4.5km remaining, making use of the draft of a camera motorbike out of a hairpin bend to dispatch Pinot and Nibali.
For the remainder of the climb, Pinot still managed to average nearly 20kmh despite an average gradient of nearly eight per cent as he limited his losses to just 24 seconds from Quintana, and also took the KOM up the climb.
>>> 'It shouldn't have happened': Geraint Thomas left angry after motorbike ruins Giro chances
Another rider to upload his ride to Strava was Movistar's Winner Anacona, who not only played a key part in Quintana's victory as he whittled the front group down from 30 riders to just eight, but also included his power data in the Strava file.
Anacona rode at the head of the front group for around 3.5km, but had actually already put in his biggest effort of the race, averaging 404 watts (6.2W/kg) for the first eight minutes of the climb, even as he was sat in the wheels.
>>> Orica-Scott director slams Movistar for not waiting for riders caught in Giro motorbike crash
For the 12 minutes and 30 seconds he was in the front of the group of favourites, Anacona averaged 393 watts (6.05W/kg) with an average heart rate of 183bpm, before setting up Quintana's first attack with two short bursts of around 700 watts.
After doing his job, you might have expected Anacona to take it easy for the final 6.5km to the finish, but he still averaged 322 watts with an average heart rate of 175bpm as he came across the line more than four minutes behind Quintana.