New rule introduced to improve safety of riders in Tour de France bunch sprints
UCI announces that a gap between groups of riders during sprint stage finishes will be determined at three seconds rather than one second, to prevent 'stress and risk'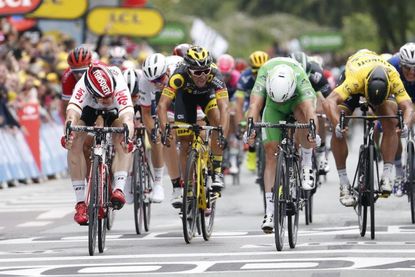 (Image credit: Yuzuru SUNADA)
A new rule has been introduced for bunch sprint stages at the 2017 Tour de France to reduce the 'stress and risk' posed to riders and improve safety.
The time split between large groups of riders on sprint stage finishes will now be determined by a three-second gap rather than one-second gap. The aim is to reduce the number of crashes in sprint finales caused by large numbers of sprinters, sprint trains and general classification riders and their teams all fighting for position.
>>> Tour de France 2017: Latest news, race info and more
The Union Cycliste Internationale (UCI) published details of the revised regulation on Wednesday, just a few days ahead of the start of the Tour on Saturday, July 1. The rule was trialled during the Tour de Suisse in June.
Previously, just a one second gap – which equates to 17 metres at 60km/h – would mark a split between groups of riders, with a time on the finish line determined between the winner of the stage and the actual time that gapped riders crossed the line.
There will now have to be three seconds between the back wheel of the lead group and the first front wheel of the following peloton for a difference in time to be noted in the results. This equates to 50 metres at 60 km/h.
In effect, it means that a trailing peloton will be awarded the same time as the sprint winner, with the sprinters at the front and the group of GC favourites and other riders just behind. This "retains the integrity of the sprint and the stage" while improving safety, says the UCI.
The new regulation only applies to large groups of riders – ie a sprinters' group and a following large peloton – and not individual riders or small groups ahead or behind, eg a break or attack. The Commissaires' Panel will decide on what constitutes the main peloton and whether a three or one second gap should be applied.
>>> Grand Tour teams to be reduced from nine to eight riders from 2018
The UCI stresses that this new regulation does not alter the existing three-kilometre rule, where riders are awarded time gaps that match their positions at the 3km point in the event of a crash or incident in the final three kilometres of the stage.
The altered regulation has been approved by Tour organiser ASO, and riders and team groups. It will be used for stages 'expected to finish in a bunch sprint', which are two, six, seven, 10, 19, 19 and 21.
The 2017 Tour de France starts in Düsseldorf, Germany, on Saturday July 1 and finishes three weeks later in Paris on Sunday, July 23.
Thank you for reading 20 articles this month* Join now for unlimited access
Enjoy your first month for just £1 / $1 / €1
*Read 5 free articles per month without a subscription
Join now for unlimited access
Try first month for just £1 / $1 / €1