What type of Tour de France rider are you most like?
'No man is an island' is an epithet that even applies to the Tour de France yellow jersey winner. He relies on a group of riders, each with different strengths and responsibilities. We consider the various specialities needed in each team Illustration - www.chriswatson.cc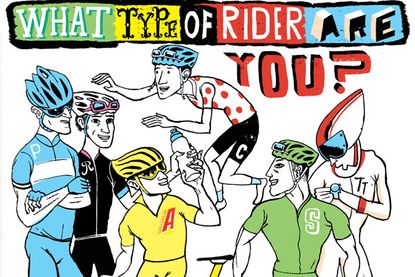 Get The Leadout Newsletter
The latest race content, interviews, features, reviews and expert buying guides, direct to your inbox!
Thank you for signing up to The Pick. You will receive a verification email shortly.
There was a problem. Please refresh the page and try again.
The Tour de France can be looked at as a bit of a circus, riders of all different shapes and sizes converging to create one of the strongest and best bunches of the pro calendar.
All these riders go into the Tour with different aims; not many are looking to win. For many, just getting to Paris in one piece is victory enough.
From climbers to puncheurs, domestiques to road captains, we dissect the Tour peloton to explain why not every rider is expecting to don the yellow jersey and what the different types of riders may aim to get out of their time riding the most prestigious race of them all.
Creating a Tour team
Many of the top pro teams have their goals for the Tour mapped out at the beginning of the season. For example, Team Sky will be intent on getting the yellow jersey on the shoulders of one of their riders for another year.
Meanwhile, Peter Sagan and his sprint rivals will be eyeing the green jersey competition. At the other end of the spectrum, the Pro Continental teams in the race will most likely focus on individual stages, as opposed to the overall competitions, with the aim of getting into as many breaks as possible to give their sponsors a good showing.
Each team in the race will have their targets set out and will be creating a team to help achieve these goals, usually focused around their selected team leader, the rider they feel most capable of winning the competition they are targeting.
These riders are selected to help the team leader achieve the team's goals and will each have a specific role within the team; if the team's goal is for a rider to win the green jersey, there's no point in putting a team of pure-bred climbers together to support him.
Out on the road, there will be domestiques (which translates as 'servants') who will give up wheels when team-mates puncture, collect food and bottles from the team car and give them to the team leader and other team members.
The road captain is usually the most experienced rider of the team; he calls the shots out on the road and tells other team members what needs to be done - for example, when to chase or begin to reel in the day's break ready for the sprinter of the team.
These guys communicate with the directeur sportif (DS) back in the team car and receive time gaps and other information to relay on to the rest of the team.
Finally, there is the top rider's right-hand man, also known as the super-domestique. For GC contenders, their top domestique has to be able to be up there in the mountain stages, helping to cover all rivals' moves.
For a sprinter, this role is fulfilled by their lead-out man, who stays with them and ensures they're always sheltered, gets them over the mountains and makes sure that they're up there for the final sprint.
A great example is Bernie Eisel, who is always up there with Mark Cavendish in the major tours when they've been team-mates. So, while we often only see the winners of stages or overall victories, there are many other riders working hard for the top men to ensure that the victory is theirs.
Types of riders
Different types of rider are selected depending on the team's goal, but what are all the different types of riders out there for team managers to choose from?
Different types of riders specialise in different races, different stages, and vary widely in shape, size and abilities, as well as in personalities. So let's look at the different types of rider involved in racing the Tour and also assess what their role may be within the teams, depending on their strengths, weaknesses and motivations. Which one are you most similar to?
All-rounder
These are the true Tour contenders, the Chris Froomes and Eddy Merckxes of the bunch - not only do they have the ability to climb with the best of them, they can also time trial.
Whereas pure-bred testers of the bunch battle their way up the mountains and climbers struggle against the clock, these all-rounders are able to be competitive in both these crucial aspects of stage races.
Tours are won or lost on mountain stages, but if riders are down by only a few seconds and their ability against the clock is superior to their pure-bred climber rivals, it's very likely they'll claw back that difference, especially in the longer time trials.
The team leader is usually an all-rounder; the rest of the team works to help them achieve a top GC position. Usually bigger in height and weight, these guys cling on to the climbers up the mountains, so as to lose as little time as possible.
Their larger stature aids them in the time trials, though; their larger levers and chest allows them to sit at their threshold for extended periods while churning out high wattages.
Sprinter
Hidden away for the majority of the race, sprinters don't show their faces much until the end of the race. Their teams work hard to shelter them so they can conserve their energy for that final sprint effort.
Sprinters are fast by nature, with a higher proportion of fast-twitch muscle fibres than the rest of those in the bunch, which helps them reach the very high top speeds seen in big bunch finishes.
You'll see these guys winning during the flat sprint finish days in the Tour, but they'll be suffering and sometimes struggling to finish within the time limits on the mountain stages.
Famous sprinters include Mark Cavendish, Robbie McEwen and Sean Kelly; they're often feisty, extroverted personalities who speak their mind on and off the bike.
Time Triallist
The powerhouses of the bunch who can sit at their threshold and bang out consistent wattages to put big time gaps into their opponents during the time trial stages.
However, despite being able to make up time against the clock, true 'testers' really struggle when the road begins to point uphill - they are physically larger and heavier than other riders.
During regular flat stages, these riders work for their team leaders and are occasionally permitted a foray up the road in the day's break. But when it comes to the time trial stages, they are expected to perform.
Brit Alex Dowsett is a time trial specialist, as he has shown in stage races and the 2014 Commonwealth Games time trial title. To have the ability to maintain these high power outputs at threshold, a large lung capacity is vital, as is being able to put up with extended periods in an aero tuck. These riders are motivated by bettering their own times, power outputs and stats to go that extra bit faster.
Puncheur
Puncheurs are riders best suited to rolling courses with short, steep climbs. The Spring Classics are ideal for them.
When it comes to the Tour, these guys will be eyeing victories on the more rolling stages. Otherwise, they are used by the team to work for their leaders to reel in breaks or attacking to make other teams and riders chase.
While they may be suited to short, punchy climbs, they struggle in the Tour's long Alpine and Pyrenean ascents.
These riders are usually quite well built, as far as cyclist go, with broader shoulders and bigger legs; their outright endurance and recovery is not as good as that of the climbers or GC contenders.
Examples of such riders include Peter Sagan who, although he can sprint, can also get over climbs other riders cannot, and former world champion Philippe Gilbert.
Their attacking style of riding often comes into play nearer the end of long stages as the day's break is being reeled in.
Domestique
These are the pure domestiques of the bunch; they do not excel in any particular style of riding but do reasonably well at everything.
Their attributes and ability to turn their hand to any type of terrain makes them great at looking after the team leaders, whom they cater for loyally for the duration of the Tour.
Domestiques are often as strong physically as those contesting the Grand Tour stage and overall wins. Think how much extra riding they are doing going to and fro from the cars in the convoy or sitting on the front chasing breaks.
However, psychologically they are often much more introverted, and shy away from the media attention.
These riders just like to get on with riding their bikes. There are some very long-serving domestiques who have looked after their team leaders well during many Tours, staying with them and setting the pace on mountain stages before the attacks set in.
Jens Voigt, for example, was often on the attack or chasing down attacks; he was one of the most respected and loyal domestiques in the bunch.
Climber
The whippets in the bunch, weighing in at around 60kg or even less, these are the riders who dance their way up the big hills.
Climbing specialists thrive on the longer, mountainous ascents where the speed drops and drafting becomes of limited help but pacing is vital.
Due to their low weight, climbers are able to put in repeated accelerations to try and drop heavier rivals. Their high endurance levels enable them to recover quickly.
Their sprinting ability is limited to uphill sprints, as their small stature means they do not possess the strength on flat fast finishes.
Examples of pure climbers are Nairo Quintana, Romain Bardet and Alberto Contador.
Often these climbers keep themselves hidden and out of trouble during flatter stages and quietly bide their time as they wait for the terrain to begin to go up; they know this is where the Tour will be won or lost.
The pure-bred climber's GC tactic is to better their all-rounder rivals by an insurmountable amount of time on the climbs - allowing no comeback in the TTs.
Alternatively, you might see pure climbers aiming solely for the prestigious polka-dot King of the Mountains jersey, amassing points by heading out on day-long solo breakaways and crossing each col first.
Personality profile
With all these different types of riders and riding styles come different personalities. Often, riders' personalities echo how they like to ride: attacking, conservative, alone or for others. As well as personalities, different types of cyclist are motivated differently.
Although many top riders are motivated by an internal desire to win races, others, such as sprinters, are motivated by an external stimulus; namely, the riders around them, whom they want to beat.
Although it's not set in stone that all sprinters are extroverted and aggressive in their racing outlook, many of them are - their confidence and desire to win shines through.
The diagram below shows how our six different types of riders are affected by motivation and their personality type.
Choose your role
With a variety of personalities and riding styles in the pro peloton, all vying to be crowned winner of the various winners' jerseys, which would you most likely be able to win?
Knowing which type of rider you are is vitally important in riding. There's no point going for the climber's polka-dot jersey when you're an out-and-out sprinter.
So now's the time to find out which type of rider you are and which jersey you should be competing for in the Tour. Are you the puncheur going for stage win or helping your team-mates?
If you seem to be saying yes to everything, maybe you're the super-domestique that your team leader needs!
Thank you for reading 20 articles this month* Join now for unlimited access
Enjoy your first month for just £1 / $1 / €1
*Read 5 free articles per month without a subscription
Join now for unlimited access
Try first month for just £1 / $1 / €1
Get The Leadout Newsletter
The latest race content, interviews, features, reviews and expert buying guides, direct to your inbox!
Founded in 1891, Cycling Weekly and its team of expert journalists brings cyclists in-depth reviews, extensive coverage of both professional and domestic racing, as well as fitness advice and 'brew a cuppa and put your feet up' features. Cycling Weekly serves its audience across a range of platforms, from good old-fashioned print to online journalism, and video.