We couldn't watch it but Kasia Niewiadoma won Gravel Worlds
Here's how the first-time gravel racer won the unseen, talent-stacked, battle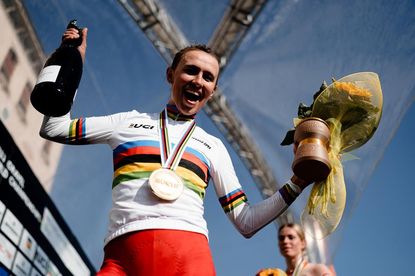 (Image credit: Canyon-SRAM)
The second-ever UCI Gravel World Championships got underway on Saturday morning with the women's Elite race, stacked to the brim with star talent.
Tour de France Femmes winner Demi Vollering (The Netherlands), European gravel champ and top sprinter Lorena Wiebes (The Netherlands), Unbound winners Sofia Gomez Villafañe (Argentina) and Caroline Schiff (Germany) and a host of top cyclocrosser all took to the start in Veneto, Italy.
Unlike last year's course, which was conquered on a road bike, this year's course was described as "proper" and "Amstel-like," featuring a balanced mix of 'real' gravel and asphalt and some significant climbs. All in all, it was shaping up to be an exciting race, which fans around the globe were eager to watch but will never be able to see it.
In a statement released on Saturday —the day of the race— the UCI said that it had been "informed by the Local Organising Committee" that the race would not be broadcast due to "no TV production" and that fans should take the social media to follow the race instead. The men's race on Sunday will, however, receive 90 minutes of live coverage.
The internet was outraged. We, too, are dismayed but are keen to report you the results: Kasia Niewiadoma (Poland), a former Amstel Godl winner and always a threat in punchy races, claimed her first rainbow jersey after soloing the final 20 kilometers to the finish in Pieve di Soligo, Italy.
Behind Niewiadoma, cyclocross talent Silvia Persico (Italy) sprinted to silver and Vollering took the bronze medal.
In the finish line photos that have since surfaced, Niewiadoma was visibly elated. In a Canyon-SRAM press release, the 29-year-old was quoted, "This is so sweet! I really don't have words for it. It's my first rainbow jersey. I'm just so happy!"
How this first-time gravel racer won the unseen battle
With 110 riders at the start line, the first few kilometers of the race were a battle for position. The peloton was entirely too large for the narrow and rough gravel paths, and little efforts and attempts to break up the pack came early.
Some 60 kilometers into the 141-kilometer race, the race-defining breakaway appeared to have been formed, consisting of well-known riders like Niewiadoma, Vollering, Wiebes, Tiffany Cromwell (Australia), Emma Norsgaard (Sweden), Lauren Stephens (USA), Simone Boilard (Canada), Niamh Fisher-Black (New Zealand), Yara Kastelijn (The Netherlands); gravel pro Villafañe, and Italy's Letizia Borghesi, Elena Cecchini and Gaia Realini.
As the lead group completely splintered on the steep Ca' Del Poggio climb (1.2 kilometers with a 12.5% average gradient), Niewiadoma got away with just three other riders for company.
But once back on even terrain, the chasers returned and the lead group of now 15 riders carried on.
The third and final loop of the course consisted of a flat, 30-kilometer mix of short gravel and road segments before a demanding finale. In the final 25 kilometers of the race, two significant climbs awaited the peloton. On the final climb, Le Tenade (0.9km at 6.5%), Niewiadoma made her move, attacking hard and keeping a high pace, hoping to break up the group.
"On the early climbs, I felt good and could see the others suffering. So when we came closer to the end, I attacked, expecting Demi or someone to join me, and we had a chance to go away together," explained Niewiadoma.
"I didn't think I would go alone, but I wanted to eliminate some numbers in the group. I knew the final lap from the course recon and that there were some technical parts, so I felt it was a good time for me to go at that moment."
Neiwiadoma quickly distanced herself, but Vollering, Persico, and Kastelein were chasing in pursuit. AT the 1k to go sign, Niewiadoma had a gap of 38 seconds and after 20 kilometers solo, was rewarded with a much-desired victory.
"After such a long time of not winning a race, it's so special to win this," Niewiadoma said. "It was my first gravel race, and I had so much support here from Canyon and SRAM to prepare for today, and also Tiffany [Cromwell] answered many of my questions before the race. This win feels so amazing, and I'm really grateful for everyone who helped."
The Men's Race
The UCI Gravel World Championships continues tomorrow at 10:30 a.m. local time with the men's Elite race. You'll be able to the likes of Wout van Aert and Matej Mohorič take on gravel pros like Keegan Swenson, Laurens ten Dam and Ivar Slik with 90 minutes of live coverage on GCN and Italy's RAI.
Thank you for reading 20 articles this month* Join now for unlimited access
Enjoy your first month for just £1 / $1 / €1
*Read 5 free articles per month without a subscription
Join now for unlimited access
Try first month for just £1 / $1 / €1