October's Tech of the Month: New Giro helmet, rain protection from Castelli and Specialized's tubeless tyres
The Cycling Weekly tech team brings you another month's worth of brilliant product including products from brands such as Giro, Castelli, Specialized and Trek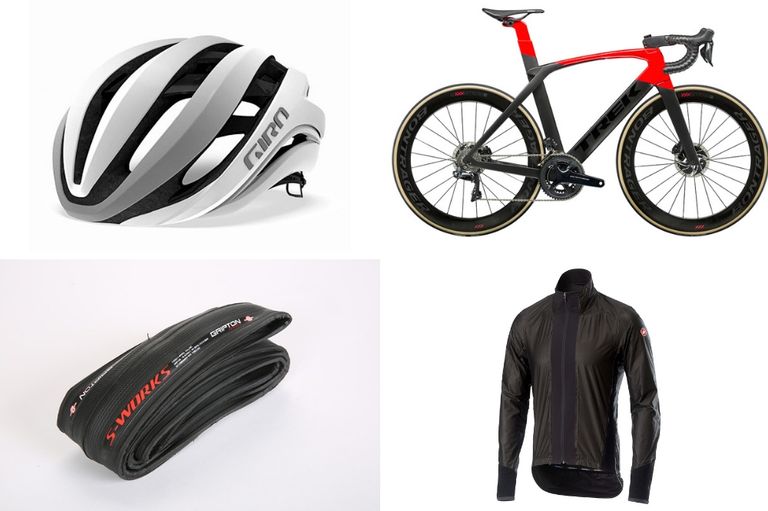 Winter is coming, no doubt about it, but the Cycling Weekly tech team is trying to keep things cheery by showing you lot another batch of great product to keep those winter blues away as long as possible. The team also has the brand new Trek Madone Disc to ogle at! Look at it!
Giro Aether Mips £259.99
"Impact is everything" says Giro and so its new Aether MIPS helmet has been designed with MIPS in mind from the begging and is in effect a two piece helmet.
Instead of the liner of the helmet adopting MIPS the inner shell is joined to the outer using the rubber straps which allows for the 10 to 15 degree of side ways movement that reduces angled impacts.
This means the helmet is more comfortable, better vented and also means hair won't get caught in this design - something that a few people have complained about with the basic version of MIPS.
Castelli Idro Pro £335
Using Gore-Tex's technology Castelli Idro Pro jacket is a master piece with a price tag to boot. The highly technical piece offers complete protection from the rain.
In action you can actually shake yourself dry watching the water droplets bead off you without any soaking into the fabric.
Not only that, Castelli has added some extra detail and used Gore stretch material in specific areas of the jacket to give a better overall fit. No wind flapping here!
Specialized S-Works Turbo 2Bliss tyres £70
The updated Specialized S-Works Turbo tyres now go up to 28c and mean those who loved these fast rolling tyres can now enjoy some extra comfort. These tyres are of course tubeless (2Bliss as Specialized call them) and come with the renowned Gripton compound that offers great grip in all weather conditions. They do cost £70 each though.
Trek Madone Disc 9
To finish off a rather plush show the team show case a new bike for 2018 that has just landed at Cycling Weekly HQ.
The new Madone Disc is the sixth iteration of the Madone bike, this one in particular being the top end version with Shimano Dura Ace Di2.
The biggest talking point of the new bike is the inclusion of ISOSpeed that allows the rider to choose between a comfort and stiffness. It is a super-quick bike!