Geraint Thomas interview: I want to make the most of the best years of my career
With victory at Paris-Nice, and growing confidence and ambition, Team Sky's Geraint Thomas looks like a genuine Grand Tour contender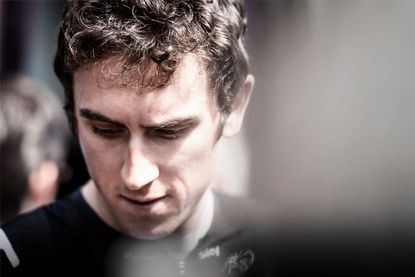 Get The Leadout Newsletter
The latest race content, interviews, features, reviews and expert buying guides, direct to your inbox!
Thank you for signing up to The Pick. You will receive a verification email shortly.
There was a problem. Please refresh the page and try again.
Geraint Thomas is the kind of guy you'd like to have a beer with down the pub. After all, the Welshman seems to know how to have a good time outside of work.
His E3-Harelbeke win last spring saw the 29-year-old win his own body weight in beer, which at the time was a modest 70 kilos.
That equated to 110 litres of beer, which arrived at the end of the season just in time for his wedding to long-time partner, Sara.
"They sent me the most they could send, which was 110 litres, so that was really good of them," Thomas says.
"They were litre bottles so they sent 110 of them and people were walking around with these big litre bottles, just swigging.
"It's all gone. It was a good party."
>>> Geraint Thomas branches out into running a wedding venue
Any parties Thomas hosts next year he'll have to provide the alcohol himself, as he moves his attention away from the beer-fuelled environs of the Classics to target stage races, and specifically the Tour de France, where he will ride as a joint leader at Team Sky.
Following his stunning Tour ride last year where he was on for a podium finish with two days to go, despite having worked tirelessly for Chris Froome, Thomas will deservedly take this big step up in 2016. Many of his standout rides have come while in service of others, this year he faces the task of performing while also carrying the responsibility of leadership.
A mainstay of Team Sky no matter the race or terrain, no one would dare question his talent, work ethic or standing in the bunch. But leadership and all that goes with it? This is new territory for him.
Smooth operator
Thomas met many interview requests at the Tour Down Under, where he kicked off his 2016 campaign in January, and was singled out in a pre-race press conference, which addressed an absence of 'big names' at the event.
"We're missing some of the top sprinters and GC riders, no offence to Geraint, what can we do to get the big names back?" asked one local journalist of race director Mike Turtur in Adelaide.
"None taken," replied Thomas nonchalantly, to sporadic laughs.
If Thomas does feel any kind of pressure in such situations he rarely shows it. It's hard to imagine him throwing a bike, being laconic with the press or swearing on television like other stars of the sport in the heat of the moment.
He isn't as outspoken as famous compatriots Sir Bradley Wiggins and Mark Cavendish and famously remained cool even when Warren Barrguil (Giant-Alpecin) misjudged a corner on the Col de Manse on stage 16 of the Tour de France last year, sending Thomas into a telegraph pole and off the road down a steep bank.
At the finish line on that dramatic day his dry sense of humour was captivating, and an example of his ability to stay composed even when things have gone wrong.
Thomas is aware that his more purposeful switch from road captain to race leader will involve an even greater burden of expectation, to which he is not wholly unaccustomed as a London 2012 team pursuit gold medallist and world record holder.
"The whole pressure thing, you're used to that on the track. It doesn't get much bigger than a home Olympics team pursuit final so you've already got your way of dealing with that in your head," he says.
"It's just the way you think and the way you treat it. I'm quite laid-back anyway so it's just like, at the end of the day, you've done all the training you can and what's the worse thing that's going to happen?"
Thomas says the requirement to tell team-mates what to do in a race he is trying to win has been a challenging aspect of leadership, but it's one he met with aplomb at the Volta ao Algarve in Portugal.
Going in as sole leader, he admitted to feeling the pressure, but still ran out as overall winner ahead of Ion Izagirre (Movistar) and Alberto Contador (Tinkoff), defending the title he won last year. He then beat Contador into second to win Paris-Nice.
I'm like Brad
His hunger for more responsibility goes hand in hand with a greater say in his own schedule. He would prefer to race the Tour de Suisse again this season and better last year's second-place finish, rather than follow Team Sky head of athlete performance Tim Kerrison's advice of competing at the Critérium du Dauphiné.
"Tim really wants me to race the Dauphiné because it's a dress-rehearsal of a Tour stage that race organisers are thinking of for the next year, or the same stage as what they have in the Tour that year," says Thomas.
"But I'm still keen to do Suisse because that's the one race where I can go as a sole leader and have the whole team behind me. Obviously after last year as well it would be nice to go back and try and put that right."
Thomas approaches his road career as a marathon and not a sprint. His formative years on the track have contributed to the slow-burn approach, which has seen the double team pursuit Olympic gold medallist consistently progress, albeit often under the radar.
"I've had those years out of the road almost," he says. "My first couple of years as a pro, I rode two Grand Tours but a lot of the time around that was on the track. With most people 28-33 years of age is their purple patch. I feel mine has shifted a bit longer.
"The best years of my career are now and I want to make the most of them. I've got a good four, five, six years, even, at the top of my game."
When asked how he differs from contemporaries Froome and former team-mate Richie Porte (BMC), Thomas likens himself to Sir Bradley Wiggins, another track graduate, who won the Tour de France as a 32-year-old.
"The biggest difference is they've always been able to climb really well," he says. "It's something I've only just got good at. There's been that progression but they've always been seen as climbers whereas with myself it's more like Brad; track rider using the road for preparation then slowly getting the weight off and being able to climb better."
Thomas identifies his season's stepping stones to the Tour with an equal amount of patience and perspective, still considering team-mates including new Sky signing Michal Kwiatkowski.
Mr Sociable
"I'd be leader or co-leader in most, certainly the stage races."
Some GC types can be lone rangers. Thomas is not. At the Tour Down Under, he wasn't overly fond of having space to himself at the race hotel.
"I roomed with Ed Clancy more than I was with [my partner] the year before the London Olympics. You're constantly with people and get used to it," he says.
"In a Grand Tour I'd prefer to room with somebody. Waking up the morning of a stage and having somebody next to you… even if you don't chat, it's just that company."
Thomas doesn't have any one particular team-mate he identifies with. Any of the British riders he is also friends with suffice as company. "So long as it's somebody who is pretty tidy," he says.
"On a rest day it's quite nice to be on your own. I like to try and bankroll my room, sharing with people early on and then, OK, I wanted my own room this day and because you've been rooming with someone the whole race you're kind of like, 'isn't it about time I got my own room?'
>>> Geraint Thomas continues rise to be one of Britain's greatest-ever cyclists
"You've got to think about these things," he adds wryly. These social skills extend to the cut and thrust environment of the peloton. Unlike Porte, who can apparently hurl abuse at rivals on steep ascents, Thomas as a road captain would keep a more level-headed approach.
"Maybe once or twice I might say something [to rivals] when it really is worth saying, but most of the time you get on with it," he says.
"A lot of it is trying to calm down Froomey. He always wants to go and attack if he feels good, even though there's two weeks left of the race. It's sort of controlling him as much as speaking with the DS."
Geraint shows us his scars
The unknown for Thomas is what he may have to instruct himself to do at the Tour de France as a co-leader at Sky.
The famous miscommunication between Wiggins and his successor Froome on La Toussuire in stage 11 of the 2012 Tour de France demonstrates the complexity of having two leaders in one team.
Asked what he would do in a similar situation, the approachable Thomas displays the calmness that was evident following his crash on the Col de Manse last year.
>>> Five of the best road cycling descent videos
"The plan is to try and be good enough to have that problem," he says. "When that comes it's just a split-second decision on the road. It all depends about what's going on in the race as well."
If that sounds like someone who lacks the drive, or killer instinct to win the Tour, remember that Thomas rode almost the entire 2013 edition of the race — in the service of Froome — with a fractured pelvis.
All for the Tour
In fact, Thomas refers to learning under Froome's stewardship at least for the next couple of years, rather than challenging it.
As much potential as Thomas has, he is yet to finish a Grand Tour in the top 10, whereas in Froome, Sky has the outright favourite. On the other hand, Sky must develop Thomas or risk losing him, and his progress thus far is clear.
He gained enough confidence from a title victory at Volta ao Algarve, fifth overall finish in Paris-Nice and 15th at the Tour de France last year to speak with management during the Vuelta a España about furthering his role in 2016.
Thomas could have hypothetically targeted the Giro d'Italia or the Vuelta as an outright leader but chose to focus on the Tour as a second in charge this season.
"The Tour is the race I'd love to one day try and podium [in]. If there's something you want to try and podium in there's no point skipping it. I'll target it as if I'm going there to get the best result from myself and do my bit with Froomey," he says.
"The Tour is going down the Giro/Vuelta route where there's a lot more stages that are there to be raced. It's not the traditional seven sprint stages, a mountain stage and then a couple of medium stages. There's a lot of undulating days where a lot can happen and go wrong, which makes it more exciting to race and to watch."
Start your day like a pro
Such days are perfect for Thomas and his 'get stuck in' attitude.
After a huge 2015 season that started in January and went through to the Vuelta in September, he had a longer off-season than normal. He has now begun his 2016 season that could raise his status to the very top of the sport, but still he is not above saying he is still learning.
"Being with Froomey it's good to see how he has developed the last couple of years," he says.
"From the first Tour he won to last year it's quite a big difference. He's a lot more assertive and how he deals with all the negative side of things, the piss and accusations and all that sort of stuff, that's really what's most impressive about him. He's so aware of what people are saying yet none of it really gets to him, or he uses it in the right way."
Staying with Sky
In terms of learning what it takes to win a stage race, Thomas is perfectly poised at Sky and isn't thinking of a team change, as Porte has done in search of his own maillot jaune success this season.
"I definitely want to stay here. Two years here still riding for Froomey and just learning," he says, almost falling back in line as a domestique.
"It depends how this year goes as well. If I get to that point where I think I can get a podium, or if I lead the team of course you'd want to give it a go.
"But I think the Giro and the Vuelta also excite me. The Tour is still the big one this year but you never know, next year maybe give the Giro or Vuelta a go. I don't know, it's all sort of speculation at the moment."
>>> Which of the favourites does the Tour de France route favour?
So how many years off is he from saying, 'I am going to podium at the Tour de France', or is he already there? As a leader you have to call it.
"That's the unknown," he says. "You would have thought with a TT this year it would suit me better than last year with no real long time trials, or no time trials really at all. I think it all depends on how the Tour goes this year really."
In any case he'll have a story worth listening to at the pub in winter.
Thank you for reading 20 articles this month* Join now for unlimited access
Enjoy your first month for just £1 / $1 / €1
*Read 5 free articles per month without a subscription
Join now for unlimited access
Try first month for just £1 / $1 / €1
Get The Leadout Newsletter
The latest race content, interviews, features, reviews and expert buying guides, direct to your inbox!
Sophie Smith is an Australian journalist, broadcaster and author of Pain & Privilege: Inside Le Tour. She follows the WorldTour circuit, working for British, Australian and US press, and has covered 10 Tours de France.