Your first ride: Essential kit for beginners
Our list of essential cycling kit to get your out on your first bike ride, including helmets, jackets, clothes and the tools you'll need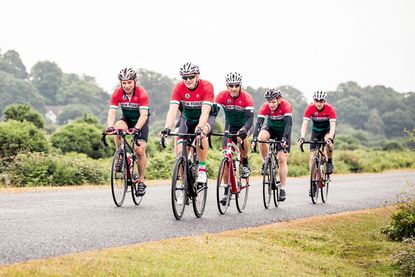 As you'd expect, we're always spouting on about how great cycling is. Of course, to truly understand you need to get out there and experience it.
January is the perfect time to take up cycling. New year, new you, right? So to help you get out the door and onto the bike we've compiled a list of the essential pieces of kit that make starting riding that but easier.
Giro Foray Helmet
Goes without saying that the most important piece of cycling tech you can buy is a helmet. The good news is that buying a quality lid no longer has to break the bank.
>>> Best bike helmets: a buyers guide
For example, the Giro Foray is a quality piece of kit which doesn't cost the earth. It has great head coverage and uses Giro's excellent ROC-LOC tightening system, meaning you can always get the right fit.
Buy now: Giro Foray helmet from Wiggle for £44.99
Leyzne KTV Drive light
Hopefully you're rides will always take place in daylight hours, but having some back up lights is always a good idea.
In fact, we'd even suggest running them all the time through the gloomy winter months.
>>> Best front bike lights for under £100
This Lezyne KTV Drive lights do the business nicely and don't break the bank. They're USB rechargeable so you won't have to fiddle about with a battery to get them working.
At just seven lumens they're not the brightest but they'll get you seen on the road.
Buy now: Lezyne KTV Drive lights from Chain Reaction Cycles for £9.99
dhb Classic bib shorts (men and women)
To be truly comfortable on road bike rides you need to be wearing some sort of padded shorts.
Bib shorts are great for this, as they're held in place which minimises bunching and keeps things comfortable on longer rides.
>>> Buyer's guide to bib shorts
These dhb Classic bib shorts are part of online retailer Wiggle's own brand of clothing. Fortunately, they're good quality and a reasonable price. We found the DHB Classics to be "exceptionally comfortable".
Buy now: Men's dhb Classic bib short from Wiggle for £45.00
Buy now: Women's dhb Classic bib short from Chain Reaction Cycles for £45.00 (opens in new tab)
dhb EQ2.5 Jacket (men and women)
Alongside your helmet, the other item that isn't worth skimping on is your rain jacket. Nothing is going to tarnish cycling forever more than getting soaked and cold.
>>> Seven of the best winter jackets
Happily, Wiggle's in house clothing brand dhb comes up trumps again with the EQ2.5 jacket.
It's the most waterproof of their range, and with its adjustable cuffs and long tail it should keep you protected from the worst of it.
Buy now: Men's dhb EQ2.5 Jacket from Wiggle for £42.00
Buy now: Women's dhb EQe.5 Jacket from Wiggle for £42.00
Endura Thermolite cycling tights
Keeping warm on a bike is all about layering. Ideally, underneath your bib shorts you'd have a pair of tights.
>>> Buyer's guide to bib tights
These Endura Thermolite tights are well insulated, water repellent and well built – double thickness around the knees ensures that you won't wear through them in a hurry.
Buy now: Endura Thermolite tights from Cyclestore for £59.84
Leyzne V10 multi-tool
Buy now: Lezyne V10 multi-tool from Chain Reaction Cycles for £21.49
It's important to be able to fix the basics on your bike so you can get yourself home should something go wrong on your ride.
This Leyzne V10 multi-tool has everything you need, including a full hex key set and a chain tool. Plus, it's pocket sized so shouldn't be too much of a hassle to carry.
Thank you for reading 5 articles this month* Join now for unlimited access
Enjoy your first month for just £1 / $1 / €1
*Read 5 free articles per month without a subscription
Join now for unlimited access
Try first month for just £1 / $1 / €1