The 14 best cobbled climbs in the UK
Everyone knows about the cobbles in Northern France and Belgium, but what about those stretches of pavé on our very own shores?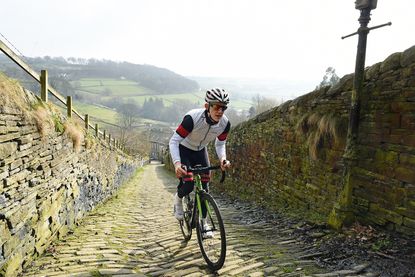 It's spring and cyclists get all enthusiastic about cobbles, grime and toughness. Every year Brits head over to watch Paris-Roubaix in their thousands, and make up over one third of the riders at the Paris-Roubaix Challenge sportive.
Yet you don't have to head over to the Continent to get your fill of cobbles; as it turns out, the UK has got cobbles of its own in abundance, and ones that can rival and surpass their cousins across the Channel. It's just a case of knowing where to look.
France and Belgium's equal
Besides the climb of Michaelgate up to the doorstep of Lincoln Cathedral, which forms the centrepiece of the Lincoln Grand Prix and last year's British Road National Championships, the UK has nowhere near the same cobbled racing heritage as the big European Classics. Tracking down our cobbled roads is very much easier said than done.
The Ronde Van Calderdale is an annual pilgrimage around some of the most 'Flemish' of the UK's cobbles clustered around West Yorkshire, developed from an occasional Classics-inspired club run that pieced together climbs from pieces of local knowledge, Ordnance Survey maps, and trial and error.
"One or two of the climbs had featured in the Milk Race," says Darren Stringer, who helps organise the Ronde. "A club-mate called Mick Collins had raced in Europe, so he went out and recce'd the roads one at a time, and then we followed our noses.
"He were like the blinkin' pied piper, and we were all daft enough to follow him," he adds. "But they weren't the sorts of things we'd go seeking out every week, it was just for these classics nights."
King Kelly tells us how to ride cobbles
As Stringer and his club-mates found out, our cobbles are just as tough and vivid as those in Belgium and France. As over there, the sectors are dotted in secluded rural corners and old towns, landscapes which bear the injuries of industry and the scar tissue of its decline. Northern England, where most of these roads are found, is quite a lot like Flanders and Northern France.
>>> All the latest news from Paris-Roubaix
If anything, some of our cobbles are even harder. Trooper Lane soars past washing lines and drystone walls up to a ridge, while Halifax hums in the valley below. Thwaites Brow is around the back end of Keighley and (no offence to Keighley residents intended) is very much more 'Ken Loach gritty social realism' than it is 'Sunday evening rose-tinted Last of the Summer Wine'. Buses daren't go near it; they turn around at the top of it in a special lay-by and go back the way they came.
Old Lane in nearby Luddenden is a truly terrifying mixture of slippy, skewiff cobbles and a stupidly steep incline; it demands a flat-out effort just to avoid falling over. Like the most famous cobbles of Europe, it's exciting to ride in the same way that sprinting on a set of rollers is exciting to ride.
Exhilarating, yes, but every second you're aware that one wrong move will end it all in a painful and embarrassing mess. A local equestrian demonstrated that the best thing to ride up Old Lane is not a bike…and exactly how those cobbles got so slippy in the first place.
"Swiss Hill is tough, probably tougher than you get in a lot of Belgian Classics," says Ian Stannard, double winner of Omloop Het Nieuwsblad, who lives close to the steep, Flandrian lane that emerges out of Alderley Edge in Cheshire.
"I don't ride it too often because it reminds you how hard it is in Belgium. Plus the residents aren't too happy when you go banging up and down there. There are houses either side. It makes a racket doesn't it?!"
From Flanders to Cheshire
Thanks perhaps to those recent exploits of Stannard, Geraint Thomas and Sir Bradley Wiggins in the Northern Classics, the cobbles of the UK are becoming more popular.
The Tour of Flanders and Paris-Roubaix inspired Francis Longworth to launch the Tour of the Black Country and Cheshire Cobbled Classic respectively in 2014. Taking in rural cobbles and hitherto undiscovered pavé (including the 45 per cent climb of 'The Corkscrew') entries have doubled for 2015.
"There's a massive awareness of Paris-Roubaix," says Longworth. "When we put together the Tour of the Black Country we wanted to find a good velodrome to finish on; that is as big a draw as the cobbles are themselves."
Despite instances like George Hincapie's steerer tube famously breaking on the Mons-en-Pévèle sector of the 2006 Roubaix, cobblestones seldom destroy bikes.
So why do British cyclists suddenly want to go and ride around on atrociously bad roads? It's not exactly a comfortable way to pass a weekend.
Magic in them stones
Any fan of the cobbled Classics will give you the answer: there's magic in them stones. And the imaginations of people introduced to the sport on the wave of 2012 are beginning to be captured in the same way as they themselves discover the cobbled Classics.
Meanwhile, for those that already knew about them, the cobbles have helped keep their passion for the sport alive. "I think Paris-Roubaix is fantastic because the terrain never changes, and it's all about the terrain," says Iain MacGregor, who details his quest to ride the Paris-Roubaix sportive in his book To Hell on a Bike.
Get them lowdown on the 2016 Paris-Roubaix
"That's what is appealing to my generation. We have gone through the last 15 years of 'champions' but we are still in love with cycling, still in love with the sport."
>>> 12 pictures that show just how tough the Paris-Roubaix cobbles are
The UK might not have Alpine cols, and it certainly doesn't have wall-to-wall sunshine. But it turns out that one thing we can do have is cobbled climbs. There's every indication we're starting to build a cobble culture of our own.
The UK's cobbled climbs
1 Lee Lane aka Shibden Wall, Halifax, HX3 6UJ
Length: 0.8km
Gradient: 15.3%
Shibden Wall — it's so tough that the riders of the 1988 Kellogg's Tour (Sean Kelly, no less) climbed up on the pavement, resulting in a satisfying Mexican wave of spectators pirouetting off the asphalt and onto the cobbles to watch the thin line, featuring Joey McLoughlin and Yvon Madiot, ride up to the summit. Just like Belgium.
2 Trooper Lane, Halifax, HX3 9LS
Length: 0.7km
Gradient: 19.1%
3 Horsehold Lane, Hebden Bridge, HX7 6JN
Length: 1.0km
Gradient: 5.8%
4 Heptonstall, Hebden Bridge, HX7 6BG
Length: 0.6km
Gradient: 15.2%
5 Old Lane, Luddenden, HX2 6QA
Length: 0.2km
Gradient: 21.8%
6 Thwaites Brow, Keighley, BD21 4SW
Length: 0.6km
Gradient: 14.6%
Bits of car bodywork appear to like Thwaites Brow so much that they detach themselves from their mothership at the first opportunity. At least that explains the plastic trim, if not the front seats or wheels. One fridge near the summit languishing morosely at a wonky angle by some cobbles, submerged in a puddle, its doors hanging off, provided CW with a good metaphor for the experience of riding the stones on a bike.
7 Haworth Main Street, Haworth, BD22 8EF
Length: 0.5km
Gradient: 6.9%
8 South Street, Durham, DH1 4QP
Length: 0.4km
Gradient: 3.9%
9 Michaelgate, Lincoln, LN1 3BT
Length: 0.3km
Gradient: 11%
>>> Ian Emmerson: the man behind 50 years of the Lincoln Grand Prix
10 Constitution Hill, Swansea, SA1 6JH
Length: 0.3km
Gradient: 19%
11 Gold Hill, Shaftesbury, SP7 8JW
Length: 0.2km
Gradient: 16%
Made famous by the Hovis advert of the 1970s, there's a lovely cafe right at the top.
12 Walton Hill (aka 'Waltonberg'), Bromsgrove, B62 0NL
Length: 0.6km
Gradient: 14%
13 Swiss Hill, Alderley Edge, SK9 7DP
Length: 0.5km
Gradient: 14%
14 Corkscrew, Bollington, SK10 5XW
Length: 0.2km
Gradient: 33%
Thank you for reading 20 articles this month* Join now for unlimited access
Enjoy your first month for just £1 / $1 / €1
*Read 5 free articles per month without a subscription
Join now for unlimited access
Try first month for just £1 / $1 / €1