Midweek most wanted: 4.81kg hill climb bike, new Xplova cycling computer, Rapha kit and lights
A sneak peek at the latest and greatest kit we've got in our office that we just can't wait to use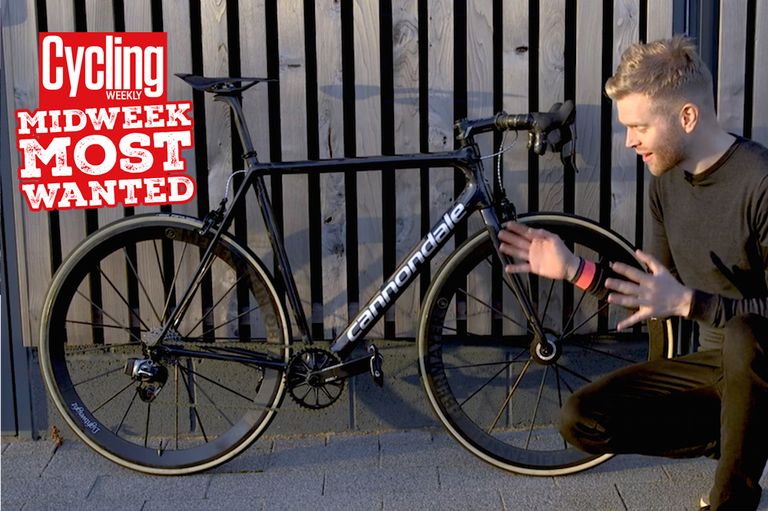 Oliver's lightweight hill climb bike
Oliver's custom Cannondale SuperSix Evo is a hill climber's dream. At the moment, it weighs in at 4.81kg. For starters, Fat Creations stripped the paint from the frame before replacing it with a thin lacquer.
Then, Oliver specced some seriously bling components, including Lightweight wheels and SRAM eTap.
Xplova X5 Evo cycling computer
We've previously reviewed the Xplova X5, but now the company has launched a brand new, updated model.
Its video capacity has been updated, and it now uses a 120 degree video camera in 720p at 30fps. Sharing and connectivity has also supposedly been improved, and now it should automatically share to Strava and connect with TrainingPeaks, Facebook and YouTube.
Pre-order the Xplova X5 Evo cycling computer here
Specialized Turbo Cotton clincher tyre
With a high 320tpi the Specialized Turbo Cotton is both supple and fast rolling, making it a pro favourite for the tough Spring Classics.
We've got the new(ish) 28mm version that the likes of Peter Sagan rode at Paris-Roubaix and Specialized has now made it a bit tougher, too. It has increased the tread by 4mm on each size, giving a bit more coverage down the exposed side walls.
Rapha Brevet gilet
The Rapha Brevet gilet occupies an important nook in Rapha's touring range. It promises to be warm yet lightweight and packable, plus its water resistant.
Even if it does get wet, it's fast drying so you can just hang it in front of your camp fire and be good to go in the morning.
See the Rapha Brevet gilet here
Karcher Pressure Washer
We can't all have the luxury of a garage or garden, so the Karcher OC3 portable cleaner is the solution for those with limited space.
Despite its diminutive size, though, it still loads four litres of water and has 5 bars of pressure, which will easily pull dirt and grime off of your bike.
It's not cheap at £149, but for those with little space it might be the difference between never cleaning your kit and wearing out your parts.
See the Karcher Pressure Washer here
Knog Blinder MOB front and rear lights
Buy now:
The good folks at Knog have sent us a selection of their Mob front lights – the Mr Chipps and the Four Eyes to be precise.
The Mr Chipps throws out 80 lumens, so it's definitely a be seen light, rather than a to see by. Still, it has five different output modes and it's USB rechargeable.
The Four Eyes is much the same, but it has a a 35 degree angle rather than the wide 120 degree one on the Mr Chipps, offering a more focussed view. It retains the same 5 output modes, though.