Tech of the week: keeping up with the group, a two wheeled Aston Martin and a free Colnago
This week, Cycling Weekly's tech coverage has included a new feature on Zwift, winter riding kit and a rather pricey cycling watch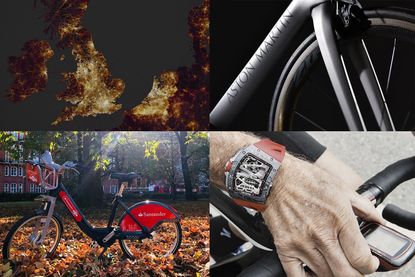 A free bike
You'd like a Colnago C60, right? Especially if it's free.
Well one company is giving you a C60 when you buy its cycling watch. There's a snag though: it's not just any old watch. The Richard Mille chronograph will set you back over £600,000.
Naturally you'll want a flashy groupset on your C60. We've faced off Shimano Dura-Ace Di2 against SRAM Red eTap – see how the two companies's top end offerings compare.
An Aston Martin and a new Boris Bike
Staying with the expensive, if you've always wanted an Aston Martin, but baulked at the price tag, there's now a (slightly) cheaper option. For £15,000 you can get your hands on a Storck bike carrying the branding of James Bond's favourite motor. Not sure if it has hidden machine guns or an ejector saddle built in though.
We've also had a fancy machine from Czech brand Fetska in our Tech of the Month video. Weighing under 6kg, it comes with Lightweight wheels and Campagnolo Super Record EPS. Nice.
Even less expensive is half an hour on London's Santander Cycles hire scheme's new bike from Pashley. It's got smaller wheels and frame than the original and comes kitted out with Blaze Laserlights front and rear to improve visibility.
We've also covered Aqua Blue Sport's new 3T Strada bike for next year, which comes with a SRAM Force 1 single ring groupset, while Dimension Data and EF Education First-Drapac have disclosed their new clothing designs for next season. And you can now get the Peter Sagan look with the new 100% Speedtrap sunglasses.
Keep up!
If you're regularly dropped by your mates, it might be time to get them to ride with you on Zwift. The online training game's latest innovation is a Group Workout feature that keeps you all together regardless of your real world power output.
We've also told you how to use your turbo to build strength with high intensity interval training, so they might need to work a bit harder to keep up with you. Or there's always tramadol – researchers at the University of Kent have found that the pros' painkiller of choice can up power in a time trial by 5%.
If you want to know where people are riding (and running and generally moving about) in the real world, look no further than Strava's new global heatmap. The answer is: pretty much everywhere. It's the sum of over a billion activities, covering 27 billion kilometres including climbing Mount Everest.
Saddles and tights
Get your saddle height wrong and you're in for an uncomfortable and inefficient ride, as well as risking injury. We've told you why and how to get it right.
It's bibtight and thermals weather again. We've given you our round up of the best bibtights to wear this winter.
Finally, this week it's been Monday and Black Friday (yes, it's started already) deals from Chain Reaction Cycles, a look at the new kit arriving to be tested in Midweek Most Wanted and winter kit deals in Sunday Trading.
Thank you for reading 20 articles this month* Join now for unlimited access
Enjoy your first month for just £1 / $1 / €1
*Read 5 free articles per month without a subscription
Join now for unlimited access
Try first month for just £1 / $1 / €1