Strava now available on Apple Watch
The popular fitness tracking app Strava has released an update allowing you to record workouts without carrying your smart phone.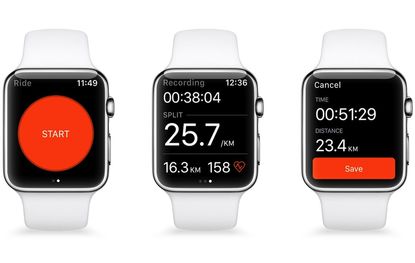 Athletes can now record Strava activities via Apple Watch Series 2, untethered from their iOS device using a new app. Previously, athletes had to simultaneously carry their smart phone in order to record to Strava, but the new app will allow users l advantage of the Apple watch's hardware capabilities by recording their workouts and heart rate data without their iOS device.
>>> Six underhand ways riders make their Strava rides look better
Mateo Ortega, Strava's Head of Integration explained "research and athlete feedback often drives new Strava features and integrations," adding, "we're excited to add to our growing list of compatible devices, and see this as the first step in providing our athletes an excellent Strava experience on the Apple Watch Series 2. Our athletes can look forward to continued updates as we strive to provide the best Watch experience possible."
>>> How I cheated on Strava and took a realy amazing KOM
Users already running Strava on their Apple Watches will see the app update automatically when they update Strava on their iOS device. Athletes can install Strava by visiting the App Store on their iOS device.
Alternatively, for non Apple Watch users, Strava also announced, earlier this month, its Android Wear 2.0 app, which is intended to allow the same functionality for Android based devices.
>>> 12 of the funniest Strava Segment names
Users will not require a Strava Premium account to use the app, however Strava Premium will unlock additional features such as Beacon and Live Segments. To learn more about Strava, visit www.strava.com and to download the new app you can click here.
Thank you for reading 10 articles this month* Join now for unlimited access
Enjoy your first month for just £1 / $1 / €1
*Read 5 free articles per month without a subscription
Join now for unlimited access
Try first month for just £1 / $1 / €1
Oliver Bridgewood - no, Doctor Oliver Bridgewood - is a PhD Chemist who discovered a love of cycling. He enjoys racing time trials, hill climbs, road races and criteriums. During his time at Cycling Weekly, he worked predominantly within the tech team, also utilising his science background to produce insightful fitness articles, before moving to an entirely video-focused role heading up the Cycling Weekly YouTube channel, where his feature-length documentary 'Project 49' was his crowning glory.