All the tech tips and tricks you need to commute all year round
Cycling Weekly's expert tech writers will be bringing you a host of tips, tricks, buying advice and - most importantly - motivation to keep you commuting all year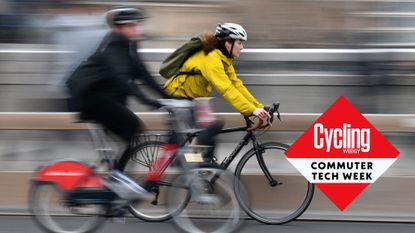 (Image credit: Getty Images)
The September/October cross-over can be a conflicting time for commuter cyclists. Whilst there are still some glimmers of summer bliss, it's often becoming quite clear the sunny season is in its final throes.
This is a time of year when, all too often, people choose to hang up their commuting kit for the winter months. But we don't want you to do that. Getting from A to B by bike still carries all the wonderful benefits of cycling: it offers a time-efficient fitness boost, saves you money - something we could all do with, right now, and it gives you a valuable window of time to mentally process the events of the day.
Even if you work from home, and "commute" a round loop before or after your day, or, you're a full-time parent whose journeys often include multiple stop-offs and occasional child seat battles, the benefits are endless.
That's why, this week, we're bringing you a host of articles focused specifically on commuter tech - as well as a little inspiration to help keep you riding all year long.
We'll be publishing new stories every day. Some of our stories are ready for you to read now - others will be published over the course of the week. Here's an overview of what's to come...
Be inspired to commute
We want you to feel motivated to keep riding that bike all year, and we'll be bringing you some characters who we think will do just that.
You can check out Jenna Phillips's journey, as she went from complete beginner on the bike to commuting daily - through all seasons, largely inspired by a broken foot. She learned a lot along the way, and has cracked out a selection of top tips to help you maintain or pick up the daily ride.
Ever wondered if you're best off commuting on a hardy old workhorse, or splashing out on a bike that you'll love so much you want to ride it every single day? We wondered the same, so, we spoke to a host of regular commuters and asked them: Should a bike for commuting be a joy to ride or a simple workhorse? - that one will be out on Wednesday this week.
If electric bikes make commuting far more accessible, then cargo bikes take that accessibility further. With tons of carrying capacity, and often some pretty high torque pedal power boost, they really do have the credentials to replace your car. I'll be giving one a whirl as part of my new nursery commute, having returned from maternity leave - I'll be bringing you an insight into my first week as a cargo bike mum on Thursday.
Commuting know how
Of course, most of us have a regular commute which we have to complete, regardless of the mode of transport. But is riding daily too much? Well, we asked a coach, so look out for our regular 'Ask a Coach' feature, which this week - on Tuesday - asks: 'Should I commute every day?'
If route planning has you in a spin, we've got you covered there, too, with our guide to planning a bike route for your commute. Once you get there, you'll want to know your bike is safe - so - check out our tips to ensure that your bike is safely and securely locked.
E-bikes are very popular commute machines, but they can require a little more TLC than an 'analog' bike, hence, we've got all the information you need to maintain an e-bike, too.
Buying Advice
Commuting by bike saves you money. However, sometimes, a little investment is needed to get you going. Sorting out a bike and accessories for commuting doesn't need to cost the earth, though.
First up, we've got five tips to help you upgrade a cheap second hand bike - as this is (usually) by far the most cost effective route when it comes to sorting out your steed. We've also taken a look at the essentials you'll need to get started, and the accessories which can help to make the journey more comfortable year-round.
We'll also be bringing you a long-term review of the market-leading folding bike from Brompton - on Tuesday - and a round up of some of the best crowdfunded commute gear we've seen to date, on Friday.
Thank you for reading 20 articles this month* Join now for unlimited access
Enjoy your first month for just £1 / $1 / €1
*Read 5 free articles per month without a subscription
Join now for unlimited access
Try first month for just £1 / $1 / €1