The five winter cycling essentials I never neglect: protect your bike and yourself
Save money and beat the bad weather with these five tips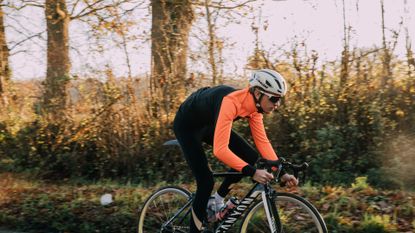 (Image credit: Future)
The colder months may well and truly be here, but for avid cyclists, that isn't a good enough reason to stop riding altogether. However, it does present us with a cold and corrosive set of challenges for both bike and rider to conquer in order to stay safe and keep enjoying the long winter miles.
We have already gone over 20 rider-specific hacks for keeping your winters smiling, but what about your poor bike? Long miles, salted roads, wet and muddy conditions can all spell disaster for the moving parts of any bike, but you can minimize the damage. Then there's mechanical frustration - there is nothing quite as brutal as a sub-zero puncture, often with numb hands. Having spent over three countless hours in the cold while I was a full-time rider, I have learned from many a cold weather mistake.
To help keep your winter riding as trouble-free as possible, I've put together five winter modifications and equipment checks to undertake before the winter season!
1. The humble zip tie
The humble zip tie - less than five grams in weight, and barely costing anything per tie, this tiny plastic hero can really help get you out of a spot in winter. With a bit of creativity, a few zip ties can save a ride, which is why I always swear by keeping 3-5 of them tucked away in my saddle bag or handlebar bag.
Zip ties have saved me from needing a pickup on at least two occasions, and are perfect for fixing broken saddle bags, loose bottle cages. I have even used a string of two zip ties to select an easy gear after snapping a rear mech cable.
And even if you never end up using them, you can use them to keep your cables or hoses neat and tidy next time you change your cable routing!
2. Mudguards
We have already covered mudguards keeping the rider dry, but the benefits go far beyond stopping you and your friends from turning up at the café looking like you have just completed a cyclocross race!
The right set of mudguards can save your components too. Personally, provided tyre clearance permits, I would always opt for a full-length set of mudguards such as the SKS Bluemels.
The number one culprit for bikes wearing during winter is mud and road debris. As mud and grime from the roads flick up onto your bike and chain, they combine with lubricants to create a grinding paste that will ultimately leave you replacing your chain and cassette quicker than ever.
Preventing grime from ending up on your components then, seems an obvious choice. If you do have the tyre clearance for full-length guards, you'll also reap the benefits of a cleaner headset which in the days of internal cable routing, can be a real money saver.
3. Valve cores
This tip is totally free, takes no longer than 5 minutes to check, and might just save you hours in the cold. Three years ago I made the grave error of doing a long winter ride without a valve core tool on my multitool. As Murphy's Law would predict, of course, I ended up with a puncture, and after filling my tyre with 80 PSI I was treated to the horror of my thread-on pump ripping out my valve core.
This experience repeated itself twice before I eventually rode 10 miles home with a mini pump zip-tied between my spokes in order to maintain air pressure and not rip my valve core out- not something we advise!
Which ever side of the tubeless debate you sit on, you should check your valve cores before riding in bad weather. Tubeless users will want to ensure that the valve lock ring isn't seized, as well as ensuring that old sealant hasn't blocked up the valve itself. Innertube users on the other hand should ensure that tubes and spares don't have loose valve cores.
It's worth noting too, that most of the best multitools will have a valve core tool - another way to save you from this deflating demise!
4. Seat your tyres
In the harshest winter weather, even the best winter cycling gloves can leave you with poor hand circulation, which can really limit your dexterity. Couple that the unfortunate realities that are punctures, and you can find yourself in a really tricky situation if you haven't got an easy-to-seat wheel and tyre combination!
To save yourself from this potential chilling demise, I would strongly advise having a good set of tyre leavers in your saddle bag, and test-fitting your tyres before starting winter riding.
Take out your front wheel, and deflate your tyre, and remove your tyre using tyre levers. Then reseat your tyre, and attempt to do so without the use of tyre levers. If either you have to really fight the tyre, or need to use tyre levers to put your tyre back on, consider changing your rim tape for something a little thinner, or even getting a new set of tyres instead. This can often be a great time to change out to a wider tyre if clearance permits, helping grip and comfort in the meantime!
This tip is a little more difficult for those using a tubeless setup, but there are a couple of things you can still check. If you completed the tubeless setup yourself, make a note of how tricky or not the process was. If you had your tyres set up by your local bike shop, it is worth asking the mechanic who did the work to let you know if it was particularly tricky - it could just save you a taxi fare!
5. Wash careful wash regular
We have said it before, and we will no doubt say it again, but regular bike washing can drastically decrease wear on your drivetrain, which over time will save you money. However, washing your bike is often the last thing you want to do when you have just got home from a gruelling winter ride, so here is the five-minute routine I used to follow to get rid of the worst of the grime.
Firstly, using a low-pressure hose, rinse the whole bike, being careful to avoid all bearings - mainly head seat, bottom bracket, and wheel bearings.
Next, spray some degreaser on your chain and cassette, and spin your pedals.
While the degreaser soaks in, use a sponge to get the worst of the dirt off of your frame.
Use a brush to clean your chain and cassette, and then rinse your whole bike.
This not only gives you a mostly clean bike for each ride, but will greatly reduce corrosion and abrasion to your drivetrain. A top tip for disc brake users too, is to clean your disc rotors with a baby wipe - this can really help stop the dreaded disc brake squeaking!
This year Black Friday is running from November 24th - 27th. We've rounded up all the best Black Friday bike deals we've found in our main hub page. With deals spanning components, tech and riding kit, you're guaranteed to find a bargain.

Thank you for reading 20 articles this month* Join now for unlimited access
Enjoy your first month for just £1 / $1 / €1
*Read 5 free articles per month without a subscription
Join now for unlimited access
Try first month for just £1 / $1 / €1