4 dead after New York e-bike shop catches fire
New York City has already seen more than 100 fires and 13 deaths linked to lithium-ion batteries in 2023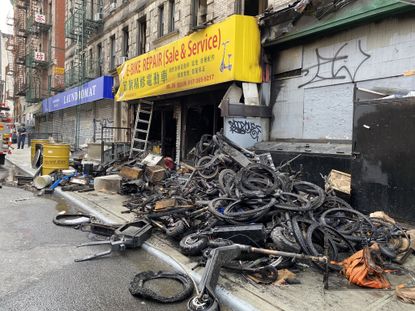 (Image credit: FDNY)
Four more lives were lost to lithium-ion battery explosions in New York City today. AP News and the New York City Fire Department (FDNY) report that in the early hours of June 20, a fire broke out inside a Manhattan e-bike shop and quickly spread to apartments above it. Investigators determined an overheated lithium-ion battery had caused the fire.
Four people died in the incident, and two more were hospitalized in critical condition, officials said.
This is the latest in a deadly series of e-mobility device fires wreaking havoc across New York these past couple of years. The FDNY reports that it has already been called out to more than a hundred fires relating to lithium-ion devices this year. The death toll is currently at 13 lives lost.
Alarmed by the increase in violent blazes, the FDNY rolled out educational campaigns and standards regarding safely storing and operating electric devices while also imploring consumers to buy certified and reputable products. And earlier this year, New York City Mayor Eric Adams signed into law Initiative 663-A, a bill that bans e-mobility devices and batteries that don't meet a minimum safety standard, specified as the UL 2849 certification.
This particular e-bike shop in Manhattan's Chinatown shop was known to the FDNY for being in violation of the city's safety regulations.
"This location is known to the fire department. We have written violations at this location before and we have conducted enforcement at this location before," said Fire Commissioner Laura Kavanagh.
Last August, the shop owner was cited for safety violations related to battery charging, the number of batteries at the site, and the electrical system. The shop was fined $1,600 at the time.
A man said to be the shop's owner denied that any e-bike batteries were being charged.
"The shop has been there for six years. I check before I leave every night," he told the Associated Press. "I checked last night, turned off the power besides the ones for the monitor and automatic door...My shop is gone. I've been working for nothing for years."
The FDNY once again took to social media, urging people to be cautious when using devices powered by lithium-ion batteries. "Do not leave batteries charging unattended or overnight when you're sleeping. Do leave them in hallways, doorways, or exits. Do not use power or extension cords to charge," the FDNY encouraged.
Micro-mobility transportation devices such as e-bikes and e-scooters have surged in popularity worldwide. All of these are powered by lithium-ion batteries, just like smartphones, tablets, e-cigarettes and cameras. While lithium-ion can be used safely, the problem with chargers and batteries in many electric devices is the prevalence of cheaply produced, untested products from disreputable sources sold via the internet that do not adhere to any safety standards.
As local governments are starting to legislate against non-certified lithium-ion products, the U.S. Consumer Product Safety Commission (CPSC) is calling on e-bike manufacturers, distributors and retailers to ensure their products comply with established safety standards or face possible enforcement action. To help you make informed purchases, Cycling Weekly has compiled an extensive list of e-bikes available in the U.S. that have been certified and are safe to buy.
How to keep your home safe
When purchasing devices, buy from reputable sources or check yourself to see if the product was tested for safety and meets the internationally recognized Underwriters Laboratories Mark standards. These products will carry an embossed or otherwise visible UL mark.
Read up on Lithium-ion safety tips
Follow the e-bike manufacturer's instructions for charging and storage
Always use the manufacturer's cord and power adapter made specifically for the device.
It's also always a good idea to not leave your charging devices unattended or on the charger for an extended time.
If you do notice a battery overheating or you notice an odor, change in shape or color, leaking or odd noises coming from a device, discontinue use immediately. If safe to do so, move the device away from anything that can catch fire.
Read more
Thank you for reading 20 articles this month* Join now for unlimited access
Enjoy your first month for just £1 / $1 / €1
*Read 5 free articles per month without a subscription
Join now for unlimited access
Try first month for just £1 / $1 / €1