Luke Rowe: Team Sky's formidable road captain
The Welshman talks about his journey from carefree youngster to Sky's Tour de France road captain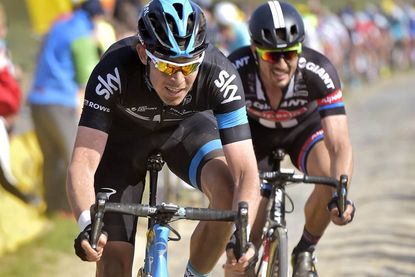 (Image credit: Watson)
Some 25 year-olds might see it as a rite of passage: ending up in hospital in a foreign city, unable to walk at the end of your mate's stag weekend after problems with the bottle. Luke Rowe's done it. Though it's not quite what you had in mind.
"Everyone instantly thinks it's alcohol related, don't they?" Rowe tells Cycling Weekly. "And trying to explain that one to the team was a long-winded story."
What actually put Rowe in hospital in Berlin at the end of Geraint Thomas's stag weekend in July was a cut on his ankle, sustained on the Champs-Elysées on the last day of the Tour de France.
A rogue bidon in the bunch, shaken loose over the cobblestones, flew up from under the peloton's wheels and hit Rowe just above the shoe.
"The Monday afterwards it was fine, Tuesday fine, Wednesday I was in Berlin for G's stag and it got to the point where I couldn't walk on it," Rowe adds.
"It had swollen up massively and I was in Berlin hospital for six nights getting operated on and all sorts. It was quite serious and I had three weeks off the bike and I didn't ride once, which put the last bit of the season on a bit of a downer."
>>> 100 Best Riders Right Now: Luke Rowe - 87
Rowe's encounter with the German healthcare system might have seen his season go out with a fizzle rather than a bang, but the Welshman can have no complaints about the rest of 2015.
After enjoying what can only be described as his breakthrough year in the Classics, he successfully turned himself into a key part of Chris Froome's winning Sky team in his debut Tour de France, a team where simply earning selection can be seen as a victory in itself.
>>> Luke Rowe: Paris-Roubaix ride led to Tour de France selection
This was Rowe's real coming of age, fist-pumping his older brother Matt who had come out to watch him on Alpe d'Huez and becoming only the third Welshman (alongside Colin Lewis and Geraint Thomas) to finish the Tour.
"You get quite a lot of credit for it," Rowe says. "People suddenly start realising the level that perhaps I'm at."
Steady development
The last 12 months have seen the latest stages in the steady development of Rowe. No longer is he the baby-faced youngster of Team Sky with a permanent grin on his face.
He's got leaner and meaner, and ditched the dodgy moustache that he grew for the Movember charity in late 2013 (and hung around for some of 2014).
He's still smiling, but the smile is that of a rider in his fourth year in the professional ranks rather than of a wet-behind-the-ears neo-pro.
"He's not young any more, he's not 'potential' anymore," says Rod Ellingworth, Rowe's manager at Sky. "This is it now, he's got to do it."
>>> Team Sky to continue partnership with Shimano for next two years
Ellingworth, the former GB Academy coach and one of the best in the business at developing young talent, has overseen Rowe's transition from neo-pro to seasoned pro in less than five years (Rowe actually started riding full time in 2008 with the Academy system set up by Ellingworth, who at the same time moved on).
The 2012 season he explains was about Rowe finding his feet, and he quickly took his first pro win at that year's Tour of Britain. At the end of his neo-pro term in August 2013 he was thrown into his first Grand Tour, the Vuelta a España.
It wasn't really about him finishing — he didn't — but about him learning what he needed to do to progress: lose weight.
One year on he returned to Spain, riding into Santiago de Compostela alongside his team leader and overall runner-up Chris Froome.
"He's progressed slowly and on a very nice progression line. He's not made huge leaps and bounds, it's been a really nice sort of build and he's learnt a lot as he's gone along," says Ellingworth.
"He's pretty much ticked every box that we've set him, and he's pretty ambitious.
"That's the key thing; it doesn't matter what we do around somebody, if their ambition is there then you're on to a winner. That hasn't changed."
That 2014 Vuelta served as a turning point for Rowe as it has done for many a young rider. With the accumulated race days in his legs he strung together a good off-season and block of winter training before his impressive Classics campaign, one of the best ever by a British rider.
Rowe won't exactly be blaming his team-mates but Ian Stannard's win in Omloop Het Nieuwsblad in late February, Geraint Thomas's victory at E3 Harelbeke in March and Sir Bradley Wiggins's last hurrah at Paris-Roubaix in April meant Rowe's rides slipped somewhat under the radar.
In those three races Rowe came ninth, 13th and eighth. Any one of those doesn't just happen by chance. Stringing all three together is a real sign of a rider not only on form but one with the chance to convert one of those into something more in the future.
His own man
Rowe might come across as one of the lads around the Sky and Great Britain team but don't mistake that for braggadocio, he isn't the type to go shouting from the rooftops.
"In terms of how people perceive me, I'm not interested in all that," he says. "I do what I do for my own pleasure and for my family, and not for anyone else."
It comes as a surprise to learn that Rowe, in addition to his roles as Tour domestique and Classics man, has taken on the role of road captain for Sky at various times this season. In fact he did so at the Tour Down Under, Critérium du Dauphiné and the Tour before reprising the role in GB colours in the World Championships road race.
"It's not all that it's built up to be; it's a case of communicating to all the riders," Rowe explains. "If there is a decision which needs to be made on the road then it's someone to make the final decision, that's all it is.
"It's something I've done before and I'm happy to do it," he adds. "It can't be over-talked, all it is is discussing amongst riders and making the final call."
>>> From Burton to Armitstead: Britain's road race world champions
Cycling's image of a road captain is of a shrewd old-timer whose wise eyes have seen it all, and continue to perceive exactly what's going on in a bike race.
Part tactician and part patron, they are riders who command respect, communicate well to their team-mates, and rule with their heads rather than their hearts.
The best of the 2015 Tour de France
Rowe certainly has presence in the bunch — he's six foot two with broad shoulders for starters — but how does someone aged just 25, riding his debut Tour, captain one of the world's strongest teams at the world's biggest bike race?
>>> Bookies back Chris Froome to win 2016 Tour de France – but can he do it?
"There are some people who are just leaders and some people who aren't. He communicates well and isn't scared to say how it is, and he isn't scared to put himself out and say sorry guys, I f***ed up," says Ellingworth.
"He's a true team-mate. An absolute diamond of a team-mate."
The captain's role
A captain in a road cycling sense isn't like a captain in other sports. He or she doesn't go out and shake hands with the opposing teams' captains and the referee before the race, doesn't wear an armband, and certainly doesn't receive the trophy. In fact, it's rare that anyone knows who they are at all.
David Millar used to captain for Great Britain and his Slipstream pro team. Other captains include Bernie Eisel (who joins Dimension Data in 2016), Michael Rogers (Tinkoff-Saxo) and Luca Paolini, although the Italian is currently provisionally suspended for testing positive for cocaine.
Rod Ellingworth describes the ideal captain as "someone who communicates well, understands a bike race well and can rally people".
Experience, not age, is the key factor given that the job involves making tough decisions in difficult circumstances, especially in certain non-WorldTour races when there are no race radios to link riders with their DS in the team car.
Racing brain
Rowe owes much of his tactical nous to countless childhood hours spent riding the Maindy track in Cardiff along with his other brother Matt, where his father Courtney remains a coach.
As he has developed physically he has been able to stick it out in races for longer, absorbing the workload and deploying that racing brain.
There was certainly plenty of workload to go around at the 2015 Tour de France. He and Stannard were the two principal black and blue workhorses, pulling the strings from day one and looking after Froome on the flat stages, defending the yellow jersey for 16 days and leading the bunch for as long as they could in the mountains.
"Riding the way me and Stannard did, a lot on the front, taking on a big workload, it really does take a lot out of you and it can't be underestimated," Rowe says, assessing the fatigue felt by both riders in August and September.
It paid dividends; Froome put together the foundations of his success in that tricky first week before the stage nine team time trial, earning 88 seconds on Nairo Quintana on stage two and staying safe on the cobbles on stage four.
>>> Eight key moments that won the Tour de France for Chris Froome
It ought to pay dividends for Rowe too; after a month off during October and a return to training in November, he hopes the legacy of riding a tough Tour will translate to better endurance and strength next spring.
And with one Welsh rider shifting his focus away from the Classics and towards the Tour, another is well placed to take his place. Turning from diamond teammate to diamond team leader, Luke Rowe's time might finally have come.
When fans attack
Nobody says the Tour de France will be easy but the vitriol and ill-feeling directed at Team Sky during the race from sections of the spectators made 2015 particularly tough for Rowe and his team-mates.
"Everyone's got their own story of what happened to them," Rowe explains.
"I got punched, spat at, abused, we had piss thrown at us. One day we had the team car finish with no wing mirrors because they both got hit off the car by spectators."
>>> Tour de France 'hooliganism' must stop, says UCI president Brian Cookson
Yet the experience hasn't left Rowe bitter. If anything it made the sense of achievement and camaraderie in the face of adversity even stronger.
"It's unfortunate a small minority can spoil it," Rowe adds.
"But when I say spoil it, it didn't really get us down, we were just happy with every day just concentrating on one goal, which was taking the jersey to Paris, and we did it."
Thank you for reading 10 articles this month* Join now for unlimited access
Enjoy your first month for just £1 / $1 / €1
*Read 5 free articles per month without a subscription
Join now for unlimited access
Try first month for just £1 / $1 / €1
Richard Abraham is an award-winning writer, based in New Zealand. He has reported from major sporting events including the Tour de France and Olympic Games, and is also a part-time travel guide who has delivered luxury cycle tours and events across Europe. In 2019 he was awarded Writer of the Year at the PPA Awards.