Serial doper Riccò named in steroid trafficking investigation
The ex-Saunier Duval rider, who is currently banned from the sport, is linked to new doping investigation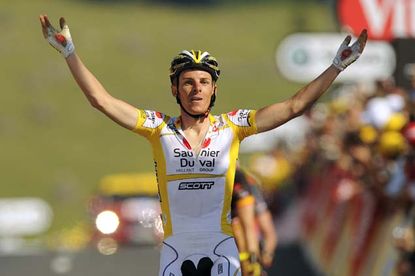 (Image credit: LUC CLAESSEN)
Italian ex-pro Riccardo Riccò, currently banned from cycling until 2024, has found his name linked to doping once again, according to Italian News Agency ANSA (opens in new tab). Police in Livorno, Tuscany have named Riccò as being involved in an investigation into drug trafficking in the area.
Five arrests have been made on charges including embezzlement, receiving stolen goods, selling narcotics and trading doping products. A nurse and a careworker have already been jailed, having stolen anabolic steroids from Livorno's Civil Hospital with the intent to illegally sell them on.
Riccò and two other ex-cyclists, Luca Benedetti and Matteo Cappè, were obliged to report to the police in order to confirm their involvement in the case. Both Benedetti and Cappè are currently banned from the sport.
It's far from the first time the man from Formigine has found himself in hot water doping-wise. He was prevented from riding the Junior Cyclocross World Championships in 2001 after he was found to have a high haematocrit.
As an U23 rider he was given two 45-day suspensions for the same reason. Upon turning professional, he obtained a certificate from the UCI, confirming that his high haematocrit levels were naturally-occurring.
In 2008, Riccò was thrown off the Tour de France after testing positive for third-generation EPO variant CERA (opens in new tab). His two stage victories were later annulled, while team sponsor Saunier Duval withdrew from the sport with immediate effect. Two years later, his partner Vania Rossi tested positive for the same drug (opens in new tab).
Riccò, nicknamed The Cobra, made a comeback with Italian ProContinental team Ceramica Flaminia in 2010, subsequently transferring to Dutch team Vacansoleil-DCM.
His return didn't last for long though, as in February 2011 he was hospitalised due to kidney failure after a botched blood transfusion (opens in new tab). A year later, the Italian Anti-Doping Tribunal found him guilty of a second offence, banning him from the sport for twelve years (opens in new tab) and effectively ending any chance of continuing his professional career.
Since then, Riccò has proclaimed a desire to attempt to set new record times on some of cycling's most famous climbs, including Mount Ventoux and Alpe d'Huez.
This is the second time Riccò's name has been linked with the investigation, after he was reportedly caught attempting to purchase EPO and testosterone in a McDonalds car park (opens in new tab) in May last year. Cappè was present at the time, along with two other men, who are currently under house arrest.
Thank you for reading 10 articles this month* Join now for unlimited access
Enjoy your first month for just £1 / $1 / €1
*Read 5 free articles per month without a subscription
Join now for unlimited access
Try first month for just £1 / $1 / €1