£50 off Velochampion Warp Sunglasses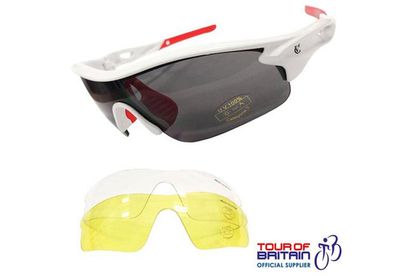 Was £69.99 | Now £19.75
VeloChampion are the Official Tour of Britain 2016 Sunglasses Supplier.
Ultra lightweight sports/recreational sunglasses produced with a more open lens/wider field of view making them perfect for all sports inc. cycling running golf fishing hunting.
Complete with 3 interchangeable lenses and carry pouch.
Sculpted sleek frame design combined with 'Gelgrip' ear socks and nose piece position the Warp perfectly on your face. The High Definition Optics lens technology keeps the view ahead clear and undistorted. A soft pouch lens organiser keeps everything safe
Frame: incorporate many technical features often only found in sunglasses costing twice as much:
- VC frame lockTM interchangeable lens technology offers fast and easy lens changing: quickly adapt to any light level/weather condition.
- Durability and all-day comfort due to the lightweight stress-resistant frame material - Integrated 'cool' ports to channel airflow for comfort and cooling. Prevents lens fogging
- 'Gelgrip' ear socks and nose piece that maintain grip even when you sweat.
- The Three-Point 'Gelgrip' Fit holds the lens in the precise optical alignment.
Lenses:
- High Definition Optics for clarity visual fidelity and impact resistance. EN ISO 12312-1:2013 standards
- Lens curvature design that improves side protection against sun wind and impact
- UV protection of PC lens material that filters out 100% of UVA/UVB/UV light
- Cat 3 filter for the smoked lens.
VC lens options:
Smoked for bright conditions
Yellow for low light levels
Clear for wet/dull conditions night time use or indoor sports. Ideal to stop rain/road spray when cycling or running.
As used by "Champion System VCUK Cycling Team"
Black/Grey Silver/Black White/Red Green/Black Red/Black and Yellow/Black
Thank you for reading 5 articles this month* Join now for unlimited access
Enjoy your first month for just £1 / $1 / €1
*Read 5 free articles per month without a subscription
Join now for unlimited access
Try first month for just £1 / $1 / €1